"25 Days of Christmas" is back on Freeform, formerly ABC Family, and there are even more holiday-themed television shows. Programming will also be available to stream via the Freeform app and online.
The annual programming event, featuring a variety of holiday-themed specials, movies and TV episodes, will expand this year from Freeform to all of the Disney/ABC Television Group networks, including ABC, Disney Channel, Disney XD and Disney Junior. The programs began yesterday.
Freeform will focus on Christmas films, running such favorites as "Elf," "National Lampoon's Christmas Vacation" and "The Polar Express." It will also launch the original Christmas movie "Angry Angel," starring Brenda Song and Jason Biggs. See the full schedule here.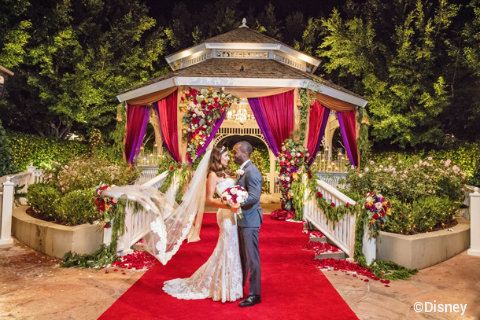 "Disney's Fairy Tale Weddings: Holiday Magic," premieres at 8 p.m. EST Dec. 11 on Freeform. The special edition will go behind the scenes of some of the most spectacular weddings and engagements at Disney Destinations around the globe during the holiday season. From a sun-drenched holiday proposal at Aulani, a Disney Resort & Spa in Hawaii, to a winter wonderland wedding at Walt Disney World Resort in Florida, viewers will be guests from the start of each couple's "happily ever after" journey. The "Disney's Fairy Tale Weddings" series is set to begin airing in the spring.
Want to know how Disney transforms its theme parks and resort hotels into winter wonderlands seemingly overnight? "Decorating Disney: Holiday Magic," which airs at 8 p.m. EST Dec. 18 on Freeform, shows viewers how the holiday magic and spirit come to life throughout Disney destinations. Meet the dedicated team of Disney cast members and Santa's helpers who meticulously plan, design, build and bring to life wondrous Christmas trees, life-size gingerbread houses and more.
Disney Channel, Disney XD, Disney Junior and Radio Disney will feature special holiday-themed programming including episodes of series "Stuck in the Middle," "Marvel's Guardians of the Galaxy" and "Sofia the First."
On ABC, this means new seasons of home-decoration competition series "The Great Christmas Light Fight" and cooking series "The Great American Baking Show." The network will also air holiday episodes of "American Housewife," "black-ish," "Fresh Off the Boat," "The Mayor," "The Middle" and "Speechless." Returning specials include "Shrek the Halls," "The Toy Story That Time Forgot," "Disney Prep and Landing," "Disney Prep and Landing 2: Naughty vs. Nice," "A Charlie Brown Christmas" and "I Want a Dog for Christmas, Charlie Brown!"
Plus, look for the third holiday special of the 2017 season filmed in the Disney theme parks and resorts: "Disney Parks Magical Christmas Celebration" on Christmas morning. (Check local listings for air times.) This traditional show features a Christmas parade, favorite Disney characters and performances by Ciara, Darius Rucker, Fifth Harmony, Fitz and the Tantrums, Jason Derulo, Lea Michele, 98°, Telly Leung and Arielle Jacobs from Broadway's Aladdin. ("The Wonderful World of Disney: Magical Holiday Celebration" and "Disney Parks Presents a Disney Channel Holiday Celebration" have already aired.)
"25 Days of Christmas is the holiday event our viewers look forward to all year long. This year there is more for everyone: more original shows, more fun and laughter, more opportunities to take part in this beloved holiday tradition," said Disney/ABC Television Group president Ben Sherwood. "We hope everyone joins in the fun as Disney ABC spreads holiday cheer across all of our channels and platforms for audiences everywhere."