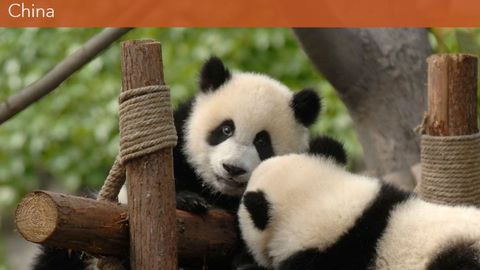 By Guest Blogger Kay Belin
This summer I had the opportunity to set out with Adventures By Disney to China. This was not my first travel experience with them and it was actually my 12th adventure. But I had some nervousness about heading to a place that I knew nothing about…..people, land, language. It was a destination that my grandson had requested several years ago as he is our ABD traveling buddy so once Shanghai Disney was completed my husband and I decided we couldn't put it off any longer.
We left several days early for Hong Kong as it is important to try to adjust to such a drastic time zone change. One of the best decisions we made was to stay at the Hong Kong Disneyland Hotel during those first days before our adventure began. (Watch Hong Kong Disneyland Hotel Tour)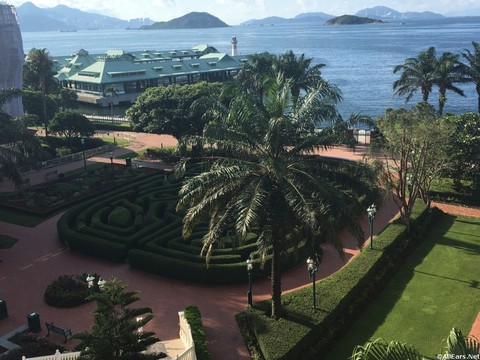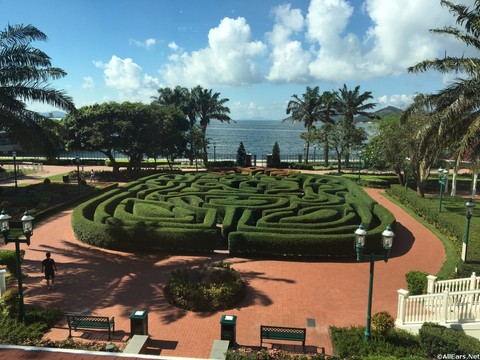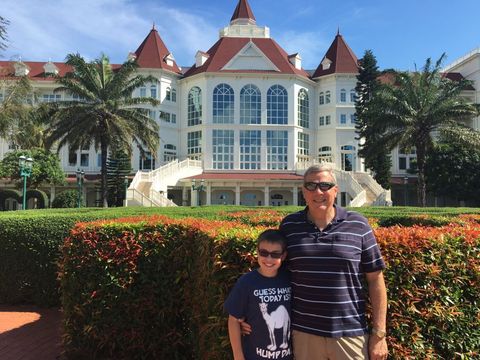 If the budget can handle just a little extra then I suggest staying on the Club Level as you have food throughout the day available in the Club lounge and assistance with getting all your questions answered easily. Hong Kong was a British owned land so English is not so foreign to many of its citizens but finding those who wish to speak it or speak it well can be daunting at times.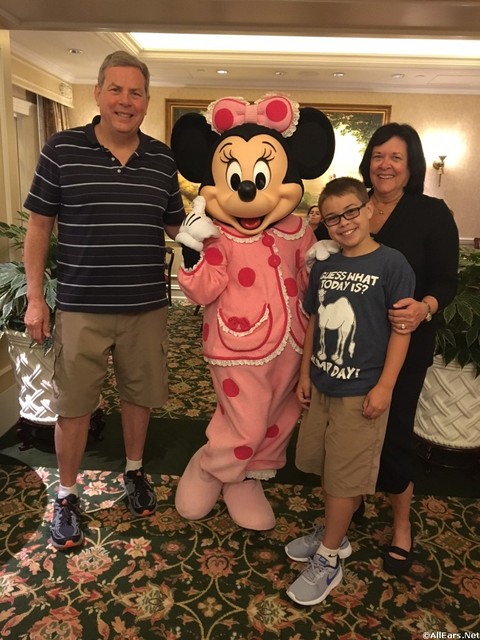 The hotel was a great spot to rest and yet it was within a nice walk to the Disneyland Park if we wanted to get out and have some fun. It is located right on the bay waters with a view of downtown Hong Kong in the distance. We took advantage of our extra time and FastPasses given to us by the concierges to head to the park and discover some of the new and some of the known attractions there.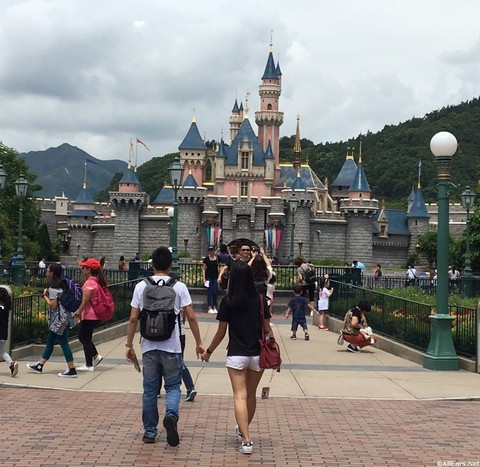 Mystic Manor is definitely the one attraction not to be missed. This is one of Disney's best around the world and only in this park. (Watch Mystic Manor Video)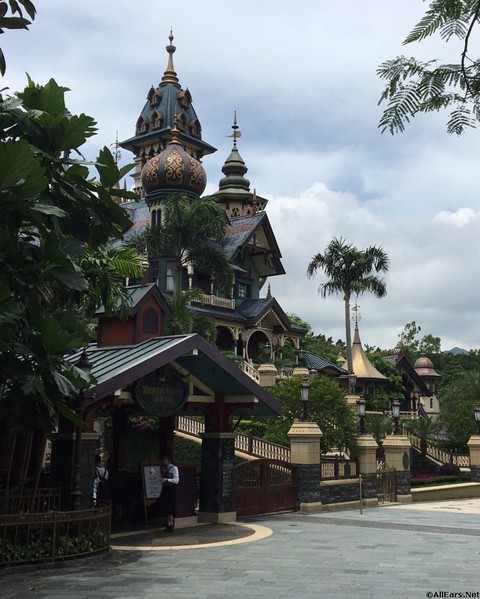 Grizzly Gulch is also wonderful. Watch Grizzly Gulch Video. We loved the Jungle Cruise. Watch the Jungle Cruise Video. The Small World ride is fun as you count the many Disney characters depicted throughout your journey. I think we counted about 14 from Cinderella to Stitch!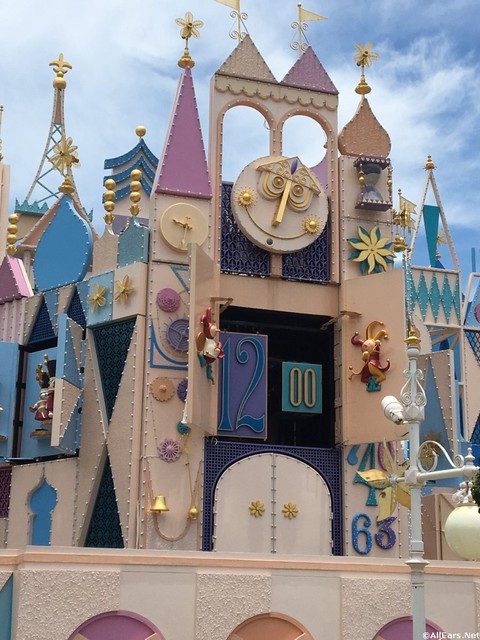 Their new show, "Mickey and the Wondrous Book", was certainly a hit and a visit to Toy Story Land was fun to see what we can look forward to at our own Walt Disney World's Hollywood Studios soon.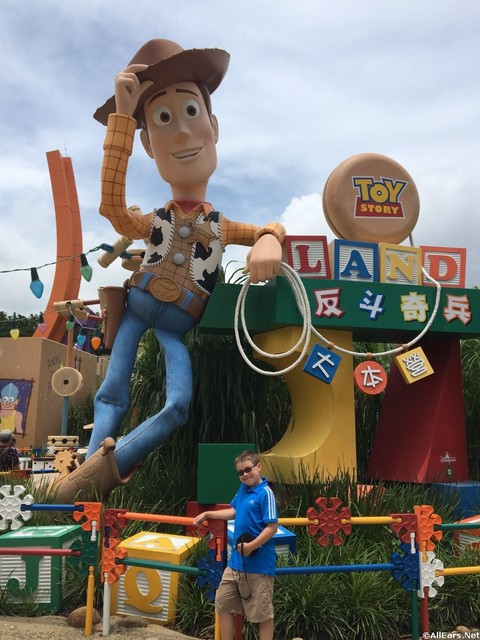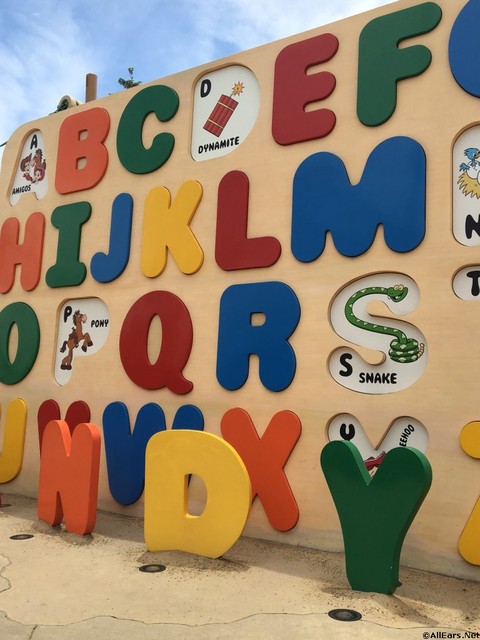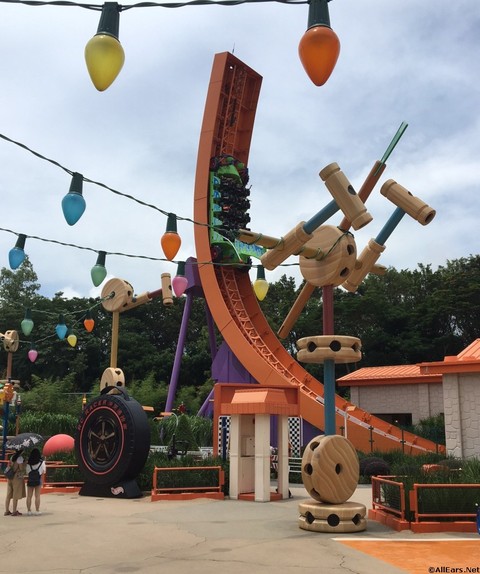 The day our adventure started with Disney found us heading into Hong Kong to the Peninsula Hotel. This is a beautiful modern yet classic hotel located in the heart of the city. We met our guides for our journey, Christian and Fred. Christian has guided with ABD for many years and we actually enjoyed him on a Backstage Hollywood trip a few years ago. To see him was such a joy and to meet his Chinese co-guide Fred was wonderful. I know none of us expected to meet a Chinese guide with the name of Fred but we soon found out that most Chinese who are in any occupation where they will deal with westerners will select a western name. In fact all Disney cast members in the parks will choose a name versus using their Chinese name on the nametags.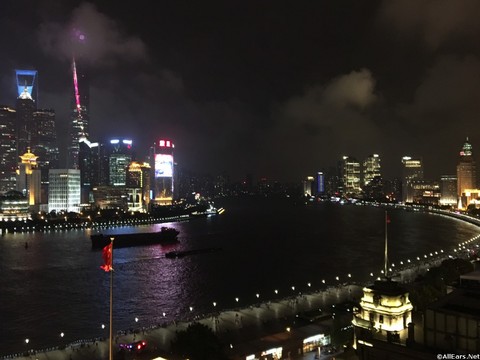 Our welcome dinner included getting some of the general instructions of the adventure and a look ahead at what each day would bring. The excitement was building because our guides made us all feel so comfortable and well taken care of. At that point we were told to let our worries and stress drift away and they would now be in charge of everything from luggage handling, flights, meals, and transportation. Dinner that night was our first Peking Duck but not our last which was fine with all of us.
Day 2 found us waking up to a not so great weather forecast. News came to us that the first typhoon of the season was coming in our direction.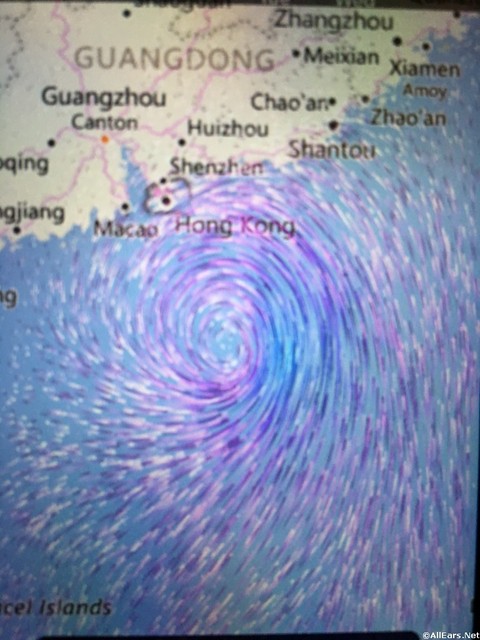 So we carried our umbrellas that the hotel provided and our rain ponchos and headed to Stanley Market to check out some of the typical Chinese wares. Our guides were always within sight if we needed assistance and their help in where and when we could bargain was very useful. From there we hopped on our comfortable bus and went up to the top of Victoria Peak. We were very fortunate that the weather held out and we were able to take some wonderful photos of this great city. We were joined on this day by Bruce the local guide who told us all about the history of Hong Kong. We lunched on top of the peak and then took the tram down where we again hopped on our bus and headed to Hong Kong Disney for a highly anticipated visit.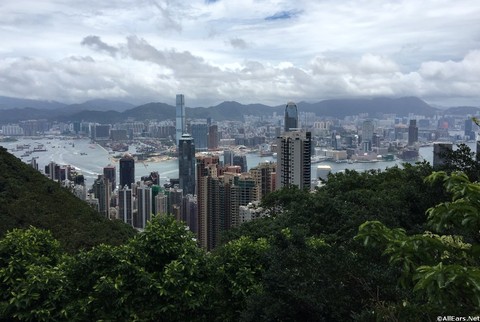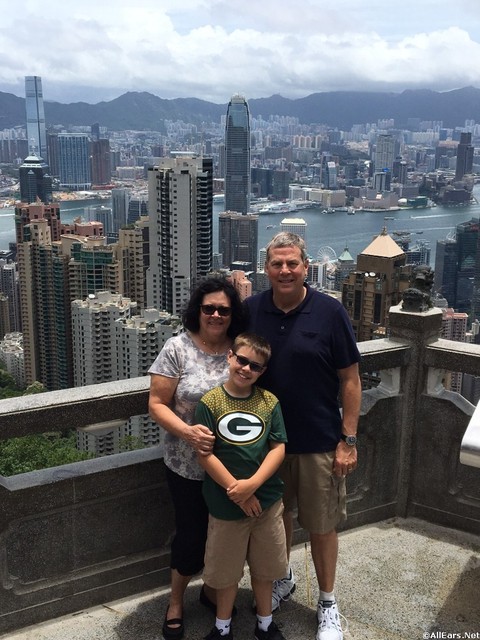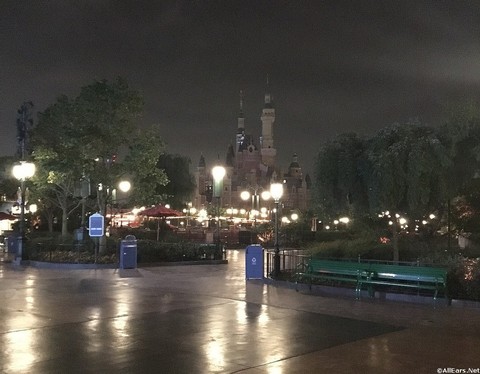 When we arrived the rain was also coming down and we didn't care……we were going to spend the rest of the day and evening having fun in this magical place. Our guides gave us three FastPasses and after the obligatory group picture at the entrance we were off. Most of the kids wanted to head to Hyperspace Mountain which is their Space Mountain so that was the first thing to do. Our next stop was to head to Iron Man Experience but………we were halted at the entrance. Something happened that none of us could ever have imagined and that was the park was being closed! The typhoon warning system is similar to our hurricane warnings and as we woke up that day the warning was a 3 and when it jumps to an 8 all businesses and transportation starts to close down. Our group was wonderful and although we were all very, very disappointed we knew Mother Nature was not something you could argue with so after only 30 minutes in the park we walked back to our bus and returned to the Peninsula Hotel. Our guides were quick to be on the phone and arranged a very nice dinner for us there since we were not able to trek outside on our own. The hotel staff was amazing and did everything they could to make us welcome and alieve our disappointment from the day. Special deserts and foods were served without even asking. I can't say enough about this great hotel in Hong Kong.
We woke up on Day 3 to just some remaining rain but any visible remnants of typhoon were basically gone. Only parts of the area were hit hard so we felt it was a good day to head out to Beijing. Our luggage magically disappeared so all we had to do is enjoy breakfast and hop on the bus to the airport. We checked in with guidance and assistance from Christian and Fred, shopped in the airport, found out we had a gate change, boarded the plane, got off the plane, and waited another four extra hours. Weather related delay but we finally got off the ground and made it to Beijing. Our hotel in this city was the beautiful Rosewood Beijing and again was absolutely gorgeous with very roomy rooms and modern amenities.
Day 4 was a tour day of some of the things many of us only have dreamed of. We headed to the Temple of Heaven which is what the Epcot China Pavilion resembles. On the way we made a stop to a park which was full of retired Chinese men and women who go there daily to exercise, dance, and sing. Some of them had the kids interact and play some of their games with them. It was such a great cultural experience.
The Temple of Heaven was gorgeous and impressive and then the afternoon was spent touring Tiananmen Square and the Forbidden City. Our guide told us that while there he would not be able to answer sensitive political questions so please do not ask him. He said basically tanks, Taiwan, and Tibet were off limits. This was our first inkling of such a different political influence in this country. With a very large picture of (. ) sitting high on the side of the wall/building and the many armed guards we became aware of the political difference that continues today. Interestingly Tiananmen Square is named after Tiananmen Gate which means "Gate of Heavenly Peace".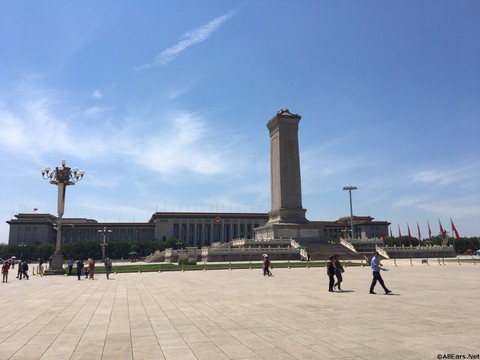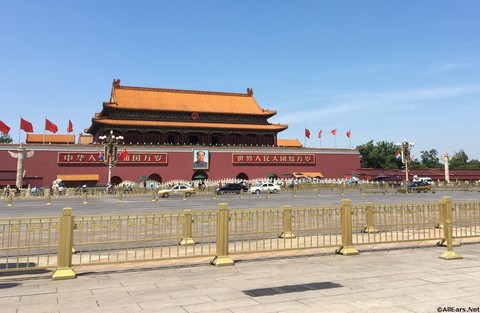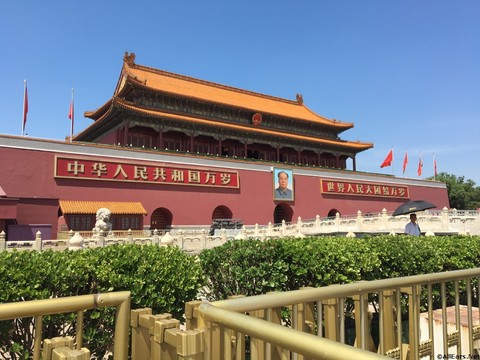 It was a historical day in this area of Beijing and although hot we all enjoyed the tour of the very large Forbidden City. The Imperial Palace was the seat of power from 1416 to 1911. We were able to walk through the entire area seeing many of the palaces and pavilions and learning about the architecture of these long standing Chinese buildings. We were all exhausted and hot but took away such a new understanding of Chinese history.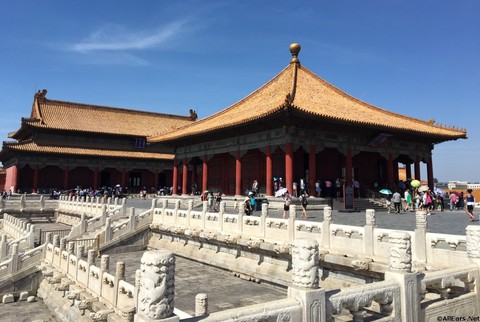 Day 5 was the most anticipated day for all of the group. It was the day we were heading two hours out of the city to Mutianyu to climb and walk on the Great Wall of China. Mother Nature made our Hong Kong day up to us by giving us sunshine and clear skies. It was a surreal day standing high above the area on a wall that spans thousands of miles that served as a barrier for the capital city. Learning about the history on our drive there made it even more incredible to see how they constructed the wall, steps, and towers. Much of the wall throughout China is not accessible anymore so having this opportunity was a thrill beyond words. Having great ABD and local guides to take care of every detail and information is the way to enjoy such an experience.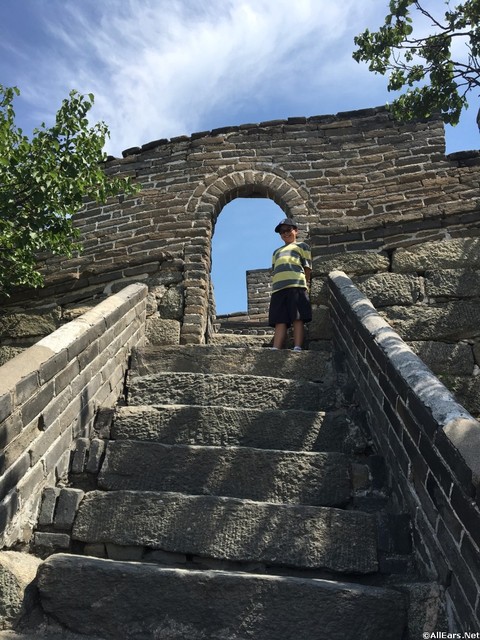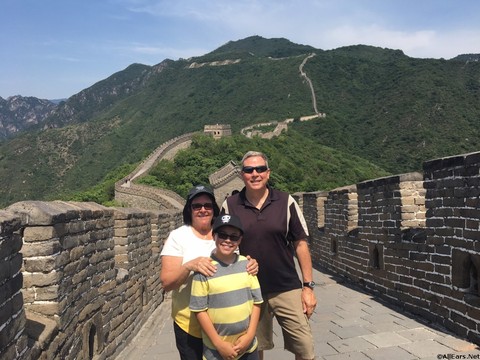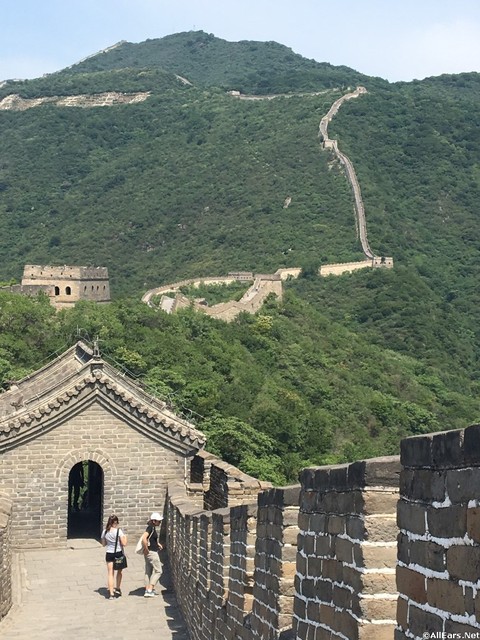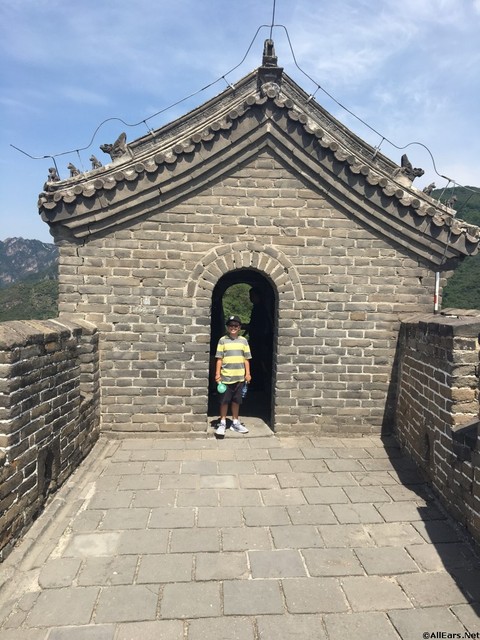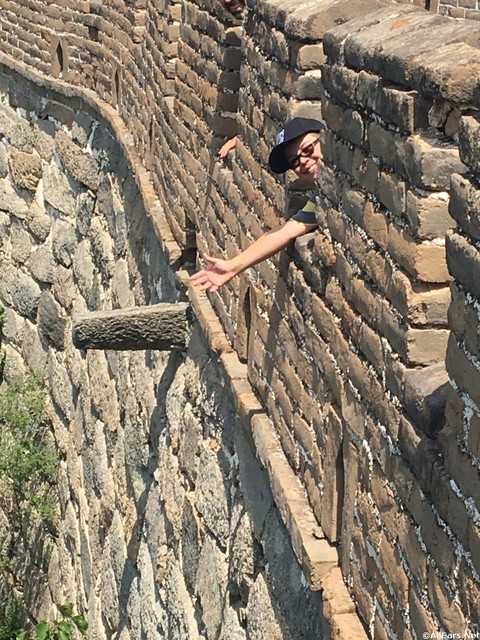 Day 6 found us enjoying a pedicab ride through the Hutong which is an area where the Chinese lived in smaller group like communities. Here we actually visited "real" homes of families and learned the art of Chinese knot tying, paper cutting, and Chinese writing. Everyone also had the chance to practice the art of the Chinese yo-yo. This is what the young Chinese girls do in the Orlando Cirque du Soleil shows and they make it look so easy! It is NOT!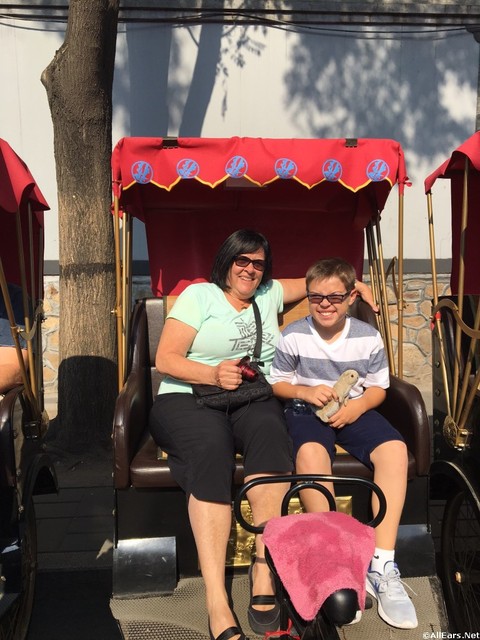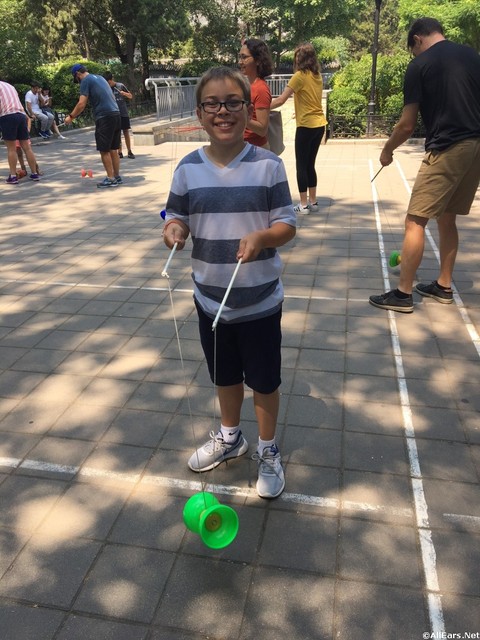 Later that day we were headed to Chengdu which I think might just be my favorite Chinese city we visited. To be honest I had never heard of this city yet it is populated by millions of Chinese and larger then our own US cities. Our hotel here was the Ritz-Carleton which held a surprise for all of us. Enjoying a toilet that would open the lid when you entered and had a heated seat was a luxury most of us only dream of. 🙂
Chengdu is the home of a Panda Research facility so on Day 7 this is where we headed. Overcast and light rain didn't diminish our excitement as we were able to watch mature and young pandas in their enclosed habitats as well as being introduced to the cute Red Pandas. Learning about their history and characteristics from our local guide made us all want to stay and spend more time there. But a Hot Pot lunch awaited and we left to go have a traditional Chinese culinary experience. Your meats and vegetables are cooked in a hot broth similar to what we know of as fondue and then sauces are added once it is done.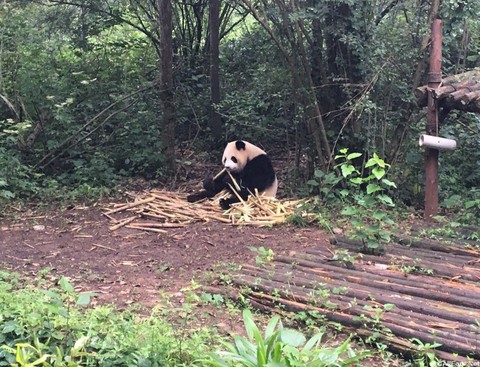 Our day in Chengdu ended with a visit to the Sichuan Face-Changing Opera. Great entertainment and music and so much color in costumes and surroundings made it interesting. Many of us even figured out the tricks of how they changed their faces in split seconds.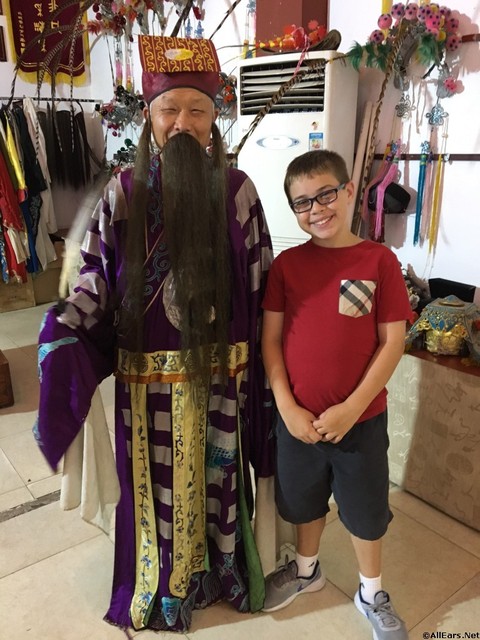 Day 8 is referred to as the Amazing Race day. This is the day where we fly out of Chengdu to Xi'an to see the incredible Terra Cotta Warriors and then fly out of Xi'an to reach Guilin. Phew! But we didn't have any stress as our wonderful guides deal with everything from luggage transfers, checking us in at the airport and handing us our boarding passes. I simply can't imagine doing this kind of trip without them.
The Terra Cotta Soldiers was something I wanted to see almost more then anything else. Back in 1974 a local farmer was trying to dig a well and discovered remains of a Chinese figure made of clay. After more excavations it has been discovered that the area contains likely over 7000 of these figures, horses, and wagons buried surrounding the late first emperor, Qin Shi Huang Di. He felt this would protect him in his afterlife. Interesting facts we learned from our local and ABD guides included that so far every single figure unearthed is unique and no two faces are the same. The figures were brightly painted but once unearthed these colors have faded.
They have unearthed several thousand and then stopped digging until they can figure out how to do the excavations without harming them as well as how they can preserve the colors. They know where the tomb is located but will not even begin that excavation until better methods are developed. The unbelievable amount of history you experience while walking through the museums and dig sites can't be described in words. This stop should be on everyone's list of China spots to visit.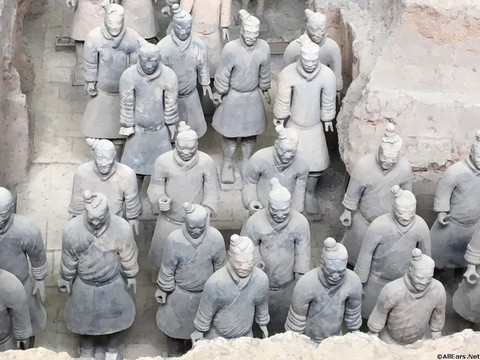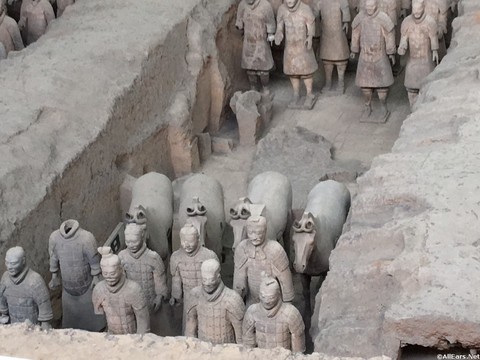 We welcomed our arrival in Guilin later that day and settled into the Shanghai-La Hotel in the heart of the city. This was a nice hotel with clean rooms and amenities but not quite up to the standard of the larger chain hotels we had stayed in so far. Never the less we all slept well after a long day.
Day 9 was the day we boarded a boat and cruised down the Lijiang or Li River. It was very relaxing and perfect for us to rejuvenate as we viewed the countryside of this part of China and the beauty of the Gumdrop Mountains named so because they look like large gumdrops that are sitting on the ground. The only disappointment was the fact that we shared a boat with others. We did have a private area to keep our things in and sit when not wanting to be outside but it would have been even nicer to be on our own.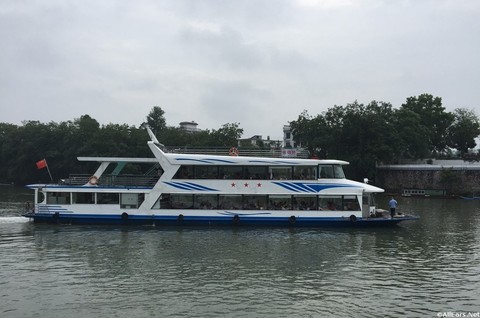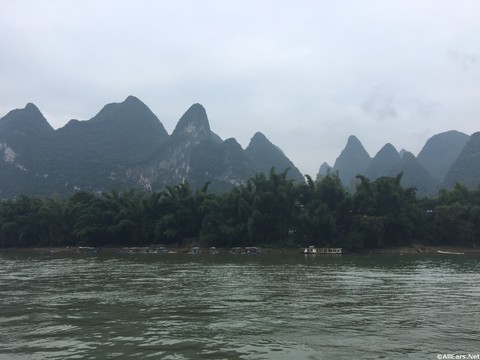 When we disembarked from the boat we were led to a great shopping market. Here we were given a few Chinese dollars to select a white elephant gift for the group. We were instructed in how to bargain and even the youngest adventurers got into the fun. My grandson at 11 showed us he could bargain with the best of them much to the Chinese shop owners.
That night was a celebration for the fathers as Christian and Fred ordered a cake and gave each of them a Chinese hat. It was a great evening followed by the while elephant trading and then a movie for the kids.
Day 10 was our last internal China flight and we headed to Shanghai. The largest city in China welcomed us and we once again were guests at a Peninsula Hotel. We were given a 30 minute tutorial at how to use all the technology in the rooms as this is truly one of the most modern hotels of the adventure.
Dinner that night was a traditional dumpling meal and probably my favorite although Peking Duck is right there with it. After dinner we headed to a Shanghai Circus World and Acrobat Show. None of us were prepared for what this was and I think most of us had our mouths open the entire time. Unbelievable talent and our seats were some of the best where we could watch them closely and see their reactions. I am still in awe of the fact they got 8 running motorcylces in one of those steel closed ball cages. I actually had a hard time looking. When the show was over and the rest of the guests had departed the main characters of the show came out to greet us which was a big treat.
Day 11 was bittersweet in many ways. We had to make a decision to either head to Disneyland early or go to the Yu Gardens and Old Shanghai. Since our trip to Hong Kong Disneyland was cut short most of the guests opted for a full day in Shanghai Disney including us.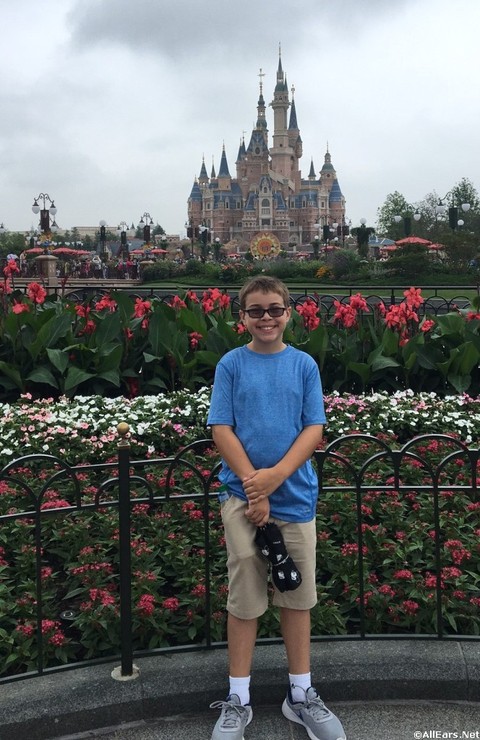 The stories you might have heard about the crowds at this new and latest Disney park are true and then some. It can easily take you 1-2 hours to even get into the park. Lines were a mass of humanity and we had a little help with a special line but that still took us 40 minutes.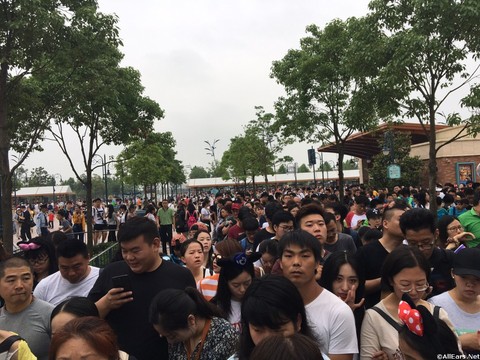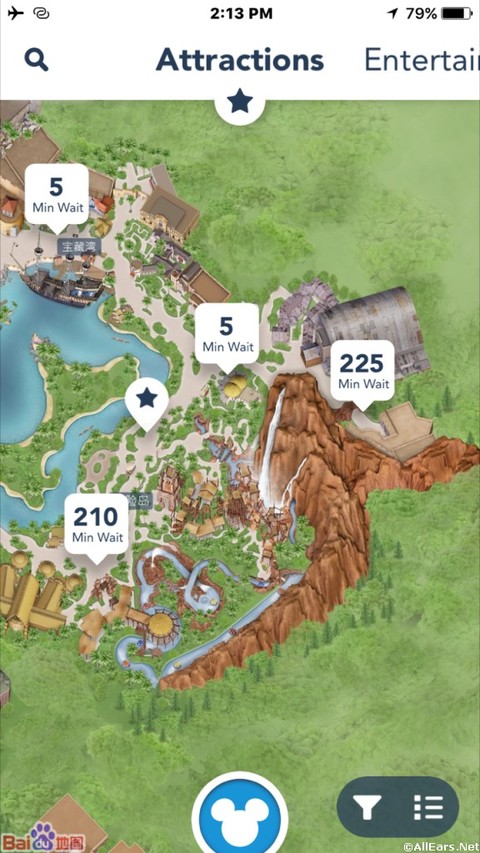 Once in we were all rushed to the new Pirates ride for a FastPass entrance. I don't have words to explain this new attraction and I will honestly say I think it is probably the best attraction in all of the Disney parks around the world. The details and experiences are unbelievable and it lasts longer then a few minutes making it so worth any wait.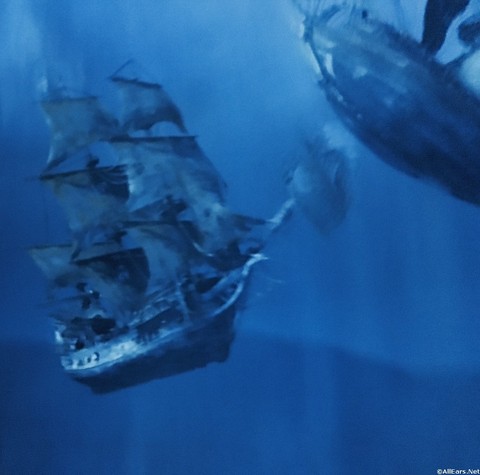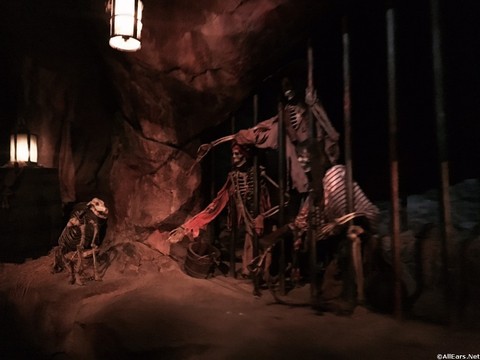 The rest of the day was a bit of a disappointment as this park would only allow ABD guests to have three FastPasses and only to specific attractions. This doesn't seem to bad but when you realize that wait times here range from 120-240 minutes on average for their classic attractions it is depressing that ABD can't do more for their guests. Even riding the carousel was 120 minute wait so if you didn't enjoy the three attractions you were given a FastPass for you were pretty much out of luck.
This park is beautiful and the castle is gorgeous so walking around was enjoyable. But with so many guests it was also hard to do any shopping or dining. If you found a table and chair you would certainly be sharing it with someone else and you needed to act quick or you would be out of luck sitting down. Lines are long everywhere and you learn to protect your space. Finding anyone who would or could speak English was hard so shopping often was a bit of a challenge. Many would simply write a price on a piece of paper to communicate.
The end of the day found some extra magic though as we all dined in the beautiful Club 33 in the middle of the park. Our farewell dinner could not have been more special as we shared our adventure stories and watched the fireworks and castle show at the end of the evening. When it was time to go we were the last guests in the park which was a feeling that was so different from what we experienced the rest of the day there.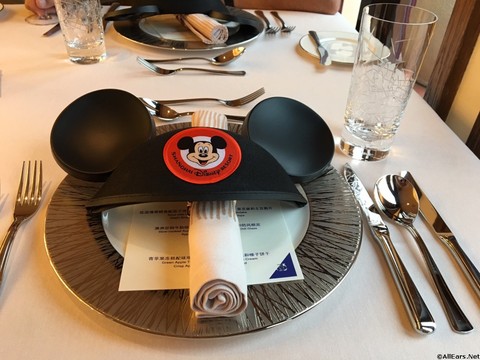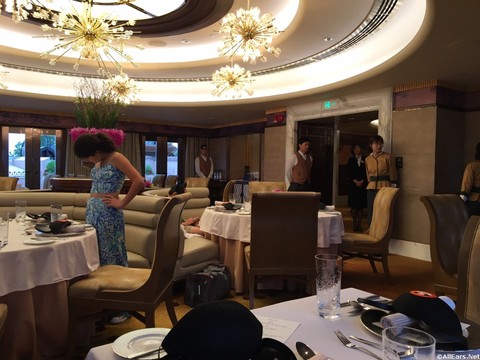 The next morning was our farewell morning and that is always a sad day. After spending days and great experiences with this group of guests you find it hard to say good-bye. Many tears and hugs and we all headed to the train station or airport. Saying good-bye to Christian and Fred was the hardest of all. They were amazing guides who worked so hard and made it seamless in our eyes. Even after a typhoon and delayed flights we never knew there were challenges because of how they handled it all.
Yes, this was an adventure out of my comfort zone but now I can't even imagine if we had not done this trip. I learned a lot about a culture that was so foreign to me. I was absolutely surprised at how beautiful the Chinese cities were/are. They pride themselves with having many flowers everywhere and they keep streets and sidewalks clean. This is not only in the downtown areas but all locations. The worry about having to wear masks was unfounded. The air for the most part was clear and for those thinking about traveling there the winter months are the worst when their heating systems spew the pollutants. The architecture of the cities is some of the most extreme and interesting I have ever seen. I was always amazed at some of the buildings and how they could build them with holes in the middle or wings stretching way off to the sides.
Yes, language was an issue but our guides took care of anything we needed and helped us with translations. Traveling without a Chinese interpreter could be difficult in certain areas. China is large and has many different sections where the languages are different. There is only one time zone making that part of the trip easy as we flew from city to city. The food is wonderful and all the younger adventurers, or little dumplings as our guides referred to them, enjoyed the meals and the different cuisine. Anyone with food allergies were taken care of without any issues. The guides make sure the restaurants understood and there was plenty of food on the table no matter what you could or could not eat.
I have learned so much about a country I knew little about. The people are just like us. They do tend to go for their space but in learning about that from our guide, Fred, its because at certain times in history they had to line up for food and milk and if they didn't get in there their families and children went hungry. So it is a cultural thing and one I now understand. The Chinese people really don't know us very well as we don't know them. One of the first books Fred had to read in school when he was young was a book about how America was so terrible. After guiding and being able to meet more Americans he realizes this was simply not true. The countries might have different philosophies about many things but yet we are the same in so many ways as well. Never once was I scared or truly uncomfortable. The Chinese were welcoming and friendly and actually curious. What we learned more then anything else is that they are not right, they are not wrong, but their ways are simply different.
Head to China with Adventures By Disney if you get a chance. It was a trip of a lifetime that I almost didn't take and can't imagine not having the experiences that we had. Let your comfort zone grow!