I have made no secret over the years that Mickey's Not-So-Scary Halloween Party is one of my favorite events at Walt Disney World, and that hasn't changed even as my children have gotten older. If you're like me, though, you like to know what's new so you can make sure to sample those offerings as well as your annual favorites. Here a rundown of what you can expect:
** Party dates have started earlier than ever this year — in August! The second party is tonight and another happens Friday night.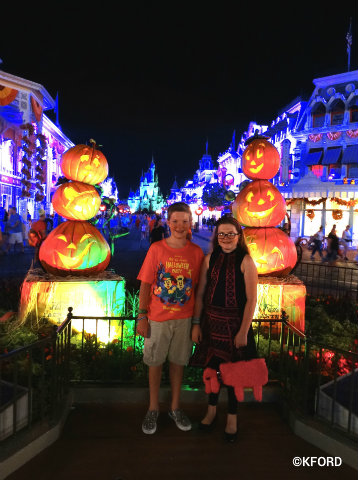 ** The Main Street bypass is open again at the start of the party, and there are incentives for walking that way. Located just past Chapeau Hat Shoppe are gates that open to a "back stage" walkway that has been dressed up and is used regularly for crowd control. In this case, Disney officials want to lessen traffic on Main Street, which gets very congested with day guests leaving and party guests arriving. To encourage arriving guests to take the alternate route, cast members stationed on the bypass hand out extra candy and photo opportunities are available. This year, guests can also buy event T-shirts there, avoiding the lines in the gift shops.
** There are a few new character meet-and-greets at the 2017 Mickey's Not-So-Scary Halloween Party nights. Moana from her self-titled movie is greeting guests in Adventureland near the Swiss Family Treehouse exit. (For a few months, she did greet guests at Hollywood Studios, but that set has ended, so this currently is the only opportunity to meet Moana.) Also, Ariel in her blue dress (and human legs) will be meeting guests with Prince Eric near her attraction, Under the Sea — Journey of the Little Mermaid, at the back of Fantasyland. (At past parties, Ariel as the mermaid was greeting guests in her grotto.)
** This year's event-exclusive Sorcerers of the Magic Kingdom card features The Country Bears in a "Moonlight Jamboree." Pick one up when you first enter the park so you don't forget or get busy! Stop by the Firehouse in Town Square and show your party wristband to collect the card, beginning at 4 p.m. For the last few years, a cast member has been standing outside the Firehouse, ready to hand out cards, and there was no line. Because this is the only time you can get the card, I recommend collecting the card. You can always use it on another visit to enhance your game.
** Trick-or-treating candy spots are marked and listed on the Mickey's Not-So-Scary Halloween Party paper map. However, some guests who attended the first party of the 2017 season have indicated there was an extra candy spot set up inside Stitch's Great Escape attraction in Tomorrowland. The attraction is only open seasonally so that looks like a fun way to see the inside. My daughter is dressing up as Scrump this year, so we definitely will have to go to this spot if it is open at other parties. Also, if it's been a few years since you've attended the party, know that the treat trails are a thing of the past; candy is collected at individual stations now. I miss being able to fill my treat bag quickly, but there is no shortage of candy during the evening, that's for sure.
** Speaking of sweet treats, there are special desserts available for purchase only during the party. Look for: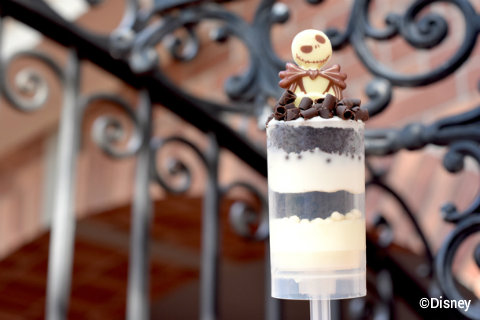 Jack Skellington Dessert (Sleepy Hollow): A vanilla panna cotta, chocolate cake, vanilla buttercream, white chocolate and dark chocolate crisp pearls, dark chocolate curls and a white chocolate Jack Skellington.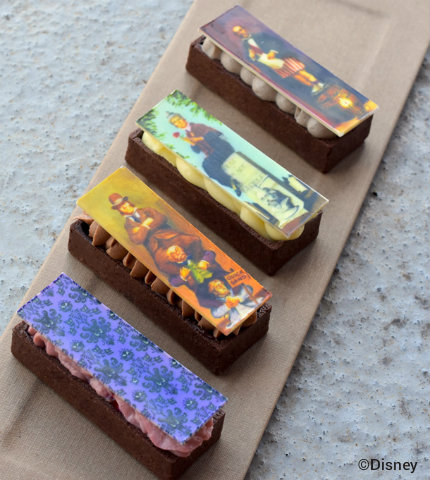 Haunted Mansion Portrait Desserts:
Aloha Isle — A chocolate tart filled with chocolate ganache and topped with Oreo panna cotta and a white chocolate Haunted Mansion-inspired portrait.
Auntie Gravity's Galactic Goodies — A chocolate tart filled with raspberry compote and topped with white chocolate mousse and a Haunted Mansion-inspired white chocolate portrait.
Liberty Square Market — A chocolate tart filled with chocolate ganache and topped with peanut butter icing and a Haunted Mansion-inspired white chocolate portrait.
Storybook Treats — A chocolate tart filled with lemon curd, strawberry compote and topped with strawberry mousse and a Haunted Mansion-inspired white chocolate portrait.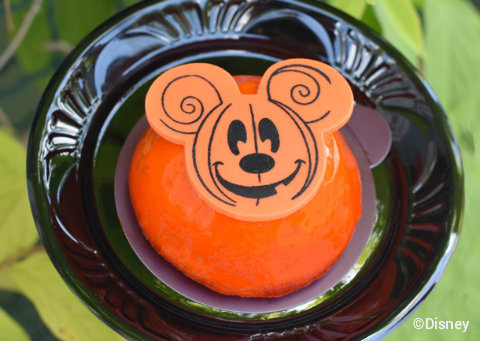 Pumpkin Cheesecake Dome (Main Street Bakery and Gaston's Tavern): Served with a graham cracker streusel base, orange white chocolate glaze and a white chocolate Mickey.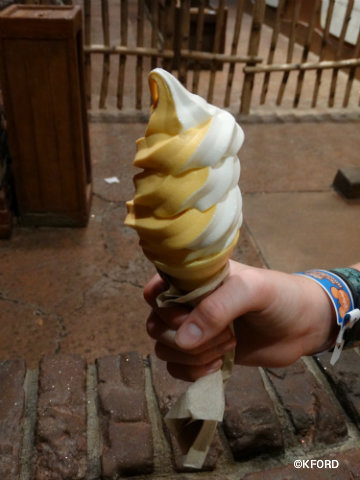 Candy Corn Soft-Serve Ice Cream (Auntie Gravity's Galactic Goodies)
Pumpkin Mickey Waffle (Sleepy Hollow): Served with vanilla ice cream, whipped cream, sprinkles and caramel sauce.
Worms and Dirt (Pecos Bill Tall Tale Inn and Café): A chocolate gravestone with chocolate cake and chocolate mousse with a chocolate glaze topped with Oreo crumbs and gummy candy.
Chocolate Crisped Rice Treats and Vampire Mickey Brownies (Outdoor vending and kiosks).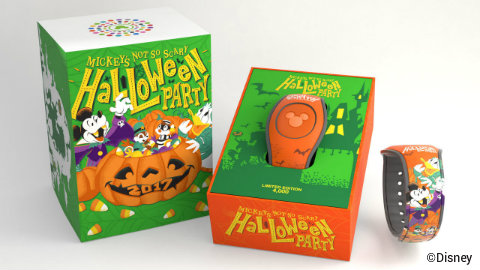 ** Finally, for the shoppers among us: Of course there is event-only merchandise, including T-shirts, MagicBands, ornaments and trading pins. The MagicBands glow in the dark and the box they are packaged in smell like chocolate! Annual Passholders can purchase an exclusive logo T-shirt and a limited edition pin with Hades from Disney's "Hercules." Disney previewed a line of Sanderson Sisters from "Hocus Pocus" merchandise, but it was pulled from shelves before the first party. No word on whether the merchandise will be sold this season.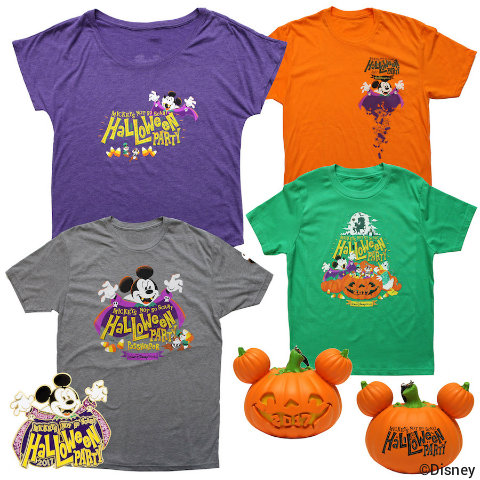 Disney's Official Theme Park products are now available anytime at shopDisney! Shop ear hats, collectibles and toys today.
And that's it … plenty of new mixed with old favorites. Happy Haunting!