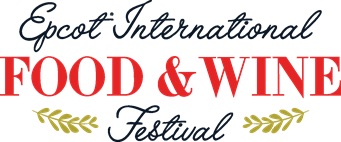 The 22nd Annual Epcot International Food and Wine Festival is running 75 days this year, starting on August 31 and carrying on until November 13. Booking for the festival's premium experiences starts on July 20 (or July 18 for certain guests). This weekend saw not one but two previews for this culinary extravaganza — the Media Preview, followed by annual Tables in Wonderland-hosted preview event.
Lucky me, I was able to attend both! Here's my recap of what I learned at the Tables in Wonderland event. (You can find my thoughts on the media preview HERE.)
First things first — something all of you who plan to visit during the festival this year should know. While booking for the special dining experiences (Party for the Senses, Signature Dining, culinary demos/beverage seminars, etc.) opens to the general public at 7 a.m. (Eastern) on July 20, EARLY BOOKING opens for select "affinity" groups on July 18! On that date Annual Passholders, Golden Oak Residents, Tables in Wonderland Members, and DVC members can book ALL events starting at 9 a.m. (Eastern). In addition, the above-mentioned groups can receive a $2 discount on beverage seminars and culinary demonstrations for Monday through Thursday only. Call 407-WDW-FEST (939-3378) to book these events. (Also, some events may be booked online at epcotfoodfestival.com.)
Among the other important news items that were announced at this preview, Marianne Hunnel, content development manager for the Food and Wine Festival, revealed that changes were being made to the grand tasting events known as Party for the Senses. This year, Hunnel said, the decor for the parties, which are held in the World Showplace in Epcot, will be updated. In addition, there will be seating for everyone, not just those who pay extra for the premium seating areas. There will be five of these parties over the course of the festival, with two themed evenings: on September 23, chefs from Disney Springs restaurants will be featured, while on October 21, chefs from the Disney Parks will be in the spotlight. The other party dates are October 7 and 14, and November 11.
Signature dining experiences once again extend into the Disney resort hotels, with several returning favorites, such as the Trader Sam's Grog Grotto event. There are also a number of special luncheons and dinners at restaurants around the World, from in-park locations like Tiffins to Morimoto Asia and STK at Disney Springs.
Unfortunately, no additional information was available for the culinary demonstrations, beverage seminars, or Mix It, Make It, Celebrat It! workshops — that is, we still don't know which chef or winemaker will be appearing on which dates or times. We hope that info becomes available soon, since early booking is just a few days away!
The expanded duration of the festival means that the number of Eat to the Beat Concerts has been increased, too. This year, there will be 11 new acts performing, and a total of 32 acts altogether, a figure that entertainment coordinator Stacey Simmons called "the most ever." Newcomers to the festival include country singer Lauren Alaina, the Hooters, 10,000 Maniacs and personal favorites American Authors (you have to love their song, "Best Day of My Life") and '80s legends Squeeze. (Yes, you will find me as close to the front row as I can get during their shows!)
Notable for its absence this year is the Chase Lounge, which for the past few years has provided an appreciated respite for Disney Chase Visa and Debit Card holders. Also missing this year was any mention of the popular Tasting Sampler package, which allowed you to buy eight sample "coupons" in advance to use at will. Last year's Rockin' Burger Block Party and the Yelloween events are also not on the schedule.
But of course there is more about the food! Culinary director Gregg Hannon said that there will be about 39 new menu items at the marketplaces, in fact. There were quite a few more samples at the Tables in Wonderland preview than I'd had at the media preview, and I made sure I found my way to all of them. To wit:
Seafood Salad with shrimp, bay scallops and mussels will be found in the Spain marketplace.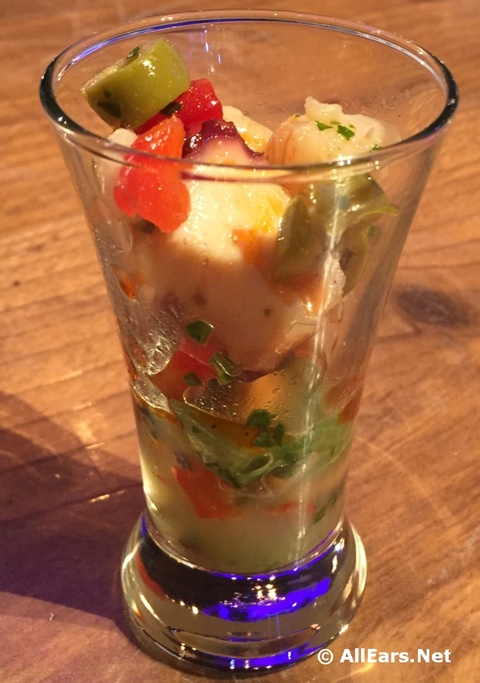 The Warm Irish Cheddar Cheese and Stout Dip with brown bread was oh so good — so good that you wanted to drink it like a soup! (And I may or may not have been guilty of that…)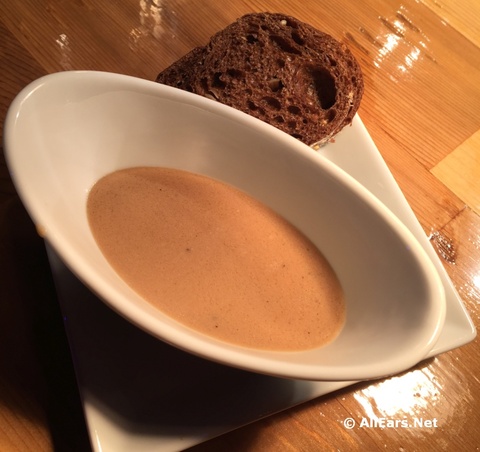 The Chocolate Picante from the Flavors from Fire marketplace is a very rich, dark chocolate mousse with cayenne pepper, chili powder and raspberry dust. Way better than I expected it to be.
Also from that marketplace, the Sweet Pancake with Spicy Chipotle Chicken Sausage and Onion Jam, with Maple Butter Syrup, was a mixed bag. Loved the chicken sausage — it had just enough kick, and its savoriness contrasted well with the sweet syrup. The pancake, however, was heavy and rather flavorless.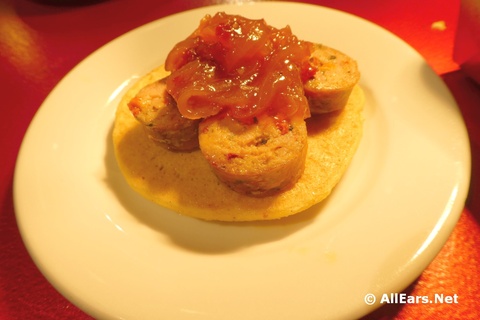 I liked the Banana-Almond Soft-Serve Sundae with berries and crunchy chocolate oats well enough. You'll find in the new Almond Orchard marketplace (sponsored by Blue Diamond Almonds).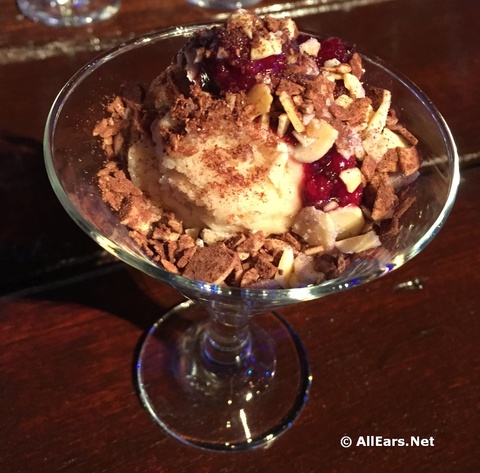 It may not photograph that well, but I really enjoyed the Ethiopian Red Lentil Stew with vegan yogurt and quinoa. The entire dish is vegan, I believe, and though it's billed as "spicy" I felt it had just the amount of heat to make it interesting.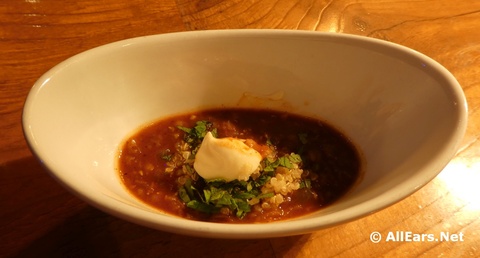 A real surprise was the Pomegranate Beer, made by the same folks (Schoffenhofer Hefeweizen) who brought you the popular grapefruit beer you'll find in Epcot's Germany pavilion (and elsewhere, I'm sure). The pretty pink beverage was light and refreshing, even to this non-beer drinker.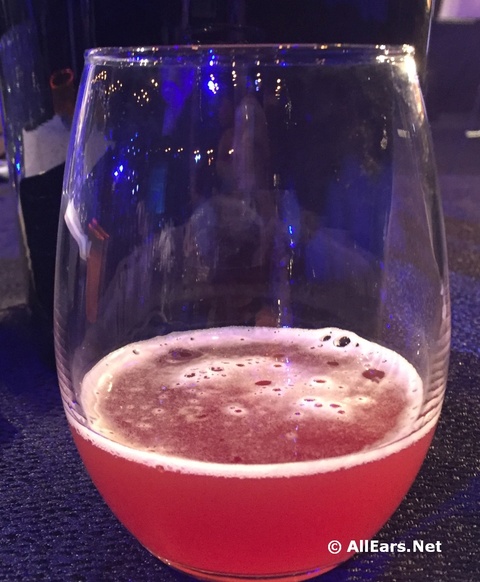 It's hard to make some drinks look interesting in photos, but for the sake of comprehensiveness, I will tell you that I also tried the Cucumber and Lemon-Lime "Hard" Water (5% alcohol), the Black Raspberry Mead (ick), the Liberated Pinot Noir (meh), the Sparkling Pineapple Wine, the New Zealand Frozen Wine Cocktail (with Kim Crawford Sauvignon Blanc), and the refreshing RGB: Citrus Apple Freeze, which will be part of the Light Lab (see Part 1 of this blog) and is supposed to turn colors from Red to Green to Blue (RGB, get it?) depending on the lighting.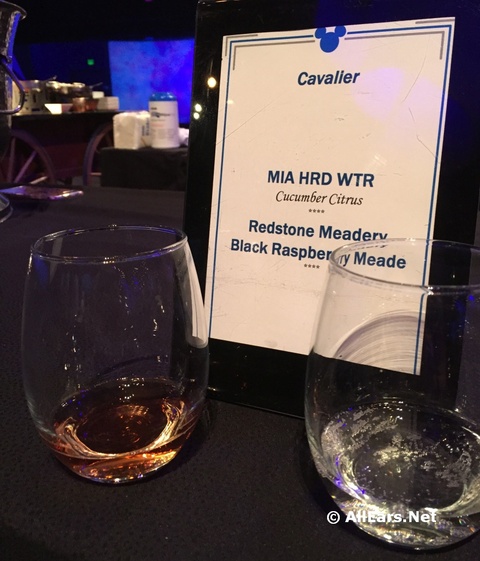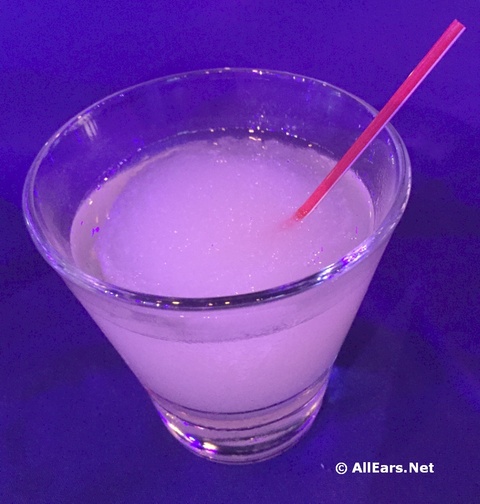 So, that's about all we know about the 2017 Epcot Food and Wine Festival for now. For more details on the signature dining events and other dining experiences, be sure to check out our collection of Food and Wine Festival pages, and don't miss our reviews from last year to get an idea of what to expect.
2017 Epcot Food and Wine Festival General Info
Marketplace Menus for 2017 Epcot Food and Wine Festival
Special Ticketed Food and Wine Festival Events
Culinary Demos, Beverage Seminars, Mix It Make It!
2017 Eat to the Beat Concerts Announced!
The Chew Returns to Food and Wine Festival; Launches Sweepstakes