Summer camp season is upon parents everywhere. And for those who have children who love playing soccer, Walt Disney World is offering a new training option.
For years I have written about the Disney Soccer Academy for youths that takes place each summer at the ESPN Wide World of Sports Complex. I questioned why I couldn't find updated information for 2017, and now I know why: The resort is going in a different direction and pairing with renowned league LaLiga for a new youth soccer program.
It appears that the biggest differences in what is being offered are the style of play and the lengths and immersion of the programs. The old Disney Soccer Academy offered four- and five-day clinics in the summer, and the new LaLiga program will focus on year-round soccer education.
"Through this multi-year agreement, the program presented by LaLiga and Walt Disney World Resort will provide a holistic approach to soccer education with proven, year-round training and development for youth soccer athletes, developing them on and off the field, as well as training for coaches and officials," according to a press release.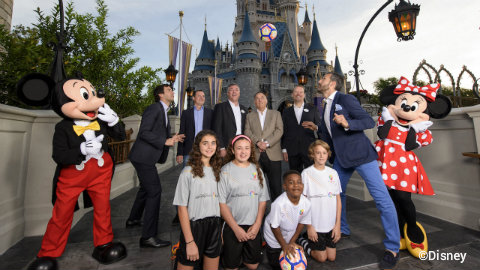 LaLiga teaches the Spanish style of play and the Disney Soccer Academy featured professionals from the United Kingdom and the United States. ExpertFootball.com describes the Spanish style of play this way: "The Latin game is very distinctive because of its possession-oriented character. Attacks are developed through possession. The ball is moved spontaneously with a lot of individual-based plays. Latin teams, such as Spain, Portugal, Brazil and Argentina, are typical examples."
That's compared to the British style of play, according to the website: "The no-nonsense British style incorporates a lot of traditional values that have been present in England since the emergence of football. Attacks are set up quickly and with few touches. This fast-pace mentality often leads to fierce fighting over 50-50 balls. Passes are direct, often sent over the defense and crosses are served from any situation."
LaLiga is one of the most popular sports leagues in the world. It has produced Europe's top-rated club more times — 18 — than any other league, according to the press release. And now locals and visitors will be able to see what the league can offer kids during an open house on June 1 through 4 at the ESPN Wide World of Sports Complex.
Training and development for kids ages 4 to 18 is scheduled to begin in late June. In addition, multiple events and exhibitions are expected to be brought to the complex each year, including a tournament, on-site events and summer camps with current and former LaLiga players and coaches, visits from LaLiga legends and ambassadors, and more events to be announced throughout the multi-year relationship.
"For the last 20 years, ESPN Wide World of Sports Complex has been a top venue for athletes of all ages and levels to pursue their sports dreams," said Faron D. Kelley, vice president of Disney Sports. "As we continue to expand our growing portfolio of youth soccer events, we are excited to work with IdeaSport and LaLiga to provide this world-class development opportunity for youth soccer athletes."
Kids who are interested in playing for the new Disney-LaLiga program can express their interest by filling out a short form here.