Just in time for next week's Star Wars Celebration in Orlando and Galactic Nights at Walt Disney World comes the Blu-ray and DVD release of Rogue One: A Star Wars Story. Directed by Gareth Edwards, Rogue One has become the seventh highest-grossing film of all time in the United States, garnering two Academy Award nominations.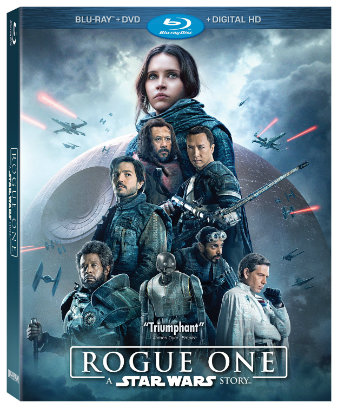 For Star Wars fans, it's felt like a long time since the movie left theaters. But this week, Rogue One was released On Demand and as a Blu-ray DVD Combo Pack with plenty of bonus features. Here's a look at what you'll get:
** A Rogue Idea — Hear how ILM's John Knoll came up with the movie's concept and why it's the right film to launch the Star Wars stand-alone films.
** Jyn: The Rebel — Get to know Rogue One's defiant, resourceful survivor, and hear what it was like for Felicity Jones to bring her to life onscreen.
** Cassian: The Spy — Diego Luna shares insights into his complex, driven character, who becomes a hero through selflessness, perseveranc,e and passion.
** K-2SO: The Droid — Explore the development of this reprogrammed Imperial droid, from initial pitch and character design through Alan Tudyk's performance.
** Baze & Chirrut: Guardians of the Whills — Go deeper into the relationship between these two very different characters, with Chinese superstars Jiang Wen and Donnie Yen.
** Bodhi & Saw: The Pilot & The Revolutionary — Forest Whitaker and Riz Ahmed reflect on Saw Gerrera, the broken Rebel leader, and Bodhi Rook, the Imperial pilot who defects.
** The Empire — Meet a dangerous new Imperial adversary…and cross paths once more with the most iconic villain of all time.
** Visions of Hope: The Look of Rogue One — The filmmakers describe the challenges and thrills of developing a bold new look for the movie that can fit within the world of the original trilogy.
** The Princess & The Governor — See what it took to bring the vibrant young princess of Star Wars: A New Hope–as well as one of her most memorable foes–back to the screen.
** Epilogue: The Story Continues — Filmmakers and cast celebrate Rogue One's premiere and look forward into the future, to the Star Wars stories yet to be told.
** Rogue Connections — Uncover Easter eggs and film facts hidden throughout the movie that connect Rogue One to the Star Wars universe.
Perhaps most exciting is the Epilogue: The Story Continues, which gives fans a glimpse at what might coming in future projects. Disappointingly, there are no deleted scenes, even though the film was reworked at the eleventh hour so there should be a lot left on the cutting room floor.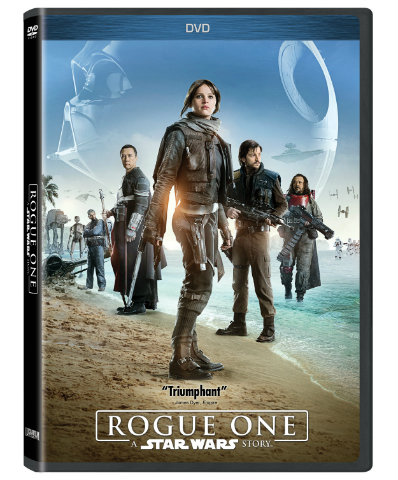 Standard packaging is available as well as these retailer exclusives:
Target Exclusive: 5-disc set includes collectible packaging with interchangeable character covers and exclusive bonus content (Blu-ray 3D + two Blu-ray + DVD + DVD exclusive content — 2 additional bonus features + Digital HD + collectible packaging)
Best Buy Exclusive: 4-disc set with exclusive SteelBook packaging (Blu-ray 3D + two Blu-ray + DVD + Digital HD + SteelBook packaging)
Walmart Exclusive: 3-disc set with exclusive K-2SO packaging and two Galactic Connexions trading discs (two Blu-ray + DVD + Digital HD + K-2SO packaging + two Galactic Connexions trading discs)
Rogue One: A Star Wars Story also is available to own on Digital HD and Disney Movies Anywhere.