As I mentioned in my last blog post, on our first trip to Disneyland last month, my family and I decided to splurge on two top dining experiences that allowed us premium seating for the popular night-time shows that require FastPasses. In this post, I will relate our experiences with the Carthay Circle World of Color dinner package.
Like its counterpart Blue Bayou at Disneyland, Carthay Circle at Disney California Adventure is the top-tier choice for dining, and it comes with reserved admission to a popular night show, in this case to the best viewing location for World of Color: Celebrate. Unlike Blue Bayou, World of Color packages are available for lunch and dinner. We chose dinner because of our schedule and the entrée selections, but those who are more flexible might enjoy saving some money at lunch and still having the same great seating.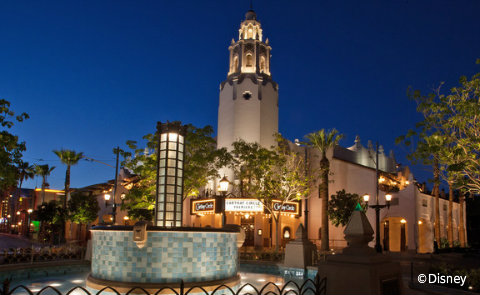 Walking into Carthay Circle is like stepping back in time to the opening night of "Snow White and The Seven Dwarfs" in 1937. That's because the restaurant is a reproduction of the now-demolished Carthay Circle Theatre, which was where Walt Disney's first feature-length film premiered.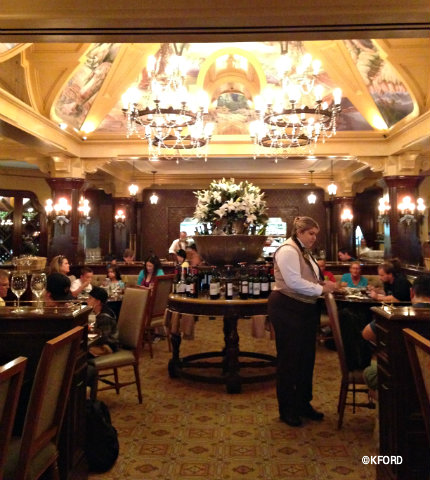 Carthay Circle restaurant's decor reflects the romance and glamour of Hollywood's Golden Age, including references to the accomplishments of Walt Disney and his original animators. See Snow White and the Seven Dwarfs Courvoisier cels – the only animated art ever to hang in Walt Disney's home – and scenes from the movie painted on the vaulted ceiling of the second-floor main dining room. Seating is also available on two open-air terraces and in four private dining rooms. (The first-floor lounge has it own, separate menu.)
When we checked in for our reservation, the hostess told me they were seating on the terraces. After a hot day in the parks, we really did not want to sit outside. Plus, we wanted to enjoy the restaurant's unique décor, so I just said we preferred to eat inside and she accommodated our request. We had a choice of an ornate elevator or a winding staircase to the second floor.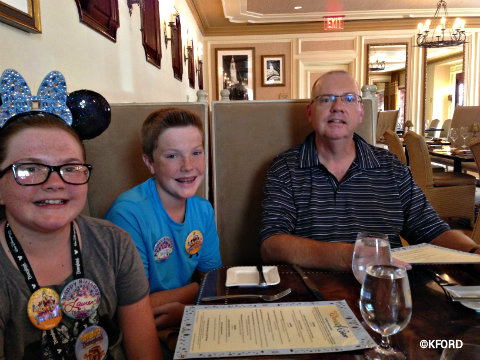 Once there, we were seated in an intimate booth in one of the rooms adjacent to the main dining room. We actually were the first party to be seated in the room, but it soon filled with other families. Once again, we were able to make our dinner selections from a three-course, fixed menu for the dinner package. This time, however, the chef was Andrew Sutton, who also is the executive chef of the award-winning Napa Rose restaurant at Disney's Grand Californian Hotel & Spa and at the exclusive members-only Club 33 at Disneyland park.
The appetizer course was the Carthay Circle Salad; entrees included the choice of lamb meatballs, chicken and spinach ravioli, parmigiano reggiano gnocchi, sustainable fish of the season, salmon, pork chop, steak or a chicken breast; and dessert was either a lemon pound cake or a dark chocolate mousse bar. For this dinner, we all tried different entrees. My husband had the sustainable fish of the season, which was served with root vegetables and Swiss chard with orange-radish salad. I chose the thick-cut pork chop, which was served with California mushroom chili and onion fondue with fresh cherries. My daughter chose an adult-size portion of the chicken strips from the kids' menu, and my son again selected the steak, this time a grilled angus with Yukon potatoes, leeks, fresh fava beans and a Cabernet jus. We each were pleased with our selections. For dessert, we all sampled the dark chocolate mousse bar, which had three small desserts. The kids and I decided the sophisticated s'mores dessert was our favorite, hands down. It's worth noting, too, that my husband said he enjoyed the beer selection available.
At the start of our dinner, we had a nice surprise when the wait staff opened the doors to the balcony so diners could go out and watch the Pixar Play Parade. We hadn't had time yet to see the parade so it was great fun to view it from our unique vantage point.
For the second consecutive night, we had excellent food and service with our dinner package. Carthay Circle was the same price as Blue Bayou — $61 plus tax for adults — which we consider pricey for a family of four. Still, it did include our World of Color reserved premium viewing. For us, it was worth it for our first-time experience at both the restaurant and the very popular show.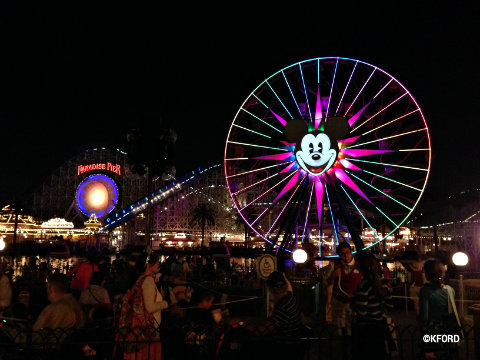 As for the World of Color viewing area reserved for Carthay Circle diners: It was located in the center of the production as promised, and there seemed to be plenty of room for everyone. Most people stand for this show, unlike Fantasmic!, where they sit. There were two benches available on a first-come, first-served basis for those with disabilities.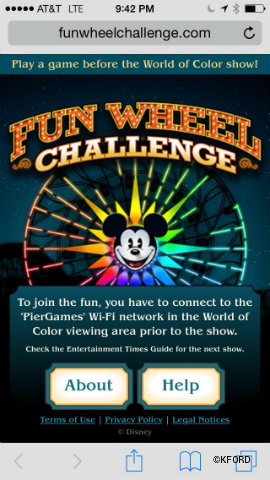 Cast members began admitting people to the various roped-off viewing sections about an hour before the show, which was 8 p.m. for the early World of Color. Guests are allowed to bring food and drink into the sections. About 15 minutes before the show, audience members are invited to play Fun Wheel Challenge on their electronic devices. This game asks players to match the colors on their mobile-device screens that are lighting up on the Ferris wheel. The winner is the quickest and most accurate participant, and he or she then gets to control the color patterns on Mickey's Fun Wheel for 30 seconds. My children really enjoyed this game.
We all were impressed by World of Color: Celebrate. I had heard from some passholders that they preferred the original show better because the 60th anniversary edition was heavy on Neil Patrick Harris. I can understand that criticism, because his parts did seem to get equal time with those of Walt Disney and the history of Disneyland. Still, for Walt Disney World veterans who hadn't seen this show, it was a treat.