Don't be surprised if you see #DisneySide more prevalent on your social media networks in January. The Walt Disney Company has at least two new initiatives that are part of this marketing campaign in January – and both focus on rewarding Disney fans with some pretty amazing prizes.
#DisneySide actually began in earnest in 2014. Social Media Director Thomas Smith initially wrote on the Disney Parks Blog that a person's "Disney Side" is "the side of you that says 'yes' more often, laughs louder and lives life to the fullest. It's the side of you that embraces fun and comes out to play the moment you step through the gates at Disney Parks."
During the last year, the company offered a number of contests and meet-ups for Disney fans to express their creativity and their love of the brand. And the new year brings new opportunities.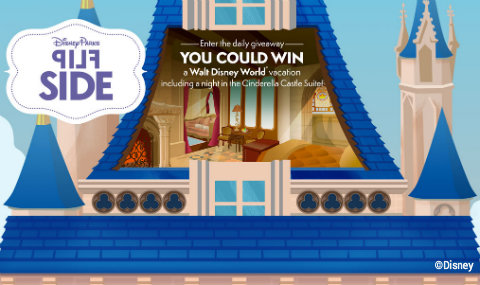 Beginning today, Disney Parks is giving away a Walt Disney World vacation every day during the month of January. As if that's not exciting enough, each of those five-day, four-night vacations includes one night's stay in Cinderella Castle – the most coveted suite on property!
To enter the Disney Flip Side sweepstakes, you must be a registered user of Disney.com. (Registration is free.) Then, click on http://parks.disney.com/disney-flip-side-sweepstakes. Each day is considered a separate contest legally so each user can enter once every day in January. Participants must be residents of the 50 United States, D.C., Puerto Rico or Canada and must not be a minor, as defined by their place of residence.
The vacation prizes also include five-day Magic Your Way tickets with Park Hopper and Water Parks & More options; $500 Disney gift card; personalized Disney Side gift basket; Glass Slipper gift inspired by the upcoming film, "Cinderella"; and round-trip coach airfare for those living more than 250 miles away from Walt Disney World.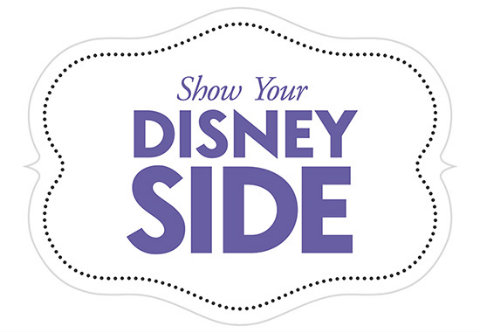 Disney also is repeating its Disney Side Home Celebrations. Families were invited to apply — the deadline has been extended through this week — to host at-home Disney parties during January or February 2015, and winners are being notified on or by Monday, Jan. 5. (If you still want to apply, go to http://bit.ly/13zjsKh) For their parties, hosts receive a box of goodies for at least 10 parents and 10 children. The package includes party favors, decorations, games, activities, recipe ideas and a special hostess gift. In exchange for taking part, winners agree to share their experiences online and offline.
This time, the latest Disney Side Home Celebration kits are tailored to each family's current stage. "Whether your preschooler is gearing up for her first spin on the teacups, your tween is busy scouting out the best "selfie" spots in the Magic Kingdom, or you're excitedly planning a family reunion trip that includes everyone from grandparents to great aunts, there is a Disney Side @Home Celebration experience perfect for your Disney lovin' crew," according to the application.
"And just like each visit to Disney Parks, the latest Disney Side Home Celebration opportunity provides new ways for you to connect with your family and friends over your love of Disney." Of course, that means plenty of photos will be posted online to show off their Disney sides.