In Orlando, not all magic is pixie dust.
As most Harry Potter fans (and Central Florida tourists) know, Muggles now have a rare opportunity to step into Diagon Alley, the shopping district of wizards, right here in Orlando. Although regular people normally are not able to see what wizards do, Universal Orlando Resort has made that possible with its second themed area in The Wizarding World of Harry Potter.
The much-anticipated Diagon Alley opened this summer, and my son and I just visited it this past weekend. Like so many others, he is a huge Harry Potter fan, so this was the perfect birthday present. We bought park-to-park passes, which are necessary if you want to experience both parts of The Wizarding World of Harry Potter. (Hogsmeade is at Islands of Adventure and Diagon Alley is at Universal Studios). There also is a new train — Howarts Express — that runs between the parks and is an attraction in itself. You must have the park-to-park tickets to ride the train, as well.
We began our day as Harry did in the first book, "Harry Potter and the Sorcerer's Stone," by entering Diagon Alley. At Universal, the entrance to the themed area is not what we've come to expect in Orlando with arches proclaiming it a new "land" of the theme park. Instead, visitors walk to nearly the back of Universal Studios and come upon what looks like a street of buildings from London, including King's Cross Station, a record store, a traditional red telephone booth and walk-up flats. Behind the unmarked facade is a nondescript entrance to Diagon Alley that is meant to replicate the hidden way wizards enter their secret parts of the city, while ordinary people are unaware.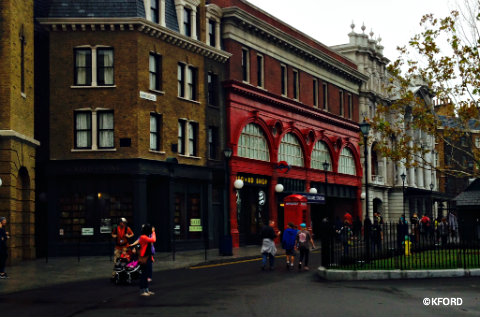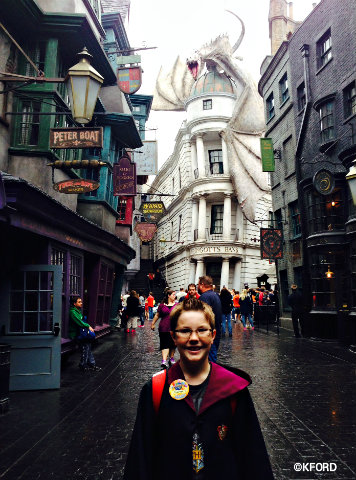 Just as its creators intended, walking into Diagon Alley is like stepping into another world. The buildings are tall enough that you cannot see the rest of the theme park, and the experience is so immersive that you really do feel as if the setting from the story has been brought to life.
The Leaky Caldron restaurant, which has a secret entrance to Diagon Alley in the series, is located immediately to the left when you enter the section. It's the only restaurant in Diagon Alley and it serves traditional British fare, such as bangers and mash, fish and chips or cottage pie for lunch and dinner, as well as English and American favorites for breakfast. The Leaky Caldron is a quick-service restaurant, where you stand in line to order before being seated, and then, your food is brought to your table. Prices range from about $10 to $15 per entree.
In addition to the food, the restaurant serves a rainbow selection of specialty drinks, including the park's famous Butterbeer, which is a non-alcoholic drink. In Diagon Alley, guests can choose to drink their Butterbeer cold, frozen or warm (during the winter season). During our day, we revisited the frozen Butterbeer, but we also sampled the warm version for the first time. The warmed drink was our favorite of the three, hands down. (You can even get Butterbeer ice cream at Florean Fortescue's Ice Cream Parlour!) We both tried the Pumpkin Juice again, which I enjoyed, but my absolute favorite was Otter's Fizzy Orange Drink. Be prepared: It can be messy because of the sugar affixed to the rim, but Otter's Fizzy Orange Drink truly is delicious.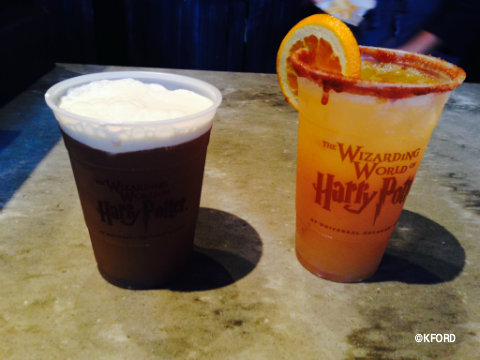 The centerpiece of Diagon Alley is, of course, the ride, Harry Potter and the Escape from Gringotts. The attraction immediately is visible from the entrance with the vault-guarding dragon. (The dragon breathes fire at seemingly random times during the day and is beautifully bathed in blue and purple lights at night.) In the books, Harry must go to the Gringotts Bank to take out the inheritance that his parents left for him, but it is a process of overcoming many obstacles. The attraction at Universal mimics Harry's harrowing struggles with a 3D ride that is part simulator, part roller coaster. Waiting in an hours-long queue for the ride has become the norm because of its popularity, but many park-goers will tell you it's well-worth the time invested.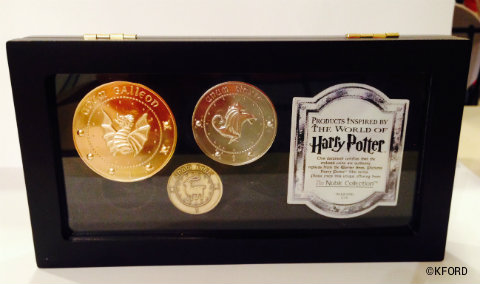 Next to the attraction is Gringotts Money Exchange. In here, visitors can exchange Muggle Money (U.S. currency) for $10 and $20 Gringotts Bank Notes that can be used throughout Universal Orlando — or kept as a souvenir. When we visited, my son was able to purchase a set of Collector's Coins for $35. A goblin who sits at the desk interacts with visitors by answering their questions.
Everywhere you look in Diagon Alley, you are sure to see guests attempting magic with their new wands. That's because Universal introduced interactive wands with the opening of Diagon Alley. These wands come with a map of 20 places in the marketplace where young wizards can perform magic. They also work at Hogsmeade village at Islands of Adventure, too. This reminded me a lot of the Sorcerers of the Magic Kingdom game at Walt Disney World. But at Universal, we found team members near almost every spot we visited, willing to show apprentices how to cast their spells. Their participation surely headed off any frustration from the wizards in training.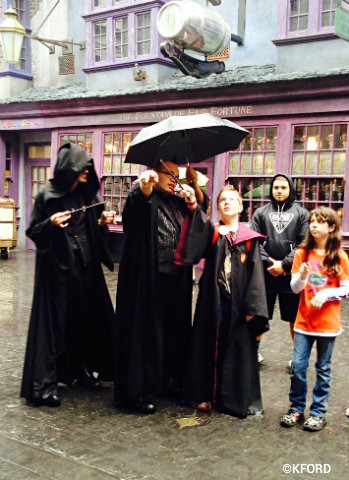 Interactive wands cost about $45, and "Originals" — which do not work with the interactive locations and are merely replicas — are priced at $35. Both can be purchased at Ollivanders Wand Shop. Ollivanders has a small branch in Hogsmeade, but the main store now is located at Diagon Alley. Because of the overwhelming popularity of the Hogsmeade location, the Diagon Alley was designed to be much larger with three showrooms and the shopping area.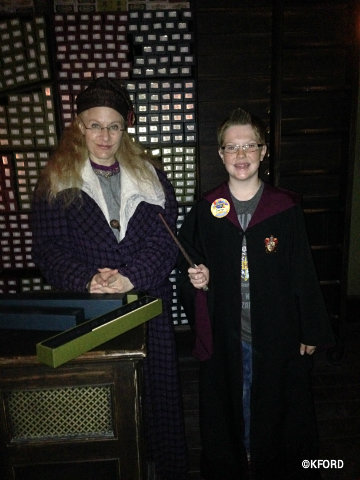 What draws many guests to the store is what takes place in each showroom — a short show in which a wand is made to choose a wizard. It's clever, it's fun, and it has guests attending multiple wand shows to see if they will be chosen. My son and I were no exceptions this past weekend. He *really* wanted to picked. Fortunately, it only took us two attempts, before a Holly wand chose him. We purchased the wand after the ceremony, and he thoroughly enjoyed the interactive experiences for the rest of the day.
There are quite a few other shops that we enjoyed browsing, including Quality Quidditch Supplies. Among the most unique, however, were Weasleys' Wizard Wheezes, which is full of Fred and George's pranks from the films, and Magical Menagerie, which has plush versions of all the crazy animals in the movies. My son's birthday money bought him a chocolate frog, a phoenix and a dragon.
For those brave enough to see where followers of the Darks Arts go shopping, Knockturn Alley is tucked away in a corner of Diagon Alley. Give your eyes a minute to adjust to the darkness of this section, and be prepared for a lot of skulls and skeletons. There is one store, Borgin and Burkes, but a lot to see.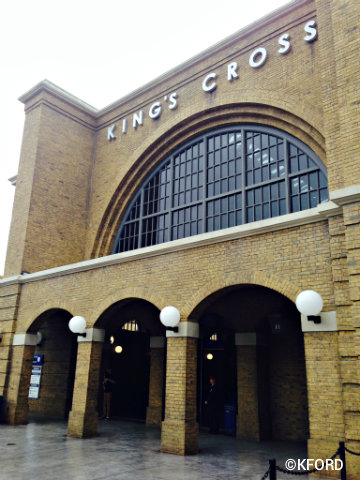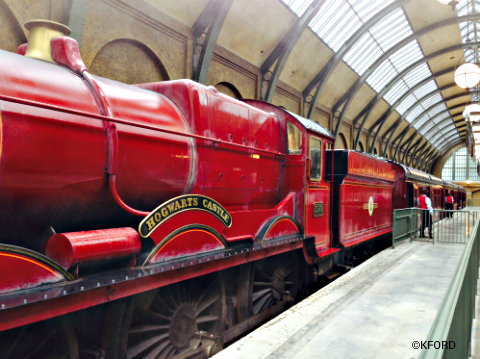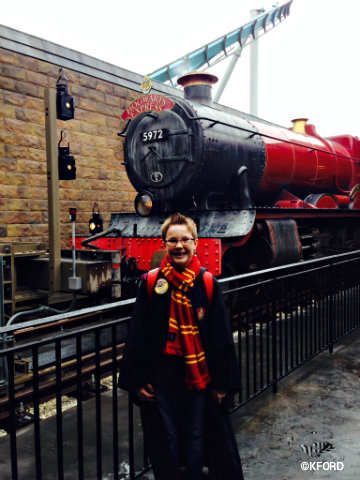 Finally, we headed out to King's Cross Station for a ride over to Hogsmeade village on Hogwarts Express. Although the train is a viable way to get from park-to-park, it really is an attraction itself and one that is worth your time. Be prepared for a lot of stairs at both stations, though an elevator is easily accessible for those who request it. A fun special effect allows you to run through a wall at Platform 9 3/4, just as wizards do in the series. Seeing the train enter King's Cross is a sensory experience with the steam, bright colors and loud noises. But once it stops and guests exit, new visitors are boarded in their assigned cabins for a smooth and quiet experience. I don't want to spoil what happens on the train, but it is not frightening for children and should be a fun experience for the whole family.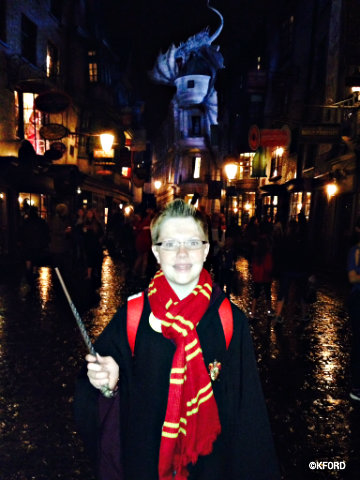 Diagon Alley is an area with so many layers of rich detail that I'm certain my son and I only experienced a fraction of what is offered. This article is merely meant to introduce Disney fans to another Orlando experience that is as immersive as what they've come to expect at Walt Disney World. My son and I look forward to future visits at Diagon Alley, and all the special magic it offers.