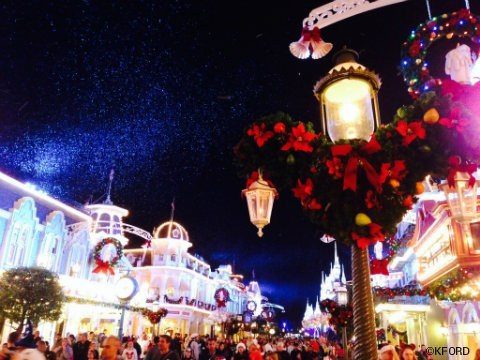 Do you hear what I hear? Why, yes, it is Mickey and his friends singing Christmas carols at the Magic Kingdom holiday party that happens every year about this time. And if you're planning on going and want to have yourself a very merry Christmas at the event, consider a little preparation before you go.
Whether you are a relaxed, go-with-the-flow kind of traveler or one who thrives on lists and reservations, it's important to have at least discussed the priorities of your group before arriving at Mickey's Very Merry Christmas Party. There are so many things to do and everyone wants to feel as if they have gotten their money's worth because party tickets are not inexpensive. In my opinion, however, they are worth it if you use your time wisely.
For the most part, I am a Type A traveler, and like moms everywhere, I am the one who packs for the kids, plans the group photos, makes the dinner reservations — and then collapses into bed satisfied at the end of a successful day. Here are things I consider before attending Mickey's Very Merry Christmas Party. I hope they will help you, too, make the most of your experience.
Before you go:
** Outfits. There are many great backdrops for family photos that could be used on Christmas cards and other photo gifts, so I usually plan what we will wear. You don't have to embarrass your husband with matching sweaters, but maybe he could be persuaded to upgrade his old T-shirt for the night. Pack accordingly, and don't forget festive hats or other holiday props to get in the spirit.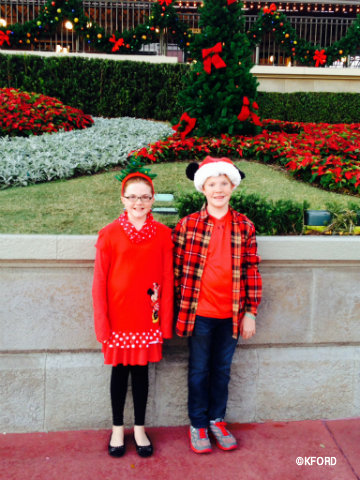 ** Disney's MemoryMaker. If you are staying at Walt Disney World on vacation and not attending the party as a day guest, purchasing MemoryMaker may be worth the expense. MemoryMaker will give you all the professional photos taken during your trip. If you order it at least three days before you arrive, you will save $50.
** Plan a relaxing morning at the hotel or another low-key event, so you will be energized when you arrive at the Magic Kingdom. Although most party events do not start until 7 p.m., your ticket does allow you to enter the park at 4 p.m. and there is plenty to do to take advantage of those three hours.
What to do before the party starts:
** Stop by the Fire House in Town Square to collect your special edition Sorcerers of the Magic Kingdom card. This year's card is Elsa's Icy Shield. More details here.
** If you haven't been able to secure a reservation for dinner at the oh-so-popular Be Our Guest restaurant, you might have a shot during Mickey's Very Merry Christmas Party. A fellow blogger told me that the cast members will take a limited number of walk-up reservations, usually beginning between 6 and 6:30 p.m. If you are able to get on the list, understand that this likely means sacrificing a couple of hours of party time. You have to decide if that trade-off is worth it to your party.
** If you are not trying for Be Our Guest reservations, have a quick bite to eat. We prefer a counter-service restaurant on party nights so we have time to get to all the entertainment. This year, however, we jumped right into a queue and never ate a meal, or much else, that night. If you think you might choose this last option, be sure to pack a few snacks if you have youngsters in your party.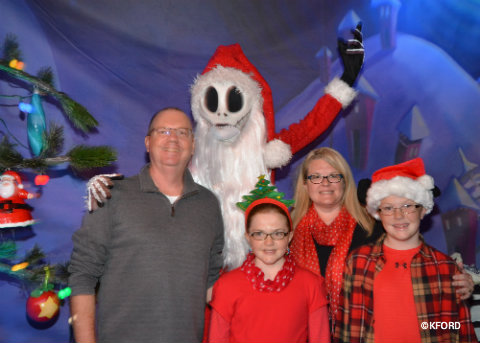 ** This year's hottest character meet-and-greet is Jack Skellington dressed as Sandy Claws. On the first party night, we got in line about 5:30 p.m. and waited two hours. (This was the same queue time last year when Jack made his first appearance at Mickey's Not-So_Scary Halloween Party.) Because of the high demand, MouseSteps.com is reporting that Sandy Claws now is greeting guests beginning at 6:15 p.m. instead of 7 p.m. Only guests with party wristbands will be allowed in the queue. Either way, I recommend heading over to the line in Storybook Circus early so you can do your waiting before the party starts and other entertainment will be competing for your time. And though the line might be long, one good aspect of this meet-and-greet site is that it features a couple of charging stations for your electronics, so you can be productive in that sense as you wait in line.
** Also at 6:15 is the new "A Frozen Holiday Wish," the short stage show in front of Cinderella Castle during which the folks from Arendelle light up the 200,000 "icicles" adorning the castle. If you opt to wait for Sandy Claws early, this show repeats at 8 p.m.
** Check out the Jungle Cruise, which has been transformed into the Jingle Cruise for the second year. This "world-famous" holiday overlay can be experienced during regular park hours, too, but if you have some time to kill, it's a fun way to get in the Christmas spirit before the party.
Touring plan for party hours:
** You won't want to miss Mickey's Once Upon A Christmastime Parade, which includes the Frozen characters for the first time this year, other beloved Disney characters, everyone's favorite toy soldiers and a certain Jolly Old Elf ho-ho-ho-ing. The parade is presented twice at 8:15 and 10:30 p.m., bookending the Holiday Wishes fireworks and Celebrate the Magic castle projection show. The first parade is always much busier than the second, so if you can wait, I'd recommend it. If the second parade is past little ones' bedtimes, plan on securing a spot along the parade route an hour in advance.
** Holiday Wishes at 9:30 p.m. is also another must-see. For this display, however, you can step onto Main Street U.S.A. or around the perimeter a few minutes before the start time. Our family's plan was to arrive on Main Street about 9:10 for the beginning of Celebrate the Magic at 9:15 and the fireworks at 9:30. When they ended 20 minutes later, we grabbed a spot on the curb for the second parade. The party we were attending was sold out, so even seats along the curb were scarce for the second parade. It's usually less crowded in Frontierland and Liberty Square, however.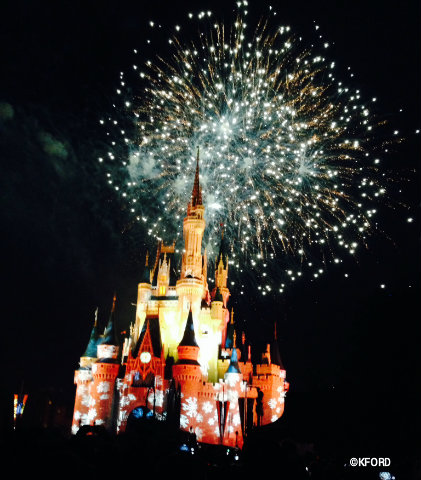 ** During the party hours, there also are two stage shows — A Totally Tomorrowland Christmas and Celebrate the Season — that are presented multiple times throughout the night. Both are fun shows if you have time to catch them. We tend to make these a lower priority because there is only so long you can ask a child to sit still.
** Character dance parties occur continuously at The Diamond Horseshoe and Cosmic Ray's. We popped into Club Tinsel at Cosmic Ray's after picking up a complimentary serving of hot cocoa, cookies, apple juice and apple slices. The high-energy dance songs were popular with the kids in attendance and even the staffers in the restaurant, judging by all the dancing we saw.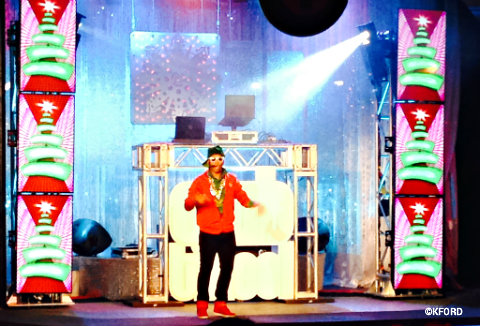 ** The Disney characters are out in full force — favorites such as the Fab 5 and more rarely seen characters such as Scrooge McDuck, Santa Goofy, the Seven Dwarfs and the princes. This year, Minnie Mouse debuted a new party costume.
** If you are in the market for souvenirs, be sure to check out the exclusive party merchandise. In addition to the usual assortment of T-shirts, ornaments and pins, there is a Limited Edition Mickey's Very Merry Christmas Party MagicBand and a Limited Edition Olaf Christmas MagicBand.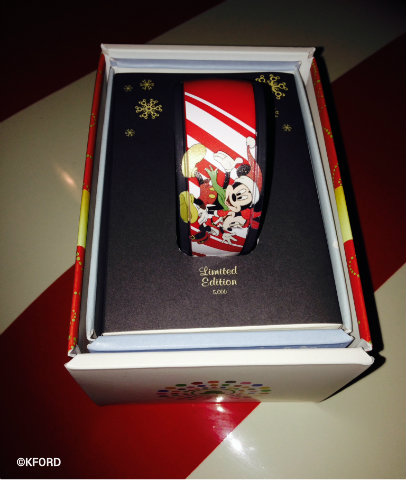 ** Remember those outfits you so carefully planned? Don't forget to have at least one professional photo taken of your group once darkness falls. One of my favorite spots is the photo opportunity set up in Town Square with Main Street and the castle in the background. The other is on the bridge from the hub to Tomorrowland, where you will have a nice view of Cinderella Castle lit up with the icicles.
** Finally, if you're feeling like a scrooge and just want to escape the crowds, don't forget about all the attractions that are open. My family tends to focus on all the Christmas activities, but the rides actually have short lines — no FastPasses needed — if that's where your interest lies.
DISCLAIMER: I was a guest of Walt Disney World at a media preview of Mickey's Very Merry Christmas Party. This did not affect my story, and my opinions are my own.