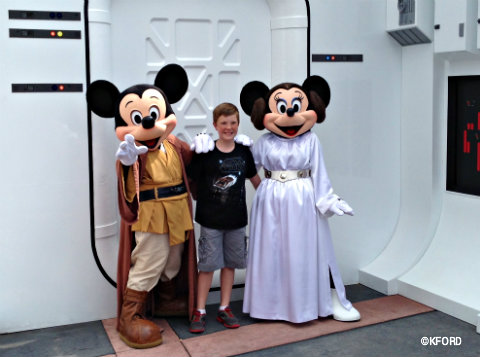 The galaxy has expanded with new offerings this year for Star Wars Weekends at Walt Disney World. Advance planning definitely is key to experiencing all that Disney's Hollywood Studios has to offer from May 16 to June 15. So, if you're prepared to master The Force, read my tips below and start scheduling your day to oppose the forces of the Dark Side. Or join Luke's father. Your choice, of course.
1. I can't say this enough: Get to Disney's Hollywood Studios before it officially opens at 8 a.m. if you want to sign up for children's events or get FastPasses for celebrity encounters. The Jedi Training Academy and Padawan Mind Challenge require registration, which is available immediately after the rope drop and are located in front of the Indiana Jones Epic Stunt Theater and ABC Sound Stage, respectively. Both kid events typically are full and have waiting lists by mid-morning. The system for distributing FastPasses for celebrity autographs begins outside the main gates to the right where guests must line up. You may not save a place in line for other party members, and distribution may begin before the park opens. (For more details about the celebrity meet-and-greets, see the AllEars.Net resource page.)
2. Because FastPasses for many attractions can be booked in advance online at My Disney Experience, be sure to schedule times for the Star Tours ride, and any Star Wars-themed stage shows featuring the celebrity guests, such as "Behind the Force," that interest you. For the first time in the event's history, Mark Hamill, who everyone here on Earth and in all the universes far, far away knows played Luke Skywalker in the original film trilogy, will be the celebrity guest from June 6 to 8. Guests staying at Disney resorts can book these FastPasses up to 60 days in advance, while other guests can book at 30 days out from their visit. Also, if you plan to have a table-service meal, make those reservations, too, because the theme park will be as busy as a Mos Eisley cantina during Star Wars Weekends. Resort guests can book dining reservations 190 days from the day they check in, and all other guests can book at 180 days prior to their visit.
3. Several special Star Wars-themed dining events were introduced this year. The Star Wars Dine-In Galactic Breakfast! at Sci-Fi Dine-In Theater Restaurant features favorite characters from the Dark Side, while Jedi Mickey's Star Wars Dine at Hollywood and Vine offers interactions with Disney characters dressed as Star Wars characters during a buffet dinner. The Feel the Force Premium Package includes reserved premium seats for the celebrity motorcade with snacks and drinks and a reserved viewing area and dessert during the fireworks. Most of these events sold out quickly, but you can always call 407-WDW-DINE to check for cancellations. (They do not show up on My Disney Experience.)
4. Don't leave Hollywood Studios early! The evening entertainment has changed from the popular Hyperspace Hoopla stage show to the new Symphony in the Stars fireworks. This state-of-the-art evening finale is expected to feature favorite Star Wars characters, a frenzy of fireworks and Glow with the Show elements at 9:30 p.m.
5. If you're a Florida resident, you can take advantage of the 3-day Discover Disney Ticket, which costs $129 and gives you admission to any of the four Walt Disney World theme parks for three separate days. It's good through June 6, which means you could choose to use it at the first three Star Wars Weekends or the first day of the fourth weekend. There is also a four-day option for $149. If you don't have a seasonal or annual pass, this is a great alternative because the regular price of one day's admission is almost $100 for an adult.
If the worst-case scenario comes to pass and you forgot to pre-book FastPasses, you couldn't secure reservations to Star Wars character meals and you ran into some serious delays on the planet Mustafar, there still are plenty of ways to make the day special for the Star Wars fans in your family. First, when you arrive at the park, go directly to Guest Relations and see if there are any openings for the meals you're interested in. While you're waiting in line there, use the My Disney Experience app on your smartphone to book any available FassPasses for attractions, including Star Tours. Then, stake out a place to see the Celebrity Motorcade at 11 a.m. There are so many Star Wars characters in one place that you can't help but feel immersed in the story universe. Afterward, be sure to stop by Darth's Mall for event merchandise and special interactive activities, including character meet-and-greets with Luke, Princess Leia, R2D2 and C-3PO. You will find other Star Wars character locations throughout the park, too. Treat your child to a Star Wars themed lunch pack or an amazing dessert at the counter-service locations. Finally, wrap up your day with the new fireworks show. If you're willing to brave the lines, The Force surely will be with you at Star Wars Weekends.