The holidays at this time of year mean a lot different things, but good food usually is at the top of most everyone's list. One park at Walt Disney World certainly is enhancing that aspect of the season this year.
Long known for its culinary diversity, Epcot has added yet another way to experience the food and beverages that are native to the 11 countries represented in its World Showcase. And new this year is a collection of edible items for the holidays.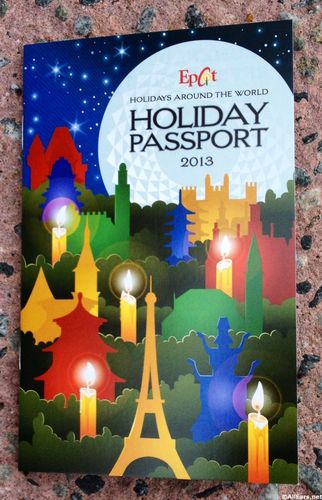 Although the Walt Disney World theme park has served holiday dishes in the past, they weren't necessarily advertised as part of Holidays Around the World. For the 2013 season, guests are encouraged to use a Holiday Passport to find the treats they'd like to sample, much like they do at the Epcot International Food and Wine Festival and the new marketplaces at this year's Epcot International Flower and Garden Festival.
"We did want to make [food at Holidays Around the World] like the other Epcot festivals and elevate it a bit," said Randi Hoffert, an assistant marketing manager at Walt Disney World. "We are adding the food and beverage elements that are holiday-related along with all the other great entertainment offerings that we already have."
Although the concept is similar to Epcot's popular food festivals, the set-up is different. There are not separate kiosks for the holiday foods and beverages lining the promenade. Instead, the food mostly is served from existing locations, which are listed in the passport. Be sure to check the guide because they are not always easy to find.
Recently, my family and I went to Epcot to try the new holiday foods and beverages. Although we would have liked to eat our way around the World, the offerings are heavy on sweets so we limited what we would sample so we would not be suffering bellyaches when IllumiNations started. (Of course, each country still serves its regular fare, but we were focusing on the new holiday dishes.)
Here are some of our observations:
** Although we didn't try the Kaikouxiao (Happy Face Fried Cake) at China's Joy of Tea, it looked tasty and interesting — like donut holes covered in sesame seeds. Joy of Tea is the stand across from the China pavilion and is easily accessible.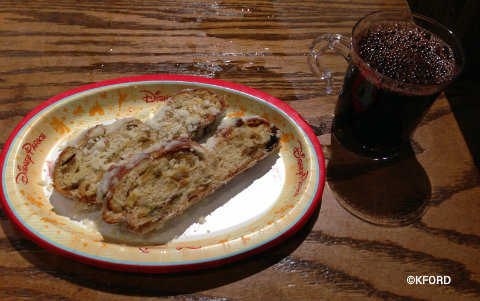 ** The Stollen (Holiday Fruit Cake) in Germany was easily my favorite. It was more like a bread with sweet fruits instead of a traditional cake with nuts and cherries. Delicious! The serving size is generous with two large slices. My husband tried the Gluhwein (Hot Spiced Wine) in Germany, which he enjoyed, but he said it would have been even better when it wasn't a balmy 85 degrees outside. Both offerings are available in Sommerfest, which is the counter-service restaurant located in the back of the Germany pavilion.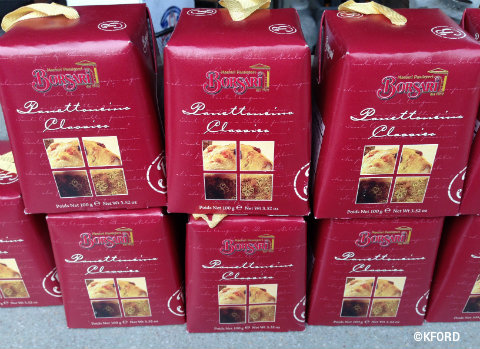 ** Italy is selling another version of fruit cake called Panettone at its Buona Festa kiosk. It's boxed and ready for gift-giving.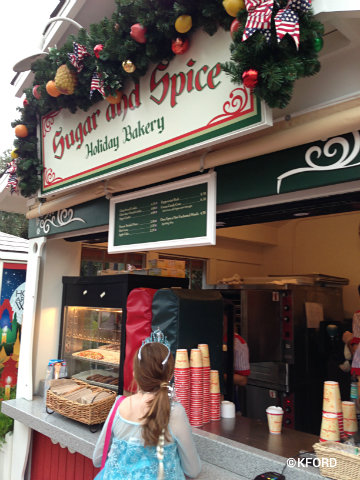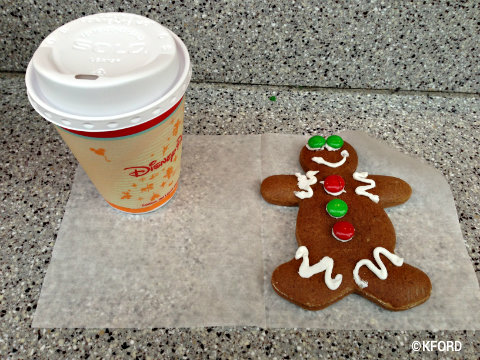 ** At the Sugar and Spice Bake Shop in front of The American Adventure, guests will find a variety of traditional Christmas cookies, including these adorable gingerbread men, and hot chocolate, apple cider and sparkling wines.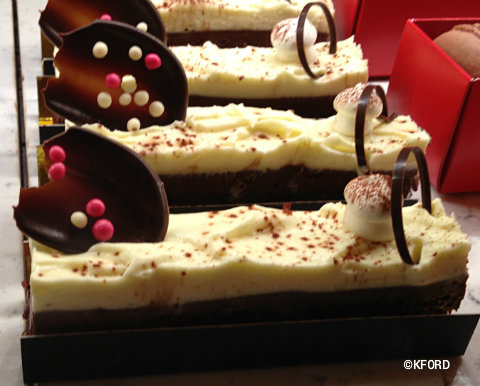 ** The new bakery in France, Les Halles Boulangerie & Patisserie, has added Buche de Noel au Chocolat (Chocolate Christmas Log) to its mouth-watering selection of sweets. The bakery is located in the back of the France pavilion, past the gift shop.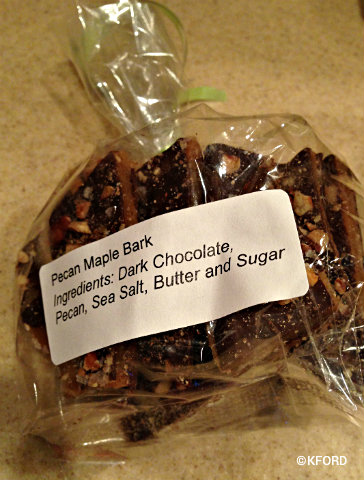 ** The popcorn cart in Canada is selling Pecan Maple Bark in to-go packaging.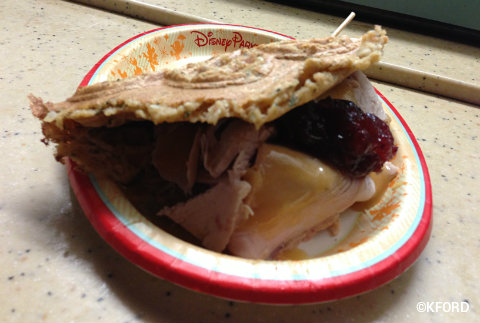 ** Love sandwich waffles, which are all the rage right now? Don't miss the Savory Seasonal Waffles, which come in two varieties, at the Refreshment Port before you arrive in Canada. The Turkey Waflle (pictured above) is made from stuffing batter and is layered with turkey, gravy and cranberry relish. The Sweet Potato Casserole Waffle is cooked with sweet potato batter and topped with toasted pecans, marshmallows and caramel sauce.
"We've tried to make each country's holiday celebration come to life through the food and beverage, which is a big part of the way people celebrate," said Hoffert.
There's probably little argument from anyone about how important food can be for any holiday celebration. And, based on our recent Holidays Around the World food selections, it would seem as though Epcot possibly has started what could become a holiday tradition for many guests, as well.