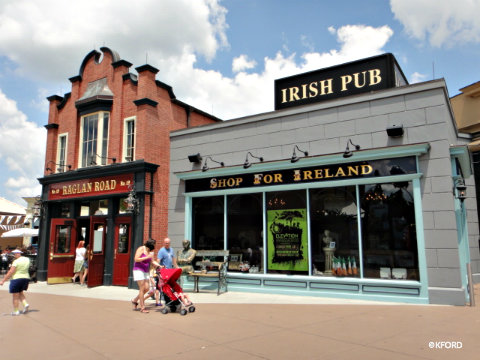 At Walt Disney World, you don't have to wait until March to celebrate everything Irish. Raglan Road Irish Pub & Restaurant at Downtown Disney is hosting its first Great Irish Hooley this holiday weekend and there are lots of fun family activities on tap for today, the final day.
My 8-year-old daughter and I were invited to experience the Hooley, a traditional Irish social celebration, on Saturday, and it was something we both enjoyed. Despite being Orlando residents, we had never been to Raglan Road. Many of the festival's offerings are available on a nightly basis, but there also is some special entertainment for Labor Day.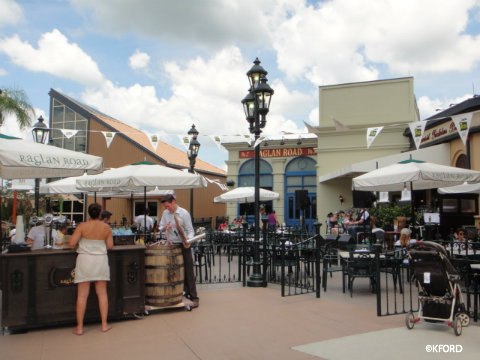 When you first approach the restaurant at the front of Pleasure Island, you'll notice that it is huge and includes an outdoor patio and a gift shop. One of the best things about Pleasure Island is that many of the restaurants have the outdoor spaces for guests to have a drink and listen to live performances, and Raglan Road is no exception. It's a casual atmosphere, where parents can feel comfortable bringing their children.
Today's patio stage musical lineup:
12 to 2 p.m.: Danny Burns, performs a unique blend of Irish ballads and contemporary Irish music.
3 to 5 p.m. and 10 p.m. to 1 a.m.: The Raglan Rogues, a Dublin band that plays Irish folk and traditional tunes.
6 to 10 p.m.: FullSet, an Irish band kicking off its U.S. tour promoting its debut album.
The main stage inside Raglan Road features:
12 to 3 p.m. and 5 to 8 p.m.: Johnny "Snaggs" Norton, Dublin entertainer who has toured worldwide with Riverdance. Performances include sing-along songs.
8 p.m. to 12:30 a.m.: Creel, the popular house band that normally play Mondays through Saturdays.
But even better than the music, in our opinion, are the Irish dancers. They perform nightly at the restaurant and invite guests to join them. During the festival, guests will have even more opportunities to learn some fancy footwork. Irish dancer and choreographer Ronan McCormack of the original Riverdance cast leads dancers and guests through different traditional and contemporary styles of Irish dance during the "From Our Roots to Riverdance" workshops. These sessions take place today from 2 to 3 p.m. and 5 to 6 p.m. on the patio stage and really are not to be missed. I found the demonstrations fascinating and beautiful. My daughter was not shy about hopping up on stage when McCormack asked for volunteers to try a broom dance.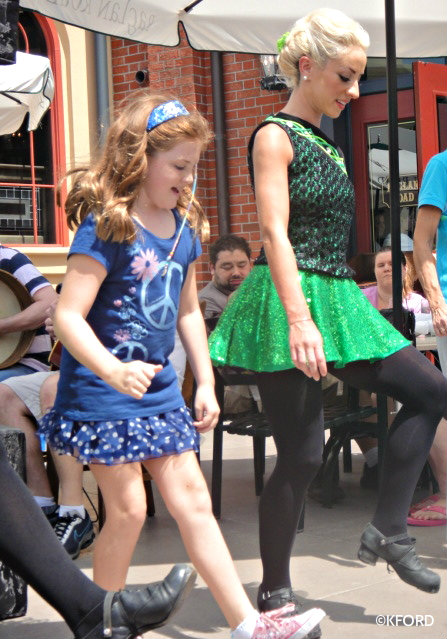 Inside the restaurant, guests can participate in a Ceili — a structured set-dancing event that was the precursor to today's popular country line dancing — from 3 to 5 p.m. The area in front of the main stage is cleared out so more guests can join the fun. My daughter jumped at the chance to try this as well, and she discovered that the professional dancers were very patient with the amateurs of all ages.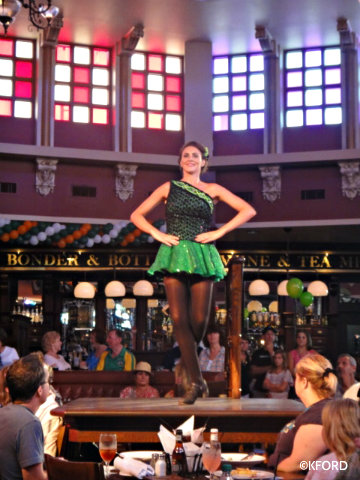 For those wanting to display their Irish spirit, complimentary Celtic face-painting is offered inside the restaurant from noon to 10 p.m. during the festival.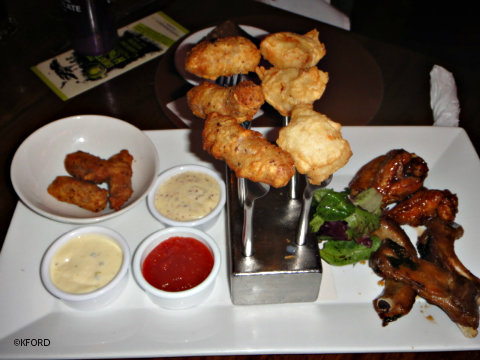 Appetizer sampler: Scallop Forest, Heaven on Earth, Nom Nom Wings and Dalkey Duo.
And that's just the entertainment! This is a restaurant known for its authentic Irish dishes and new creations with a Celtic twist. Irish celebrity chef Kevin Dundon serves up popular entrees such as beer-battered fish and chips, Shepherd's pie with a contemporary twist and Kevin's Heavenly Ham. There also are plenty of options for those with special dietary needs, such as vegetarians, those who need gluten-free dishes, and guests looking for lighter dishes. Children can pick from traditional Irish fare and typical American comfort food on their menus. Raglan Road also boasts an extensive collection of beer, whiskey, wine and specialty cocktails. (See the complete menu on AllEars.Net.)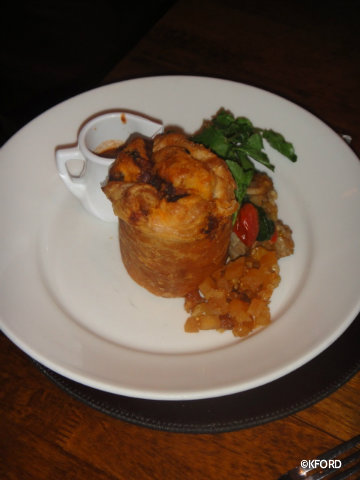 Beefy Murray: Beef curry pie with spinach, potatoes, mushrooms & apple chutney.
Lunch is served from 11 a.m. to 3 p.m. and dinner is 3 to 11 p.m. with a bar menu available after 11 p.m.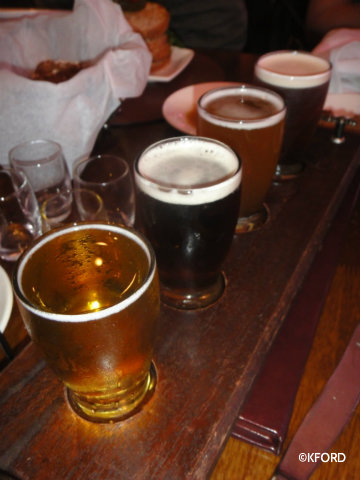 Beer flight for tasting.
DISCLAIMER: I was a guest of Raglan Road during its Great Irish Hooley. My opinions are my own, and this did not influence my review.