by MaryJean Kancel
I am a Sports Enthusiast. Yes, I'm enthusiastic about sports. I participated in various sports in high school and college. I enjoy watching sports. But at Disney, being a Sports Enthusiast means you are a volunteer. A volunteer for athletic events held at Walt Disney World.
My adventures as a Disney Sports Enthusiast started as a volunteer for the 2006 January Half Marathon. Shift start was 2:30am, the temperature was in the 30's, and I was stationed at the start corrals with thousands upon thousands of runners. Feeling overwhelmed I wondered what did I get myself in to. Talking with other volunteers I learned that there were opportunities to volunteer for events other than Disney's Marathon Weekend.
Since that first chilly, early morning I've volunteered at track and field events, soccer matches, triathlons (Danskin and Ironman), running events including Expedition Everest, Wine and Dine Half Marathon, Marathon Weekend, Muddy Buddy, and the now defunct Minnie Marathon, Race For the Taste, and Tower of Terror 13K.
Jobs have included water stops, course monitor, bag check, race packet pick-up, javelin retrieval, pulling tape/measuring shot put throws, retrieving soccer balls that have gone out of bounds. I've been out there in freezing cold temperatures and broiling hot Florida summer afternoons. I've accumulated a significant amount of volunteer swag.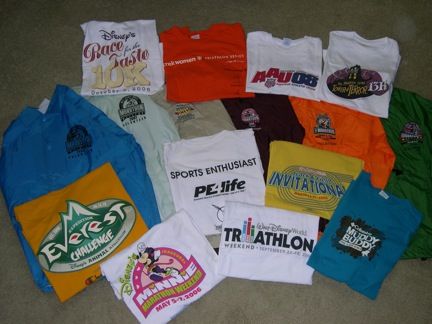 Having watched the fun and excitement at the start of Disney races, I decided I would sign up for a 5K – the January 9, 2009 Circle of Life 5K, part of the Marathon Weekend events. I had done two 5K's in my hometown of Pittsburgh, before moving to Florida. If I could manage those surely I could manage a race in the Happiest Place on Earth. I started my training a few months before the race – run some, walk a lot, and worked my way up to 3 miles.
On race morning, having volunteered for so many events, I felt out of place in the start corral – as if I didn't belong and should be over at bag check helping out. The race started, we raced through Animal Kingdom and I had the best time of my life. I'll admit, most of the race was a blur but I remember seeing the 3 mile marker. Although the last 1/10 of a mile seemed endless, I crossed that finish line and received an amazing medal.
After that I signed up for every Disney 5K race they had. I wasn't hooked on running, I was hooked on the thrill of racing thru a Disney Park!! And the excitement of crossing a finish line and getting that medal!
During the 2010 Disney Half Marathon I was volunteering just beyond the finish line, directing runners. I saw all levels of fitness cross that finish line. I thought, I can do this. I have the mental fortitude to keep going – I just wasn't sure if my legs and knees (my weakest link) had the strength.
Before I could change my mind, I registered for the 2011 Half Marathon. One of the scariest moments of my life was hitting that submit button. I read Team AllEars was being formed for the 2011 Marathon Weekend. I had followed the blogs of the 2010 team and thought it was a great idea.
My Dad died of lung cancer in 1991. Members of my family on both sides fought battles with cancer, including breast cancer. Here was an opportunity to help fight this terrible disease. I joined the team and have never regretted it.
It sounds cliché, but joining Team AllEars truly was a life changing experience. The advice, encouragement, and friendship of my teammates were invaluable thru the long months of training.
When the 2011 Marathon Weekend finally arrived, it was exciting to finally meet all my teammates I had come to know only by status updates in Facebook. At the main team meet, Deb Wills gave a heartfelt thank you speech – not a dry eye was to be found. I knew I was part of something special but didn't realize how much until that team meet.
It drove home that we were part of something much bigger than running a race and raising money. We had the opportunity to help lives impacted by breast cancer.
It was a whirlwind weekend with races (I completed the Half!!) and Team AllEars events, but I did not neglect my Sports Enthusiast duties. My mom and I volunteered for the Marathon on that Sunday morning. We were at water stop 15, located exactly at the 15 mile marker. It was so exciting to be watching for Team AllEars folks running by and to shout words of encouragement to them.
I had never been positioned at a spot where there was pontential for the dreaded sweep bus to pick up those behind the pace. At one point I saw the race official put the orange flag on the Mile 15 marker, signaling runners were now behind the pace needed to complete the race. I looked and there were approximately 100 runners still to come. My heart sank. I could see the sweep bus, with "Parade Bus" displayed where it normally had happier words such as "Magic Kingdom" or "Epcot".
Suddenly, the volunteers started waving the runners on and broke in to even louder shouts of encouragement – "you can do it," "keep going." As if by our words alone we could keep everyone off that bus. It was a very emotional moment and one I will never forget. For me it was the point where being a volunteer and being a runner had suddenly merged. I knew what it was like to train for a race and the anticipation of crossing the finish line. I knew how it would feel to have the sweep bus at your heels. As volunteers, we were in a unique position to encourage and help drive these folks on. Yet it was heartbreaking to know that some may not make it, despite their determination.
At the time I thought I never wanted to volunteer that far along in the race again – it was just too emotional. Now I realize there will always be those in jeopardy of the sweep bus. On the course, especially where there are no spectators, it falls to the volunteers to provide shouts of encouragement and support. This is as much our job as it is to hand out water. So I will return!
Thinking back to my first volunteer shift on that cold morning in January 2006, I had no idea the path it would lead me down. It has been an incredible journey of fitness, friendship, and being part of an amazing group of people working to fight breast cancer – Team AllEars.
**************
If you're planning on running a Walt Disney World race in January 2012 and you'd like to join Team AllEars® in the fight against breast cancer, please email Michelle at [email protected]