The Candlelight Processional at Epcot is something that we knew we wanted to do this year. Very, very dear friends were coming to WDW to visit and we decided we needed to go together. We looked at the narrator list and saw Jodi Benson (voice of Ariel in "The Little Mermaid") for the evening of December 7. We were completely sold that that was the night we were going to go. I called and was able to get us a reservation at Tutto Italia.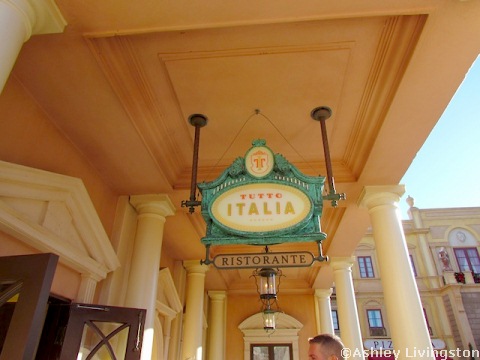 None of us had eaten at Tutto Italia before. We were a little nervous because we had heard some so-so things regarding the restaurant but our fears were for nothing! Dinner was WONDERFUL. The restaurant was gorgeous and they had a holiday display set up in the lobby.
As part of the Candlelight Processional package, you get an appetizer, entrée, dessert and soda. I had the Caesar salad, Cannelloni al Forno and the tiramisu. Mom had the Caesar salad, Farfalle and the Copette Sotto Bosco. Jack had the Melanzana Ala Parmigana, Farfalle, and dessert trio. Erik had the calamari, Lasagna al Forno, and the Copette Sotto Bosco. Christy had the Caesar salad, Brasato Di Manzo Al Vino Rosso, and the dessert trio. We all were very happy with our selections and would have licked the plate if it had been socially acceptable to do so.
The only negative from our dinner was the fact that as soon as we placed the forks down, our plates were being taken. It made us feel rushed but, in their defense, they had a LOT of people waiting out in the lobby. Though, our drinks were never empty and we had everything we needed. We would definitely eat there again with the knowledge it is not a place to linger.
We wandered around World Showcase for a bit until the 5:00 show started. We decided to go ahead and get in line because it was just too cold to do much else and the line was sort of protected from the wind.
The line for parties who have the dinner package tickets is, if you're facing the theater, on the far left. The standby line is on the far right. We had a great time talking to the Cast Members.
Up next… the Candlelight Processional!