Unless you've stayed at the Yacht or Beach Club Resorts, you may not be aware of one of the most wonderful spots at Walt Disney World. Tucked away near Stormalong Bay, the main swimming pool, is Beaches & Cream, the quintessential 1950's malt shop. This spot is charming, captivating, and once you've dined here, irresistible.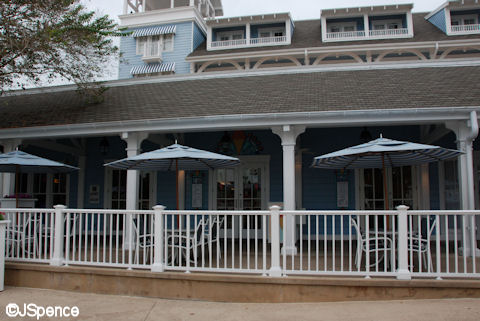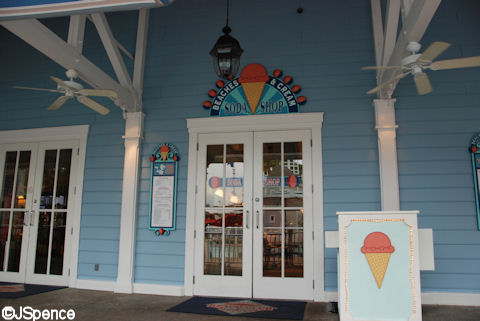 The first thing you'll notice upon entering Beaches & Cream is its small size. And that's what gives this place its charm. There are only three booths, seven small tables, and a counter with seating for ten.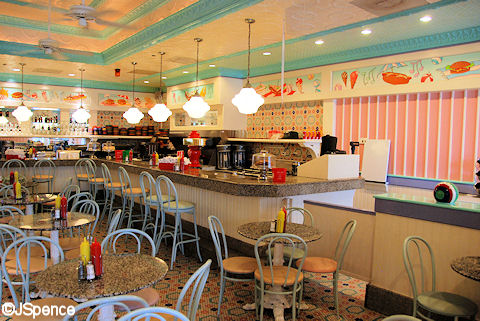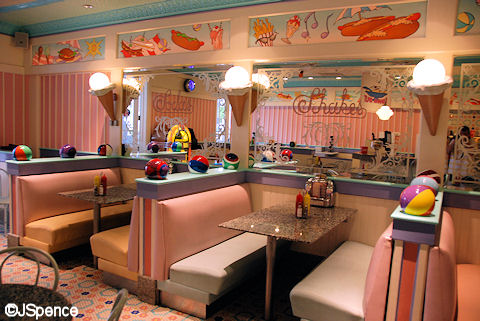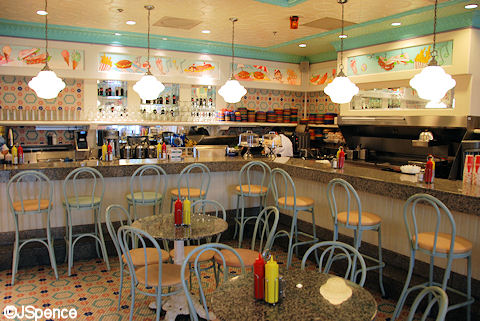 The interior is decorated in pastel pinks and blues. The floor is covered in old-fashioned hexagon tiles and the ceiling is tin with ornate designs. The walls are adorned with mirrors, tiles, and glass artwork. Be sure to notice the ice cream cone wall sconces.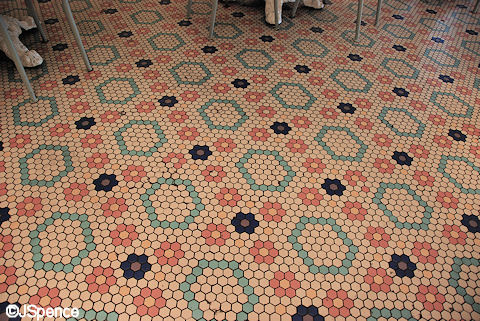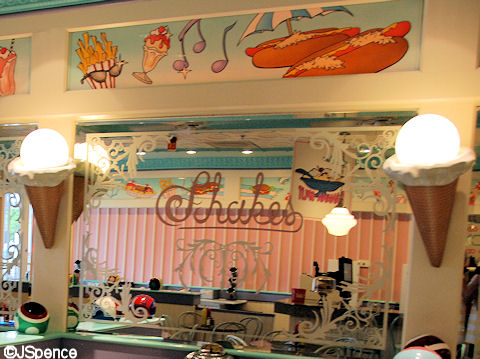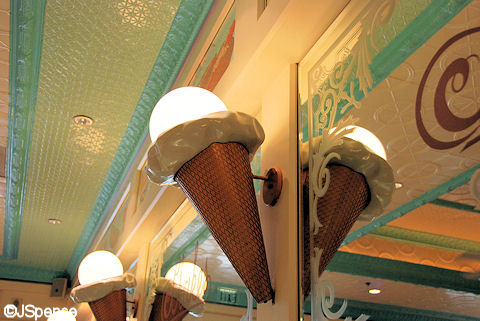 The kitchen is located behind the counter, just like in the good old days. Everything is prepared in plain sight. In fact, I sometimes prefer to sit at the counter because it is so entertaining to watch the talented chefs keep up with the orders.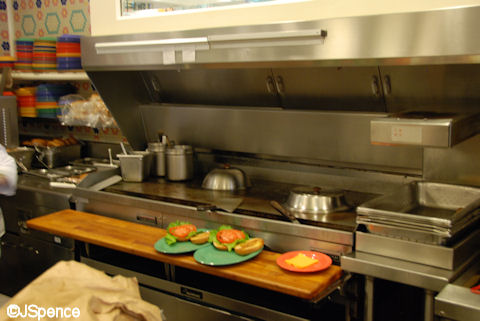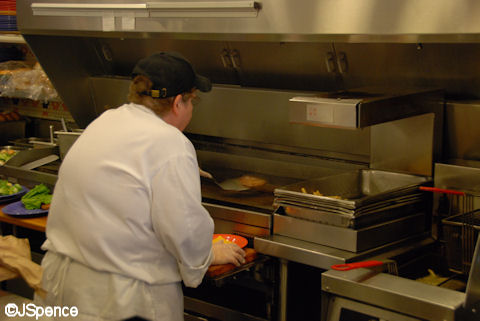 Beaches & Cream has a jukebox that plays such favorites as "Rum and Coca Cola," "Jailhouse Rock," and "Earth Angel." The selections are random, but if you have a favorite, you can browse through the directory and pick your own song – at no charge. At one time, you could also make selections from the auxiliary jukeboxes found at the booths, but alas, no more.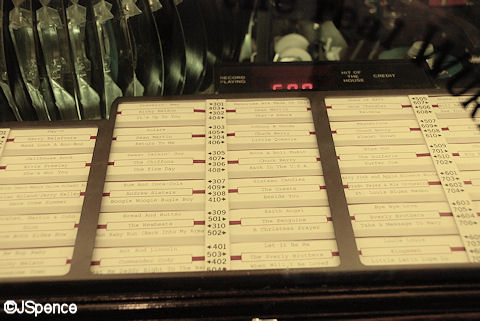 As you would guess, ice cream is what this restaurant specializes in – and it's fantastic. Here is a picture of a hot-fudge sundae I had recently.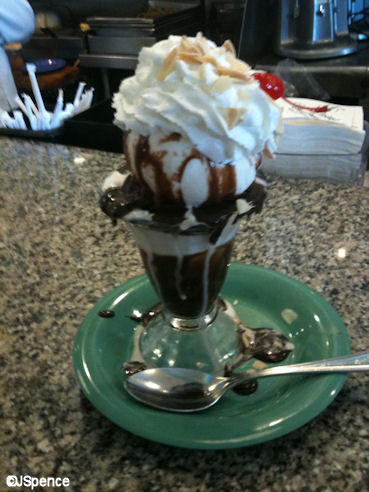 And if you like malts (I'm not talking milkshakes here, I'm talking good ol' fashioned malts), Beaches & Cream delivers. Topped with real whipped cream and a cherry, the chocolate malt is dusted with chocolate shavings and the vanilla malt is sprinkled with white chocolate. Plus, you're served the "extra" in the metal cup used to mix the concoction.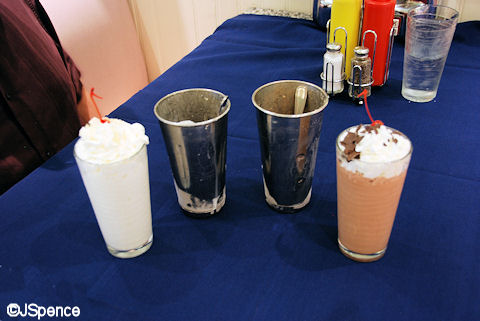 For a group, you might want to indulge your sweet tooth and order a Kitchen Sink. Here you get eight scoops of ice cream, all the toppings, and an entire can of whipped cream.
The food menu is limited, but excellent. In fact, the hamburgers are so good that Hurricane Hanna's Grill out by the pool recently had to change their recipe to match Beaches & Cream. My picture of the burger is a little out of focus, but trust me, it was outstanding. The onion rings are an up-charge. The second picture is of the turkey sandwich which my server suggested I have grilled. This was a wonderful recommendation. Although I've never had the Caesar salad, my neighbor tells me it's delicious.
Beaches and Cream is open daily from 11am to 11pm. If you're the first party of the day, you're group is escorted into the restaurant while everyone else waits outside. The lights are dimmed and flashing beacons are activated. All of the servers make a big ta-do about your arrival and you're seated at a booth, complete with a tablecloth and cloth napkins – accoutrements not normally used during the day. You're made to feel quite special.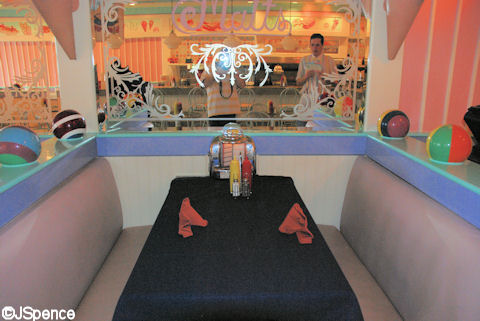 Your charming server is responsible for making your ice cream delights, not the chef. Remember this when it comes time to add the gratuity.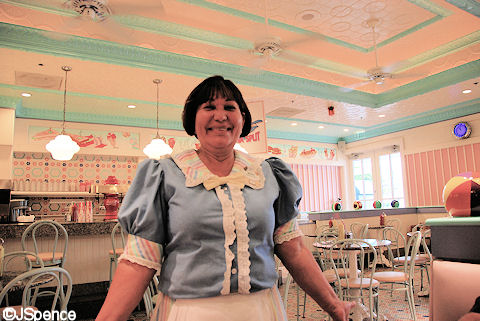 There is also a walk-up window for take-out orders. Sundaes, cones, malts, shakes and Coke products can be ordered here. Food items are only available in the restaurant.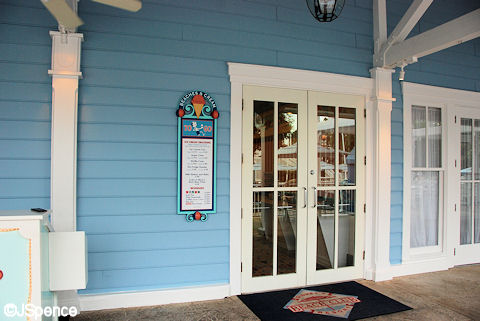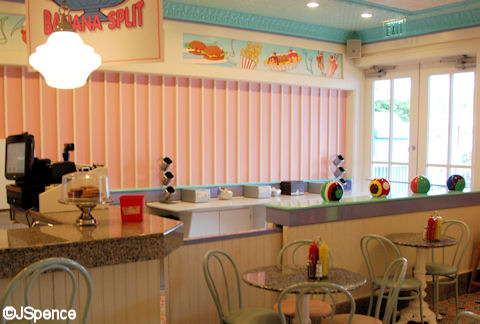 There are a number of tables outside. Especially cute are these ice cream cone models.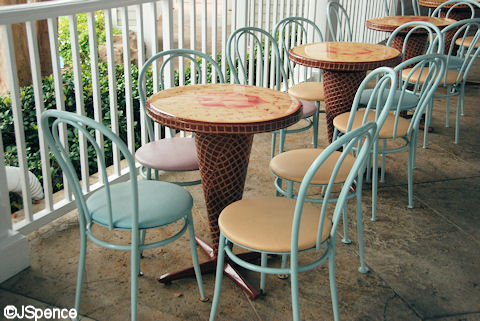 Beaches & Cream is on the Disney Dining Plan. Malts and milkshakes count as a dessert, not a beverage. Tables in Wonderland is also honored here.
Okay, now for the bad news. Beaches & Cream does not take reservations. Add to this that the restaurant is VERY small and VERY popular. If you show up anytime between noon and 8pm, expect a 30-60 minute wait if you want to be seated at an indoor table. However, if you're willing to sit at the counter, this can sometimes be more expedient. If all you want is a basic ice cream dessert, consider the walk-up counter.
I cannot recommend Beaches & Cream enough. I often say that Disney should expand this establishment to increase capacity. But in reality, this is a bad idea. Part of what makes this spot so special is its intimate atmosphere. If they enlarged it, something would be lost.
Beaches & Cream is good enough that I would recommend that guests staying at resorts other than the Yacht and Beach consider making a trip over here just to sample the goodies. But be prepared for a wait. Also, in case you think you can kill some time in the nearby pool, think again. Stormalong Bay is open to Yacht and Beach Club guests only and cast members check for proper identification before granting admittance. While waiting for a table, you will be given a pager with limited range. Beaches & Cream is located next to an arcade so your kids can be entertained while you enjoy the company of your party at one of the outside tables.
As I said at the beginning of this article, Beaches & Cream is charming, captivating, and once you've dined here, irresistible.
Menu: /menu/menu_bc.htm
Visit our Rate and Review Area – Share your experience with others – read what others have to say about Beaches and Cream!