The AllEars® Aloha Isle Meet and Greet saw approximately 40 AllEars® fans come to say hello to AllEars® staffers Steve Barrett, Michael Bachand, Mike Scopa, and Michelle Scribner-MacLean.
Fans were treated to AllEars® lanyards and were also excited to receive the first batch of the new AllEars® trading cards
It was a very warm afternoon in Walt Disney World's Magic Kingdom but that did not stop the many AllEars® Fans and a few Walt Disney World cast members from stopping by to say hello.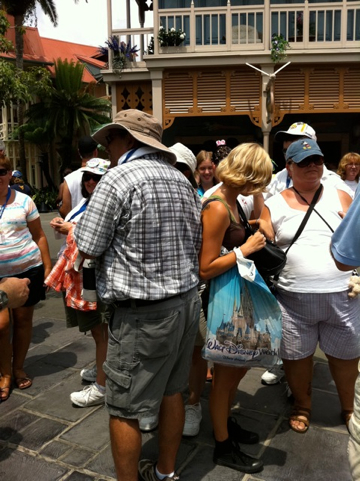 So you haven't been to an AllEars® Meet and Greet and are wondering what goes on during the meet?
Well, besides meeting AllEars® staffers, feature writers, and bloggers, fans will enjoy AllEars® swag. Most of all fans get a chance to talk with people like themselves who have a love for Disney and have been bringing this love to them on the internet for almost 15 years.
The recent August Meet and Greet at Aloha Isle was an overwhelming success as many in attendance were experiencing their first AllEars® Meet and Greet and were excited to meet with Steve, Mike, Mike, and Michelle from AllEars®.
It was a special meeting for several AllEars® fans , like Maryjean Kancel, who recently joined Team AllEars® and met with Team AllEars® Co-Captains Michelle Scribner-MacLean and Mike Scopa.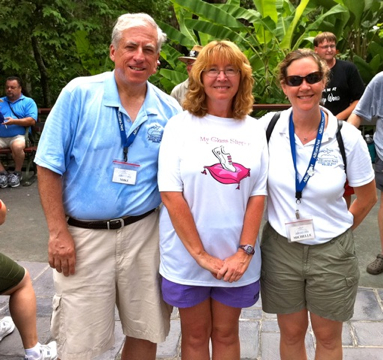 Be on the lookout for future AllEars® Meet and Greets and perhaps you may find your photo on the AllEars® pages.
Thanks to all who came out on that very hot day to see us.