I was recently provided with an opportunity to learn a little about window design at Disney's Hollywood Studios. I'm talking about the art of displaying goods and merchandise in shop windows to entice you into the stores to part with your money. Like everything at Disney, a lot of thought and detail goes into all you see, and very often, the windows tell a story if you take the time to look.
One of the first things I learned was that for the most part, the store windows are divided into two categories, those belonging to Walt Disney Imagineering (WDI) and those belonging to Merchandise Presentation, the local merchandising departments found within each park
The WDI windows, more often than not, deal with characters and portray an atmosphere or mood rather than trying to advertise a particular product. Good examples of WDI windows can be found in the "Beverly Sunset Sweet Spells" and the "Villains in Vogue" shops located on Sunset Boulevard. For the candy store we see Snow White's Queen as the Old Hag. She holds an apple over a cauldron, concocting her own "Sweet Spells." And who better to represent the scoundrels and rogues of "Villains in Vogue" than Maleficent.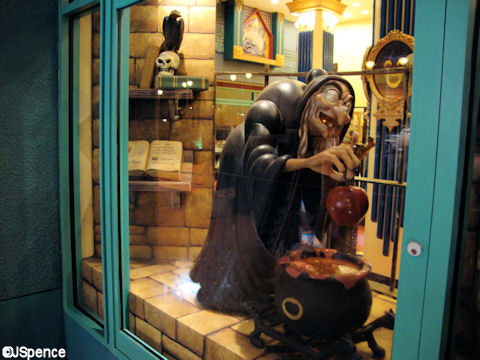 Another "Villains in Vogue" window appears to be a part of the WDI collection, but in fact belongs to the Studio Merchandise Presentation team. You can tell because this window promotes a specific item, in this case, Vinylmation. (I know, you either "get" Vinylmation or you don't.).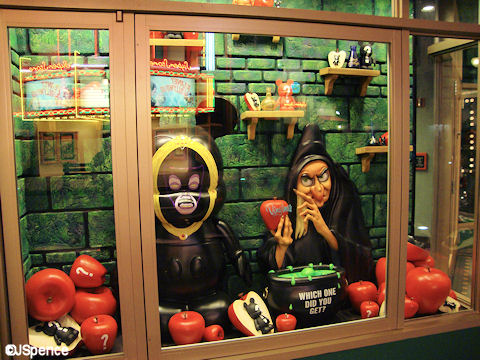 This is a very compelling window. But there is more to it than meets the eye. Take a look at the apple cores. They are Vinylmations. There are also several bottles of "ingredients" scattered around the scene. One contains "Black of Night," another "An Old Hag's Cackle" and a third "Mummy Dust." These elements were all used by the Queen to transform herself into the Witch. And finally, look at the oversized Vinylmation. The face contains the Magic Mirror and the mirror's spirit. It's details like this that make Disney so special.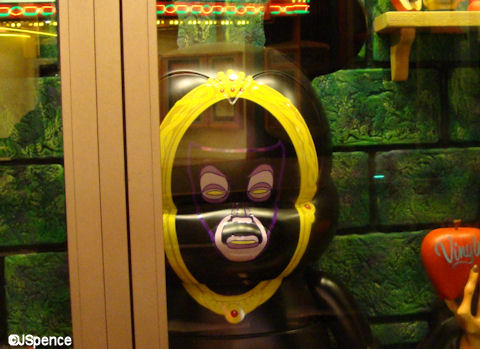 Other window dressings offer unique challenges. Take "Celebrity 5 & 10″ found on Hollywood Boulevard. This store represents a time when you could actually buy something for a nickel or a dime. Here, the window artists need to display inexpensive merchandise (by today's standards) yet not so inexpensive as to look cheap. For instance, Disney sells key chains and plastic snow globes, but these items could look tacky in a window display. A better idea would be to display Disney housewares items. Kitchen utensils were a common sight in a Woolworth's window during the '30s and '40s. By placing these modern items on chrome bar stools that look like they came out of a Woolworth's cafeteria, guests never notice the incongruity of the display.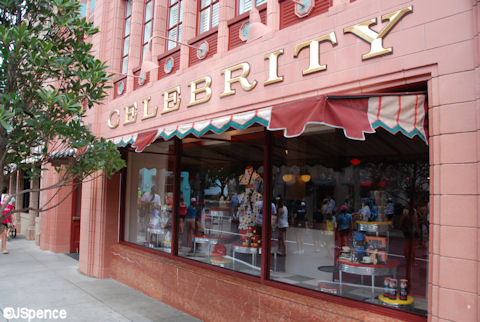 Clothing stores also offer a challenge for the window artists, especially on Hollywood and Sunset Boulevards. Disney wants to showcase the actual merchandise that can be found inside a particular shop. But the stores that line these streets represent a bygone era. Although vintage clothing would fit the theme better, these garments are not for sale inside. So the window artists need to play tricks on us so we don't notice that they are selling styles that did not exist in 1940. This can be accomplished with props.
In the pictures below, notice the large, magazine covers that hang on the back wall. These props were created by a window artist to trick our minds. First, he found pictures featuring men and women wearing vintage clothing. Then he created magazine titles befitting of Tinseltown and added an era-appropriate price and date. Finally, he added art deco frames and presto, he has props that transport us back to the heyday of Hollywood. Now it's easy for us to accept contemporary clothing in an era-specific theme.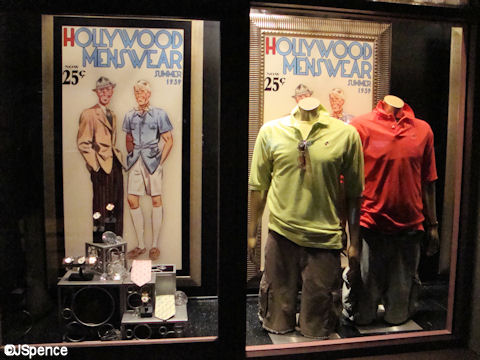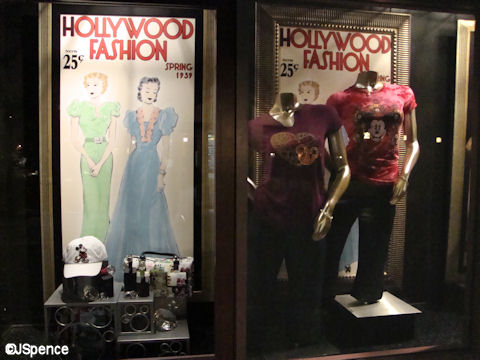 In these next two windows, the furniture surrounding the mannequins is from the 1930's and 1940's. Throw in some antique perfume bottles, antique jewelry, a few pieces of old luggage, and photographs of Hollywood legends and you've created a tableau frozen in time. You never really notice that the mannequins might be wearing a Disney World t-shirt. In addition, a subtle story is being told in these windows. Both of these characters represent young actors getting ready for an audition.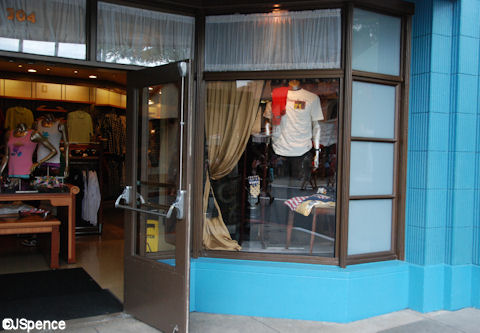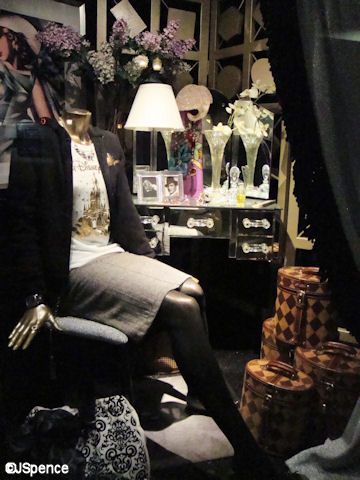 A new story may be emerging in the near future around a second story window found in the Aztec inspired building located on the corner of Echo Park Drive and Sunset Plaza. In this window is an advertisement for Marge, a palm reader.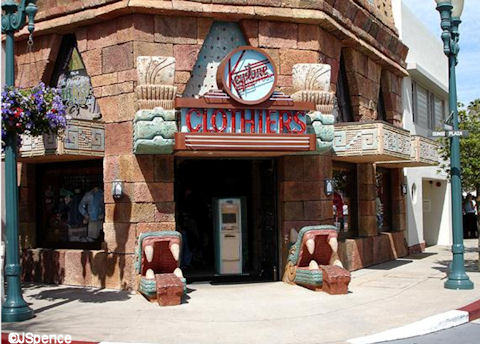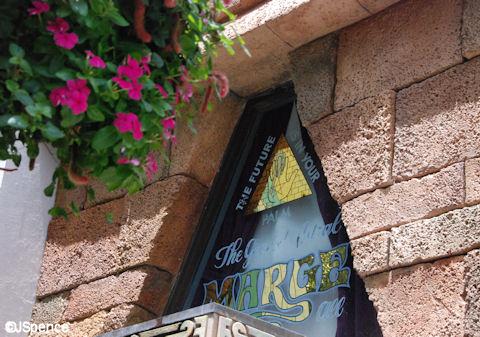 To carry out the theme of this window, Marge will become the "Palm Reader to the Stars." To tell this story, the three windows on the first floor of this building will be converted to represent Marge's reception room, her reading room, and her private chambers. It's subtle details like this that most of us don't really notice on a conscious level, but if they weren't there, we'd feel something was amiss.
Disney has a number of locations where props are stored and the window artists can rummage through these items looking for ideas. In addition, they often have pieces custom made. Take for instance these cubes used as display stands. Here, the window artist wanted to hint at Mickey Mouse to create a Disney connection, yet you will not find a true "hidden Mickey" on any of these metal platforms. The circles never quite achieve the correct dimensions to form that famous silhouette. Yet this design forces guests to look at the merchandise while saying to themselves, "Mickey must be here someplace."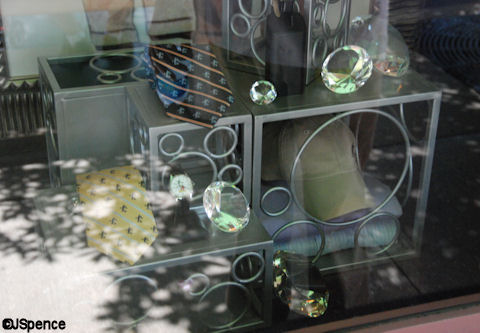 I especially love the level of detail you'll find inside the Carthay Circle Theater on Sunset Boulevard.
Located right inside the main entrance is a uniquely dressed mannequin. First, notice her skirt. Then take a look at her velvet blouse.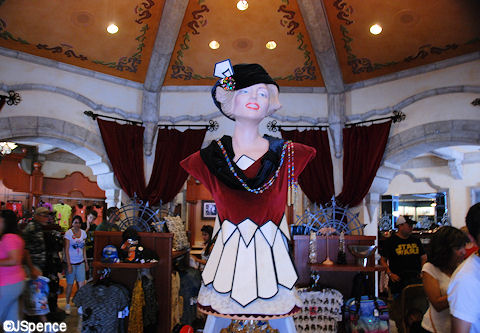 Now take a look at the overhead light fixture and the drapes that line the wall. Coincidence? I don't think so.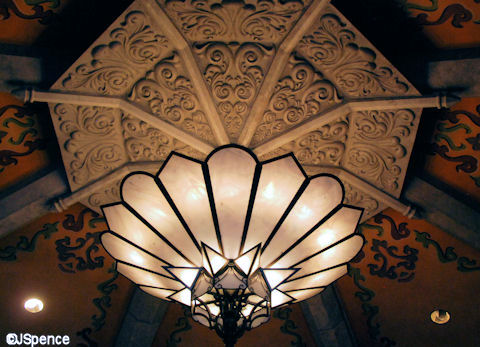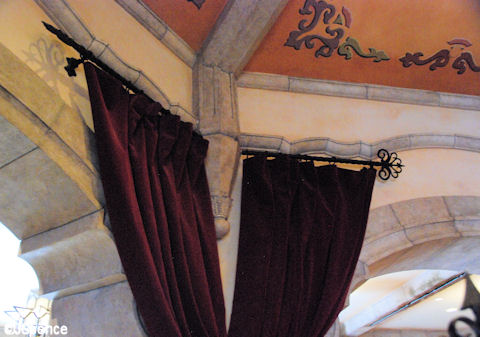 Next take a look at the table our fashion plate sits on. Then take a look at the hand-painted ceiling. Notice a repeating pattern?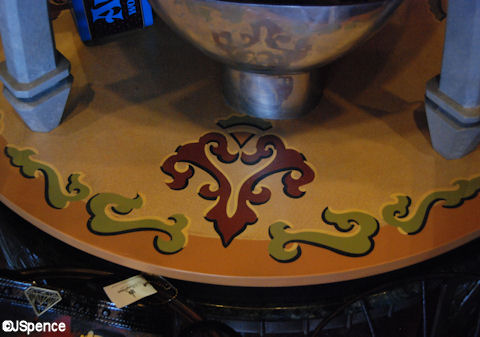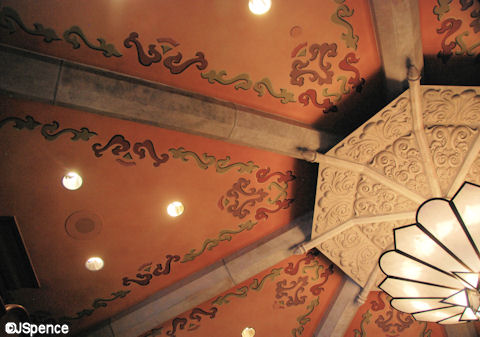 I learned that window artists also do more than just create compelling displays to draw us into their stores. They are also responsible for the interior arrangement of merchandise. Although there are some guidelines that they follow, much of what you see is a result of their artistic ability. And the proper grouping of items is important. For instance, Disney clothing is now being branded into three categories, Classic, Vintage, and Graphic Edge. It's important when arranging racks and shelves of clothing to keep like type merchandise together. For example, you would want to keep Vintage hats close to Vintage shirts and Classic shorts next to Classic blouses.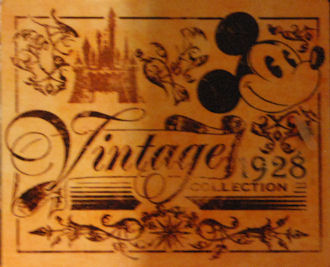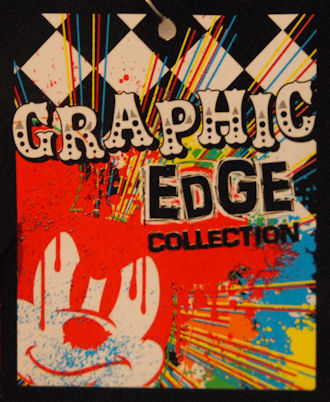 Each morning before the parks open, all of the window artists visit their respective shops to make sure other cast members haven't unwittingly rearranged the merchandise. They want to make sure everything is perfect for the guests when the day begins.
I've only begun to scratch the surface of what goes into the art of marketing merchandise, but I'm sure this sample gives you an idea that nothing is taken for granted at Disney. A great deal of thought goes into every nook and cranny and window of the parks.