The Dig Site is located in the middle of the resort and this is where you'll find one of the best themed swimming pools at Walt Disney World. The centerpiece here is the Pyramid of the Sun. Inspired by the Temple of the Great Jaguar at Tikal, this structure is covered with years of jungle growth and a waterfall cascades down the ceremonial stone steps into a pool measuring 120′ by 90′ and containing 272,912 gallons of water. Towels and life-vests are available poolside.
The pool officially opens each morning at 10 am. To kick things off, children are invited to participate in a simple ceremony where they are asked to chant to the Mayan gods asking them to let the waters flow.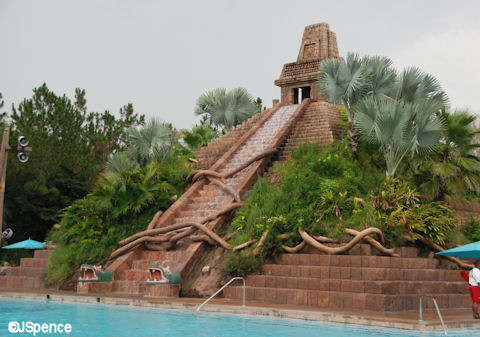 This area is called the "Dig Site" as it is supposed to represent a modern day archeological excavation of a lost Mayan community. Numerous "finds" are located throughout this area including a Mayan idol and hieroglyphs etched into the pavement.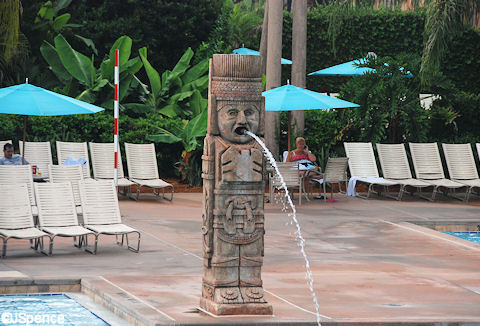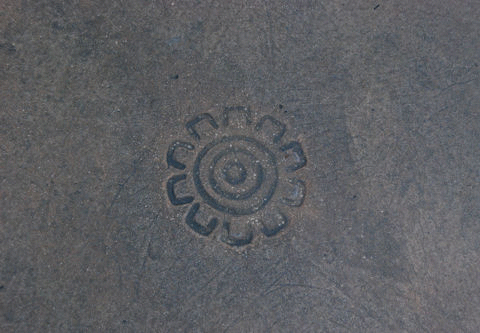 No Disney pool would be complete without a water slide and the Dig Site is no exception. The entrance is located behind the pyramid and this 123 foot long ride takes you through a jungle and beneath a spitting jaguar. The "splashdown" is well positioned to afford a good photo op.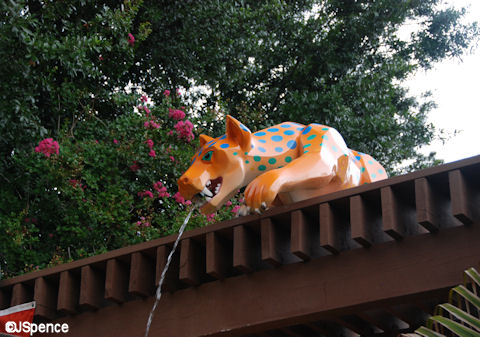 Young children can enjoy their own pool complete with fountains and for those of you who wish to soak away your aches and pains, a 22-person hot tub is on hand.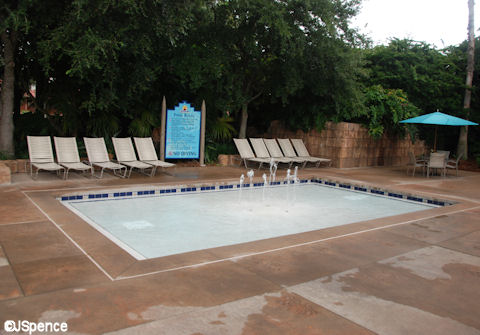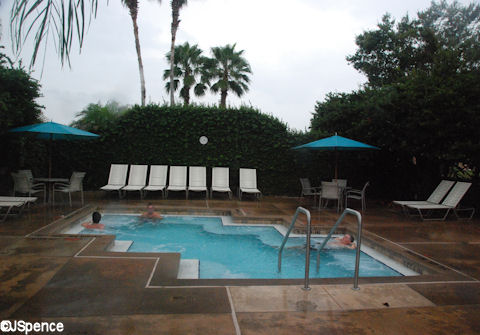 One of the most imaginative children's spots you'll ever hope to find is located to the left of the pyramid. Explorer's Playground features an assortment of Mayan ruins that have been unearthed and "converted" into a swing set, slide, sandbox, and jungle gym. The 3D face of a Mayan god is especially compelling.
Near the playground is Iguana Arcade where you'll find the typical assortment of electronic games for the kids and dad. Be sure to notice the architectural details of the building. Giant serpents flank the entrance and intricate Mayan carvings line the exterior walls.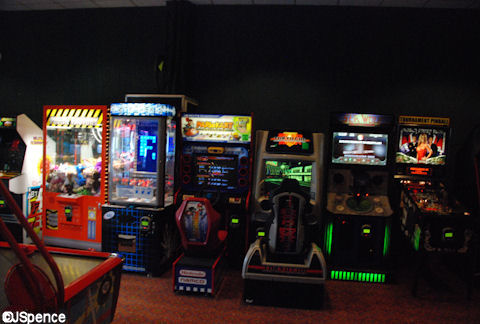 Next to the arcade is Siesta's, a pool bar that offers just about any concoction you can think of. A reasonable selection of food is available here like sandwiches, salads, and nachos. The choices are numerous enough to create a nice lunch so you do not need to return to El Centro for a bite to eat. Refillable mugs can also be replenished here. Siesta's is open from 11am to 7pm.
To the left of Siesta's is a Mesoamerican Ball Court that the archeologists have converted into a volleyball court. If you look to one side of the playing field you'll see the traditional hoop of this ancient game. Although the rules of this contest have been lost to antiquity, it's believed that the Mayans used their hips to toss a heavy rubber ball through this vertical hoop.
The guest rooms at Coronado Springs are divided into three, distinct villages, Casitas, Ranchos, and Cabanas. Each village has its own, "quiet" pool and laundry facilities. No towels are offered at these pools so be sure to bring some from your room. I'll start my description with the Casitas village.
The Casitas guest rooms are located in three and four story buildings and are themed after urban areas of the Southwestern United States (such as Santa Fe) and Mexico (such as Monterrey). The buildings exude the feel of an ultra-deluxe hotel. One would never guess you were in a moderate resort. Fountains, overhead walkways, arbors, courtyards, and lush landscaping create a feast for the eyes. I was amazed the first time I walked through this area. It is remarkably beautiful.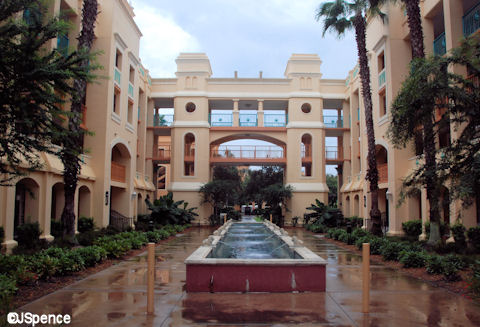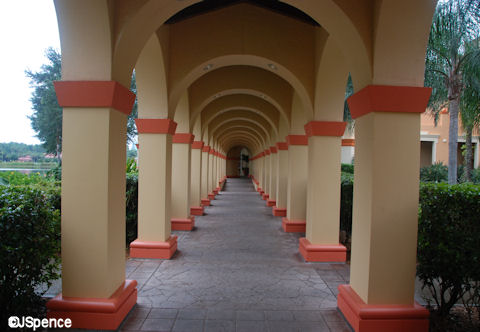 The Casitas village is located closest to the convention center and these rooms are generally allotted to those participating in a sponsored event. It's also in the Casitas Village that you'll find the Casa de Belleza Salon and the La Vida Health Club (Building Four). Located nearby is the quiet pool.
The guest rooms of the Ranchos village can be found at the far end of the resort and are designed into two and three story pueblos associated with the American Southwest. Think upscale dude-ranch. The landscaping is intended to look like rural desert ranchland and is dotted with large wind-swept boulders, a dry creek bed, and various varieties of cacti. The effect is so convincing that it's almost possible to forget about Florida's humidity for a moment. It's interesting to note, the dry creek bed, or arroyo, is actually used as a water runoff channel during the rainy season.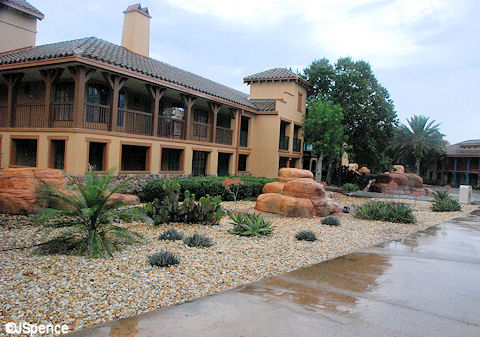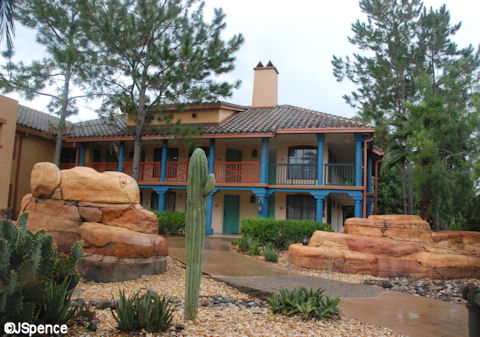 The third village is called the Cabanas. The theme here is that of a small tropical fishing village found along the Mexican coast. Four, two-story buildings sit beside an inlet of Lago Dorado. Velvety lawns, palm trees, and low hedges create an exotic atmosphere. Nearby, a white sandy beach, complete with hammocks, beckons you to relax and enjoy the lake breeze. In many ways, this village reminds me of sections of the Caribbean Beach Resort.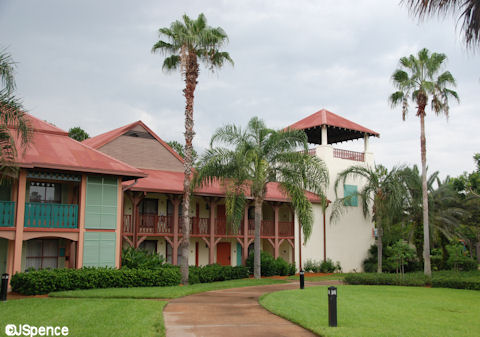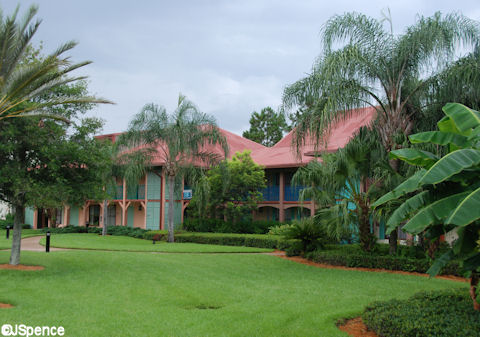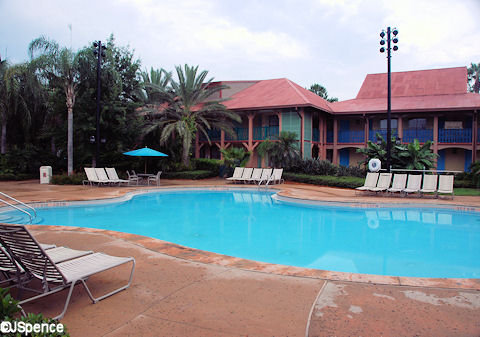 The guest rooms at Coronado Springs measure approximately 314 square feet. Most rooms feature two queen beds. There are 224 rooms with king-size beds and 99 disabled-accessible rooms.
The beds are simply made, covered with a white duvet and blue runner featuring a silhouette of Mickey Mouse. The headboards are tall and constructed of dark wood, creating a nice contrast to the light-colored linens and walls. Enclosed florescent lamps cap each headboard.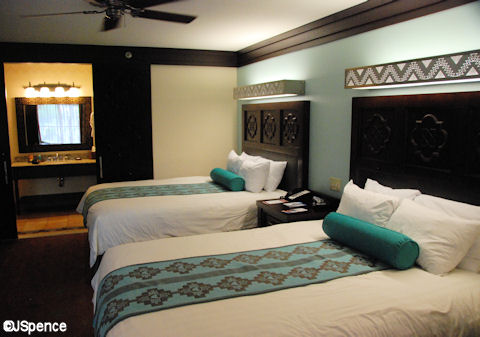 All of the guest rooms were renovated in 2009 and now feature flat-screen TVs and a desk rather than a table and chairs. The desk is designed with laptop computers in mind. Electrical plugs and a high-speed internet connection are located on the desk's back panel for easy access. Internet access costs roughly $10 per day. The internet cable can be found hanging in the vanity area. The desk chair is also functional for "office" use.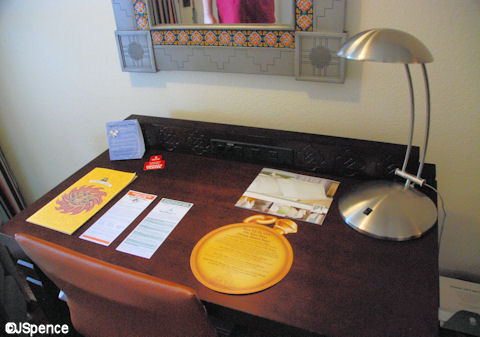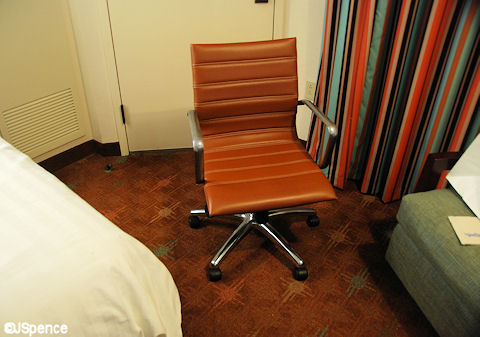 The TV and DVD player sit on a dark wood chest. The chest contains six drawers and a small refrigerator. A coffee maker, ice bucket, and glasses are also located on the chest.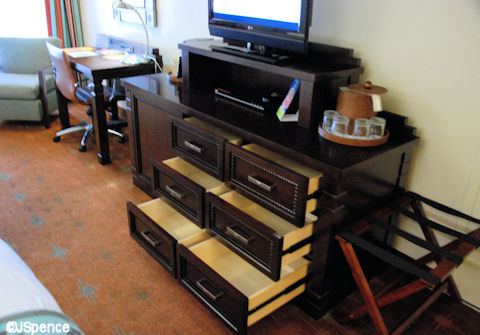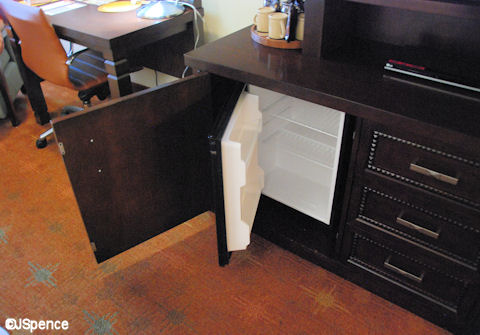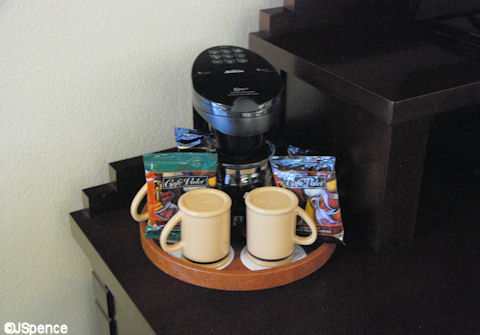 Something that I really like about Coronado Springs as compared to Port Orleans and Caribbean Beach Resort is the divider between the vanity and the bedroom. Instead of being a flimsy curtain, sliding wooden doors separate the rooms. This helps tremendously in keeping the vanity light and noise from intruding into the bedroom.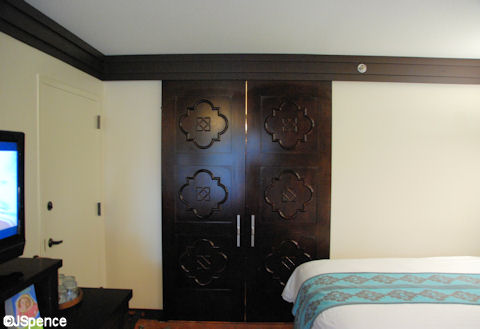 Something I don't like as well about Coronado Springs as compared with the other moderate resorts is it only has one sink. A family getting ready in the morning needs two.
In the vanity are clothes hangers, an ironing board and iron, and a key-locking safe. This safe is extremely small. At the most you could store a wallet and a pocket sized camera in it. The hair dryer is not attached to the wall as it is in other resorts. Instead it's found in a bag along with the hangers. Be sure to look for Mickey Mouse on the bathroom mirror.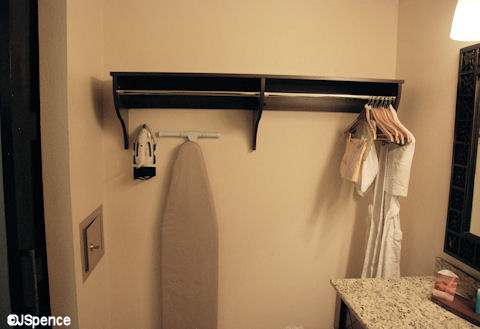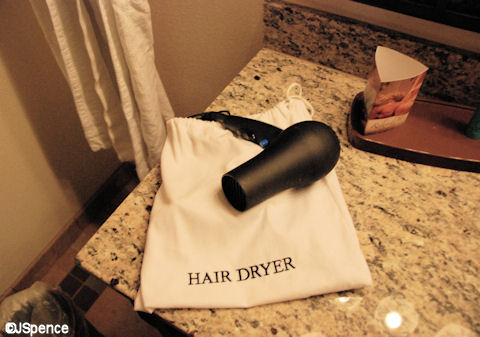 The toilet and shower area is separated from the vanity with a solid door. The shower curtain rod bows out at the top allowing for more space when bathing. The shower head generates a decent spray with three settings.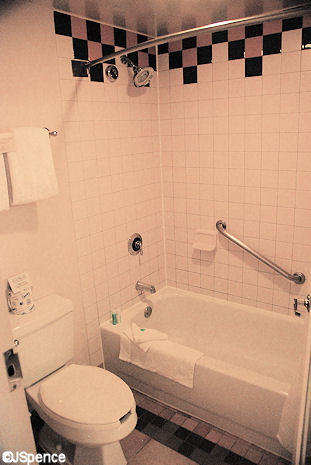 Overall, I like the bedroom decor at Coronado Springs. I think it's well themed and executed. But I have to admit, the vanity and toilet area are uninspired. I like to believe the Imagineers could have created a more inviting look even if this is a moderate resort.
Another advantage to Coronado Springs over Port Orleans and Caribbean Beach is the availability of room service. Whereas the other moderate resorts only offer pizza delivery after 4pm, this resort provides a decent menu for breakfast, lunch and dinner. Note, a $3 delivery charge, an 18% tip, and appropriate taxes will be added to the bill.
About half of the Cabana rooms offer a lake view. I decided to spend the extra money to see what I'd get. This first picture was taken with a standard lens setting from my window. In the second picture I zoomed in all the way. You tell me if you think the view is worth the money. I'm sure other rooms offer better vistas, but what room you're assigned is the luck of the draw.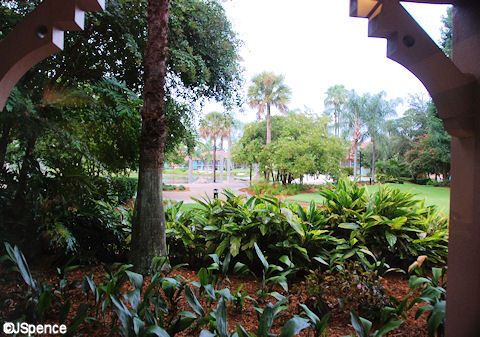 Coronado Springs is a large resort. A very large resort. My room was in building 9B, one of the closest to El Centro. It took me between three and five minutes to walk to the lobby. Although you can drive to El Centro from your nearby parking lot, there really aren't all that many spaces once you get there. Primarily, this area is used for those guests checking in and out. It was the designers' intent that you use Disney transportation if you don't wish to walk to and from El Centro and the convention center. Each village has its own bus stop. If you wish to ride TO El Centro, catch a bus marked Magic Kingdom, Epcot, Disney's Hollywood Studios, or Animal Kingdom. This will drop you off at the main bus depot. When you wish to RETURN to your room from El Centro, board any Downtown Disney bus.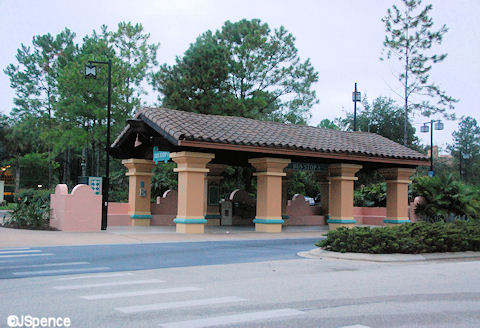 I think Coronado Springs is the "forgotten" moderate resort. Many people have a deep love for the Caribbean Beach or the Port Orleans Resorts and they aren't willing to give the Coronado Springs a try unless they are forced to stay here due to a lack of availability at other properties. That's a shame. Its large size really isn't any more inconvenient than Caribbean Beach and it has just as much charm as Port Orleans.
I'm a big proponent of trying everything Disney has to offer. To stay at the same resort year after year and to eat at the same restaurant time and time again is limiting. Disney has put a lot of effort and imagination into everything they do. When you try something new, it might not make it to your top-ten list. But then again, it just might. And it's rare that Disney will give you a bad experience so you really don't have anything to lose. So next time you're contemplating booking a moderate hotel, consider Coronado Springs. I think you'll be pleasantly surprised.
When I wrote about Port Orleans, I created two separate articles, one for the Riverside and one for the French Quarter. This allowed me to create shorter videos. Since Coronado Springs cannot be divided so easily, my video is rather long running at 13 minutes. This was necessary to capture the entire resort. The second video is of the room interior and is just a little over a minute long. Enjoy.