This IS American Idol…Experience! (cue the music)
Whether you regularly watch the TV show and are excited to see a form of it at Disney's Hollywood Studios or you, a friend or relative is performing in the park, you're going to want photos. The first thing you need to know is that you cannot use a flash. The second thing you need to know is the stage looks brighter to the eye than it does to a camera lens.
The pictures I'm going to show you were all taken with a point and shoot camera, the Canon PowerShot 100SX IS. On this model, you have to manually raise the flash so there was no need for me turn off that function as most of you will need to do with your cameras. Also, I used a variety of settings which I will go over.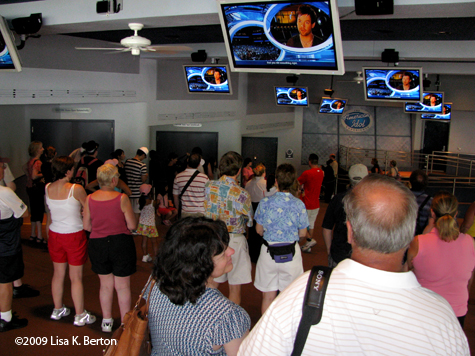 Let's begin outdoors where we bob up and down, whistle, make faces, and twiddle our thumbs as we patiently wait for the doors to open. You can use the flash out here if you'd like but it'll bounce off the monitors. Look! It's last year's winner, David Cook! Everyone wave at him.
Random info: I refer to this as the Xanadu (one of my favorite movies & soundtracks) building as it was designed after the Pan-Pacific Auditorium where the movie was filmed and later burned down. 🙁
There are American Idol signs everywhere it seems. On the large screen at the rear of the stage, the logo rotates so you'll need a little patience and some good timing to get it lined up correctly. Keep in mind your point and shoot has a short delay. It took me 4 attempts using Auto mode to get it right. Why? Because Auto went with the following settings, ISO 640 which is good for low light, f8 good for distance shots and keeping things sharp, 1/20 good for a tripod or someone who can hold still and not breathe but not so good for things that rotate.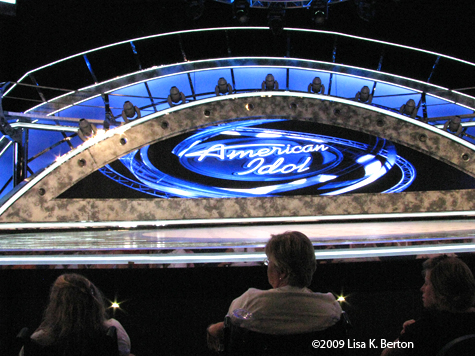 If you're familiar with the television show then you will immediately recognize the three stools off to the left and how they are used. Hey, if you can't get tickets to the taping in California, soak it all in at Walt Disney World. Besides, you can't take photos of the real show.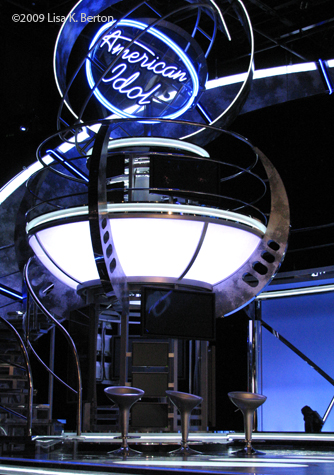 For this shot I used the Indoor Party mode. There's no movement here or people but who's to say the stools weren't chatting each other up and telling lame jokes.
One of the things that drives me crazy about sitting a few rows back is the probability of someone getting in my shot.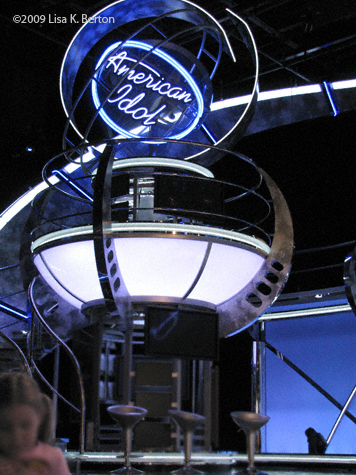 Let's meet the judges. On the right is the Simon Cowellesque judge who is honest yet brash. In the center is the sweet and positive Paula Abdulish judge who you can actually understand. On the left is the dawg himself, the Randy Jacksony judge who is dope, yo.
I used Indoor Party mode again here and it came up with ISO 800 which will allow the camera to shoot faster, f5.6 would be better if they were closer or the camera shot faster than the 1/30 it chose. Once more it took 4 shots to get something I liked. Granted I didn't need to line up anyone but people blink and change facial expressions.
Important note: Do you miss the clubs of Pleasure Island? That's Lisa from Comedy Warehouse in the center casting a spell on her pal.
Are you sitting towards the back? Does your camera have a short zoom or no zoom at all? Do you remember where I parked? Fear not photographers, there's always the larger-than-life screens on the side of the stage to photograph.
Keep in mind that the screen doesn't budge but well, you know where I'm going with this. I don't need to tell you. The show has an MC to get everyone pumped up. This fella on the right was celebrating his anniversary. He was adorable.
Here it is, the big moment we've all been waiting for…the interview! See, furniture comes in handy. Camera crew members walk back and forth in front of the stage throughout the set. There's nothing you can do except wait for them to saunter out of the way, trip or use them in your shot. What the heck, it gives your photo that Hollywood edge.
The downside to this fellow being right smack dab in front of me is that my camera focused on him and now the host and performer are out of focus.
Well, there you have it, all you need to know about getting those magical musical moments on film or a digital memory card. What? I forgot to go over the actual performances? Whoopsy.
The biggest thing to avoid is photographing someone when the microphone is in front of the mouth and blocking part of the face. Something a bit more advanced is to keep an eye on the lighting. Watch out for raccoon eyes, meaning that the eyes are in shadow and much darker than the rest of the face. Their lighting is designed to highlight singers from the back so more thna likely you should get this "glow" in every shot. If it were a glowing neon border then I'd really think I was in Xanadu.

I switched to AV mode (Aperature Priority) and selected f5.6 and ISO 400. The camera chose 1/200 as the shutterspeed which worked out great.
Take advantage of spotlights and lighting in general when you can. It can take a nice image of someone singing and turn it into a rock concert shot and isn't that the whole idea behind American Idol.
You want to wait until they've moved the mic back or off to the side. Profile shots are also favorable for the same reasons.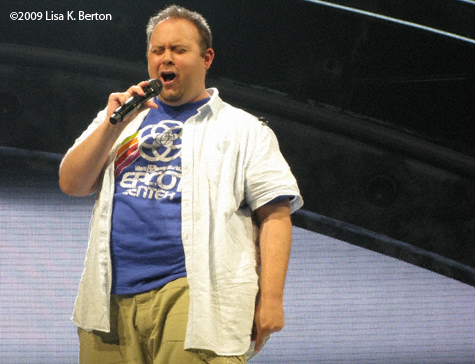 Michael Ruffin belts out Queen's Bohemian Rhapsody. Rock on!