The first Mickey's Not So Scary Halloween Party (MNSSHP) of the year was held yesterday (September 4) and I was there. I realize that this is almost two months before the actual holiday, but Halloween has become the second most celebrated holiday in the U.S. People get into the spirit of this season and revel in it. So it should come as no surprise that guests are willing to attend these special parties weeks before Jack Skellington and his crew are ready for the big night.
Let's start with the logistics. This is a hard ticket event — meaning you need to purchase a separate ticket for entry. Tickets can be bought at any Guest Relations or ticket window around property.
Here are the prices including tax:
ADVANCE PURCHASE: Adults: $55.38; Children 3-9 $48.99 (Advance purchase discount not available Oct 9, 15, 23, 31)
DAY OF EVENT (IF AVAILABLE): Adults $62.84; Children 3-9 $56.45
EXCEPT October 31: Adults $68.16; Children 3-9 $61.77
PASSHOLDER AND DISNEY VACATION CLUB DISCOUNTS (only available for the following dates — September 4, 11, 15, 18, 22, 25, 29; October 1, 6): Adults $52.19; Children 3-9 $45.80
Here are the dates for this year's parties:
September 4, 11, 15, 18, 22, 25, 29
October 1, 2, 6, 8, 9, 12, 13, 15, 18, 20, 22, 23, 25, 27, 29, 31
November 1
Official party hours are 7pm to midnight. Day guests are advised that the Magic Kingdom will close promptly on these evenings.
Party-goers can gain admission as early as 4pm. You will be given a wrist band and trick-or-treat bag upon entering the park.
If you entered the Magic Kingdom earlier than 4pm with some other sort of admission, you'll need to pick up a wrist band at the Rose Garden on the Hub. Halloween clad cast members will be available to help you with any questions.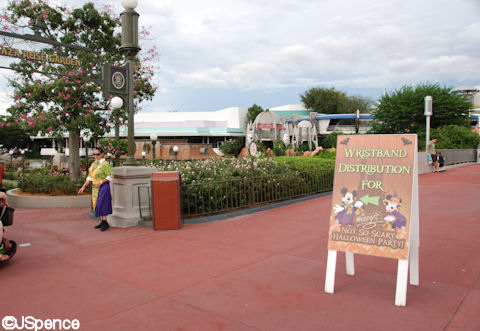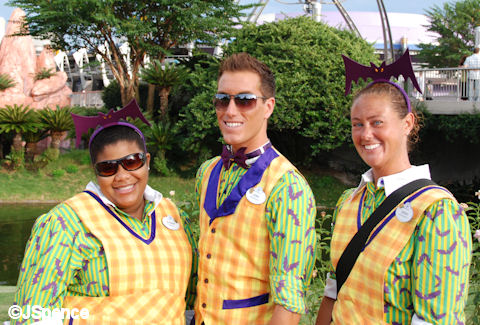 It is important to have a wrist band. At 7pm, cast members are stationed throughout the park, checking for these little strips of plastic. If you don't have one, you'll be asked to exit the Magic Kingdom. In addition, you might be required to show your wrist band to gain admittance to rides and attractions for the first hour of the party.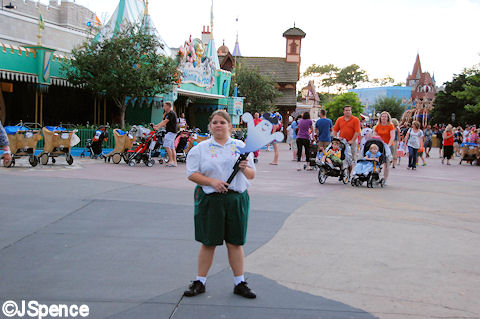 Not all of the rides and restaurants are open for this event. But since Disney caps the attendance at a reasonable number, it is never crowded and lines are usually short to non-existent. Here is a list of the OPEN rides and restaurants for MNSSHP:
Main Street:
Casey's Corner (hot dogs & fries)
Main Street Sweets (candy)
Adventureland:
Swiss Family Treehouse
Pirates of the Caribbean
The Magic Carpets of Aladdin
Aloha Isle (frozen treats)
Frontierland:
Splash Mountain
Big Thunder Mountain Railway
Pecos Bill Tall Tale Inn and Café (hamburgers & fries)
Golden Oak Outpost (quick bites)
Westward Ho (quick bites)
Frontierland Turkey Legs
Liberty Square:
Haunted Mansion
The Hall of Presidents
Sleepy Hollow (funnel cakes)
Pizza Cart
Liberty Tree Tavern (reported by several guests)
Fantasyland:
Peter Pan's Flight
Cinderella's Golden Carousel
Dumbo the Flying Elephant
Mickey's PhilharMagic
Snow White's Scary Adventures
The Many Adventures of Winnie the Pooh
Mad Tea Party
'it's a small world"
Mrs. Potts Cupboard (ice cream)
Friar's Nook (quick bites)
Mickey's Toontown Fair:
The Barnstormer at Goofy's Wiseacre Farm
Tomorrowland:
Tomorrowland Speedway
Astro Orbiter
Buzz Lightyear's Space Ranger Spin
Tomorrowland Transit Authority
Stitch's Great Escape
Monsters, Inc. Laugh Floor (closes at 10pm)
Cosmic Ray's Starlight Cafe (hamburgers & chicken)
The Lunching Pad at Rockettower Plaza (quick bites)
Auntie Gravity's Galactic Goodies (smoothies)
And now, on to the party! Halloween decorations begin as soon as you approach the Magic Kingdom.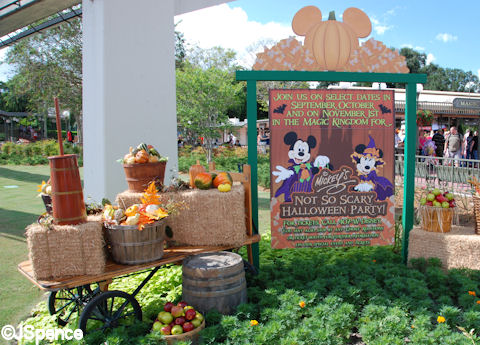 And Main Street is all decked out.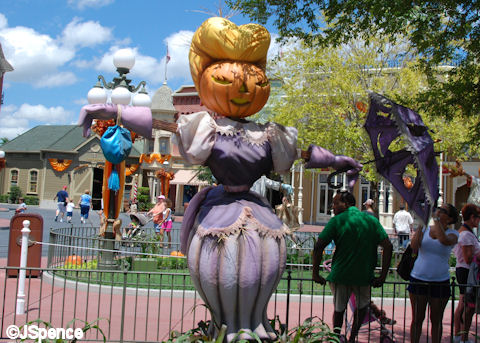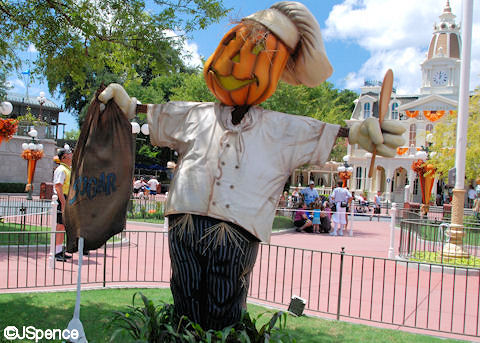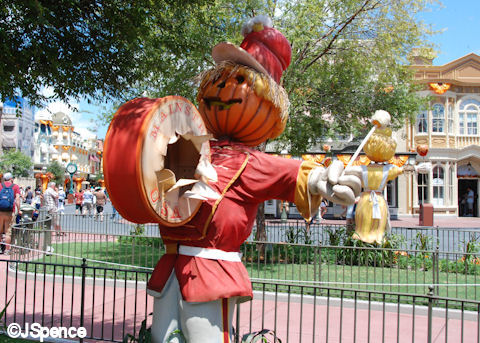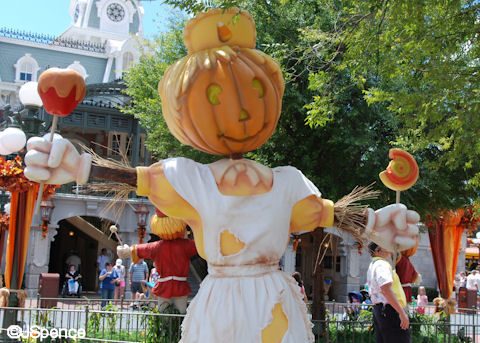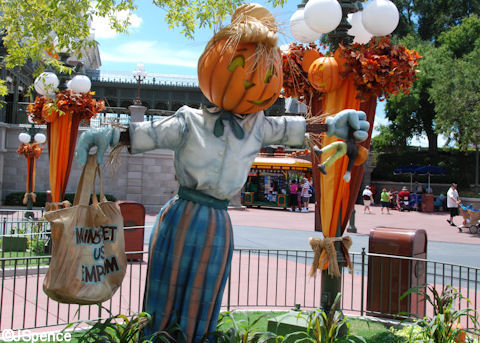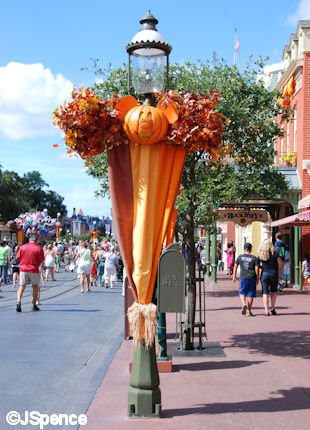 Window displays also get into the spirit as does the merchandise for sale. In addition, napkins and drink cups take on a festive tone.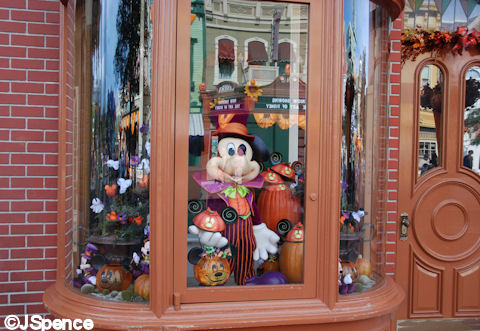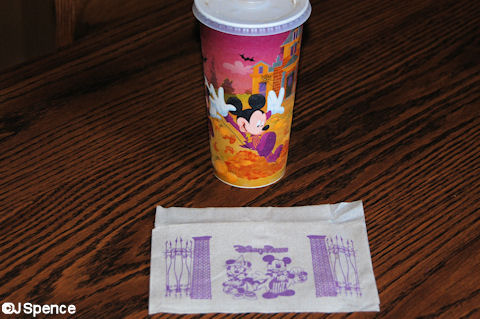 The second floors of Main Street are lined with pumpkins. Pay special attention to some of the carvings. They are themed to their locations. Take for instance Tony's Town Square Café.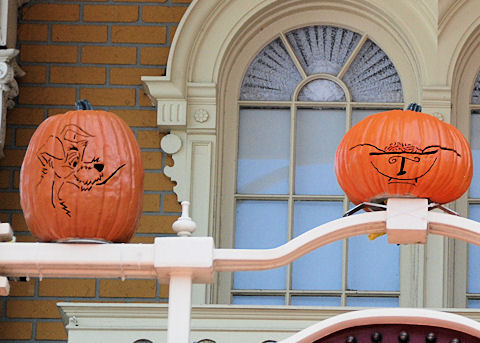 Check out the Fire Station.
Main Street Cinema.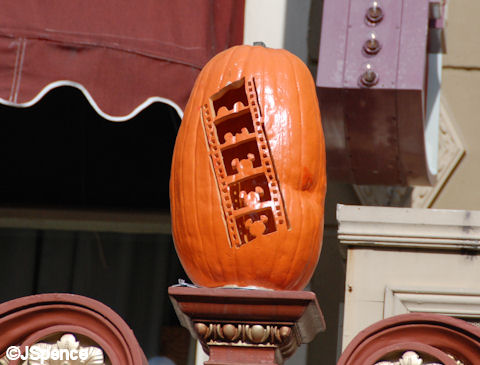 Casey's Corner.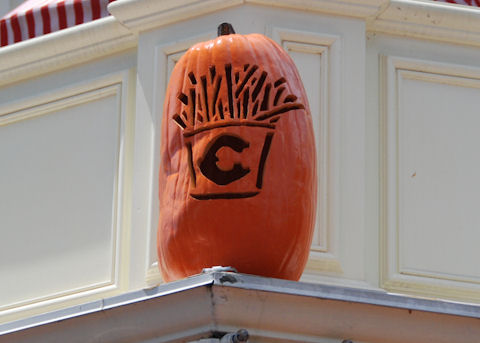 And the Ice Cream Parlor.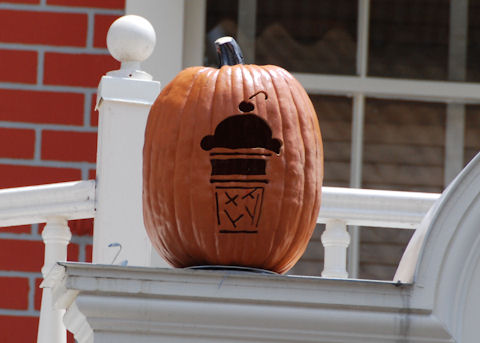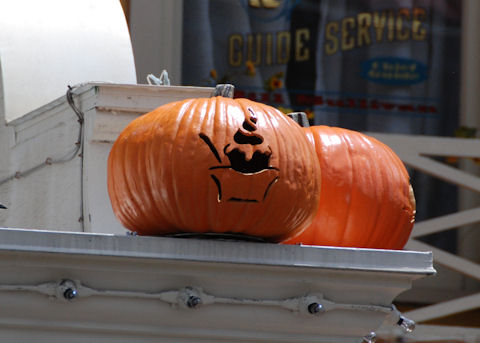 The Hub also has some special Halloween decorations.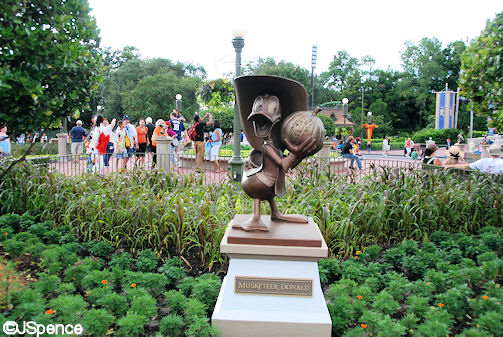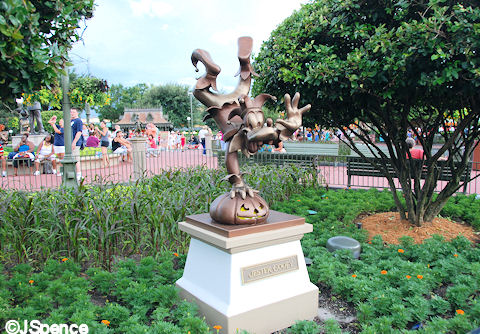 Many guests get into the spirit by dressing in costume. And it's not just the little ones who enjoy donning a new identity. Whole families seem to get into the act at MNSSHP. However, there are a few rules you should be aware of.
Costumes should be child-friendly and not obtrusive or offensive.
Adult guest may wear masks, but the masks must not obstruct vision (you need to be able to see where you're going).
Guest who dress like Disney characters are not to pose for pictures or sign autographs for other guests.
Do not bring large or dangerous props with you.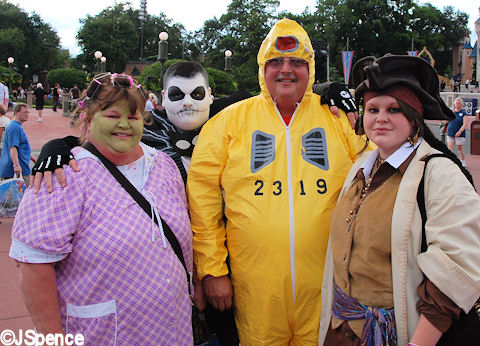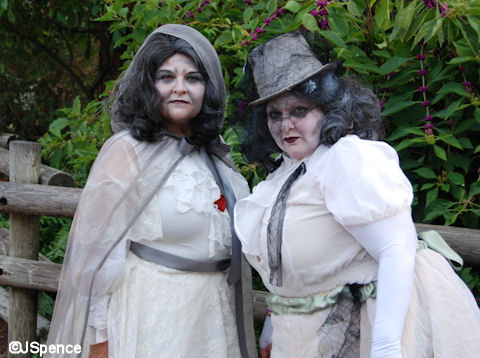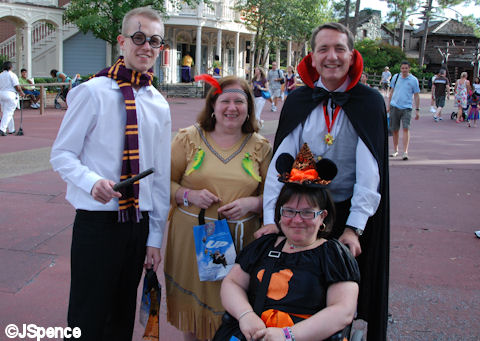 Scattered around the park are various picture spots, some with characters.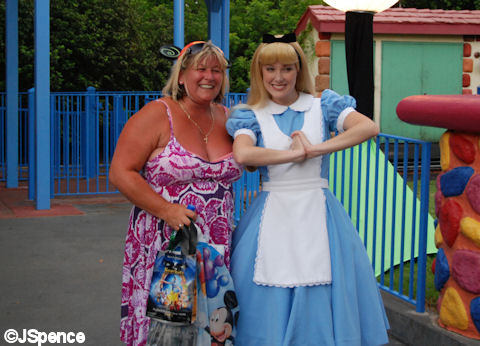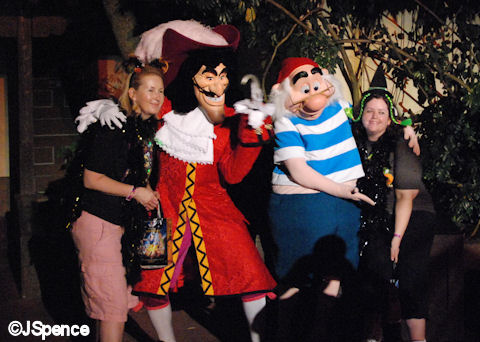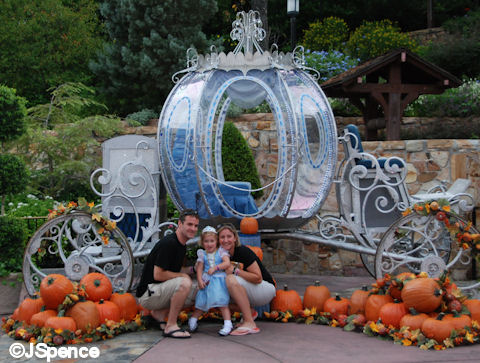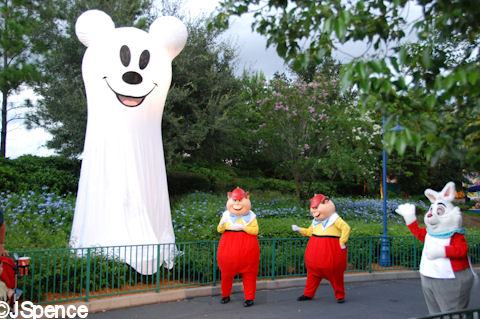 Candy is distributed freely throughout the park. If you want a sugar-rush, it's readily available at every turn. Over at Mickey's Toontown Fair, a special Alice in Wonderland walkway has been created and is filled with numerous candy opportunities.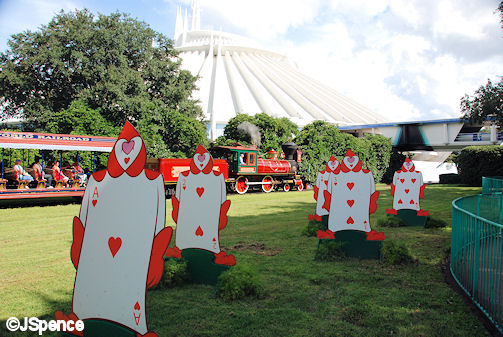 Two Character Dance Parties rock away the night. This is one of the few times your children can interact with the characters without waiting in a long line. All they have to do is jump to the beat and kick up their heels out on the dance floor.
One of the dance parties is held in Tomorrowland at Club 626. Here, Stitch, Goofy, and Pluto mix and mingle with the energetic crowd.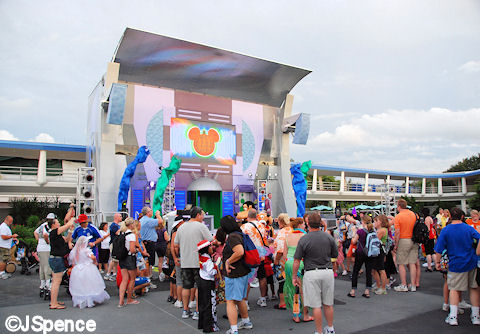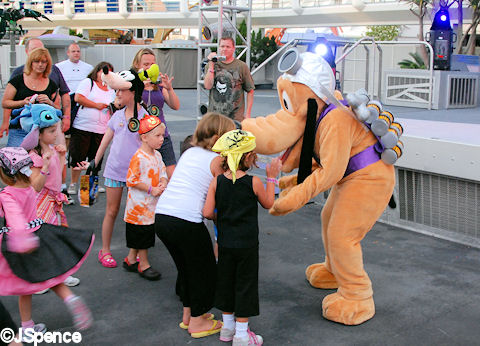 Over at Ariel's Grotto in Fantasyland, Princess Minnie and Princess Daisy are on hand for some two-steppin'.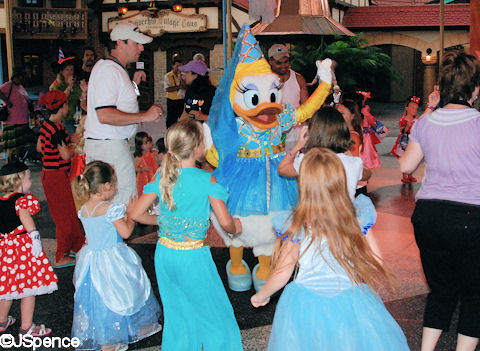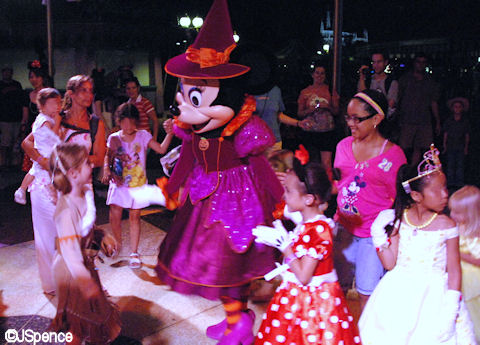 Several times each evening, the Villains entertain in front of the castle. Their evil dance is energetic, but certainly not frightening. After their number concludes, they come out into the audience for a Meet & Greet. The times are: 7:45 9:00 10:05 & 11:15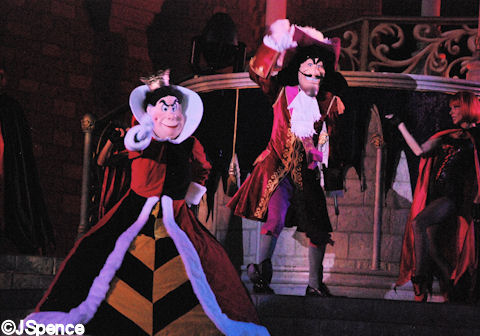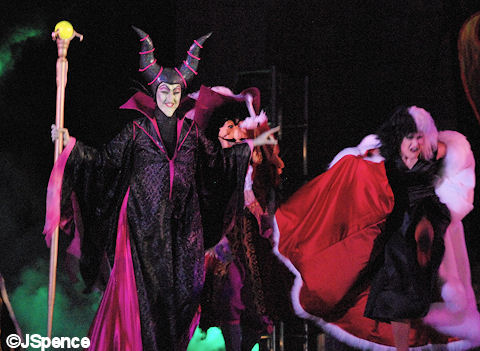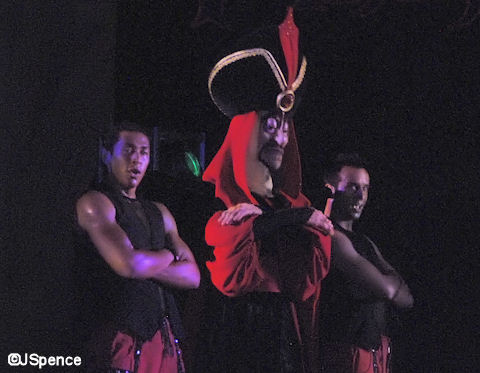 And of course, no Disney evening would be complete without fireworks. A special Halloween presentation called Happy HalloWishes is presented at 9:30 each night.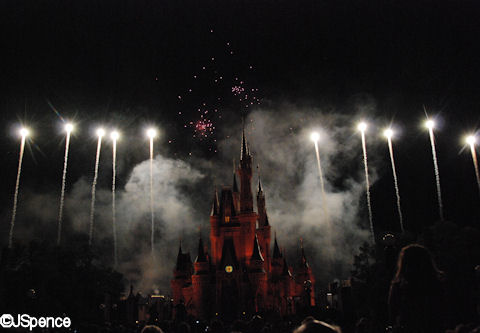 Over at the Haunted Mansion, our mortician cast members become even more ghostly and Madame Carlotta entertains passersby with some tantalizing gossip about her fellow ghosts.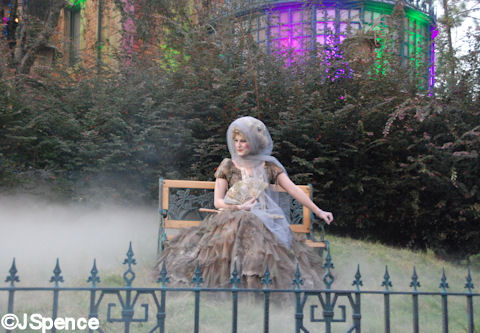 I've saved the best for last, Mickey's "Boo-to-You" Halloween Parade. Presented twice nightly at 8:15 and 10:30, this delightfully creepy-yet-amusing procession is a must-see. I've created a short video of Madame Carlotta and the parade. Enjoy.