Continuing with some insights from a recent trip to WDW…
(In cast you missed Part 1)
Toy Story Midway Mania continues to be the hottest attraction in Walt Disney World. I waited for at least 75 minutes for this attraction, and yet right afterwards I was able to walk right on The Twilight Zone Tower of Terror…absolutely no wait.
I remember not so long ago seeing the same long queues for TZTOT. Could it be that TSM is one of those attractions which Walt longed for? You know, one designed so that the whole family could ride together?
It's simple, those attractions for which the whole family can ride will usually have longer queues than those thrill rides which appeal to a subset of the family.
The TZTOT is not for everyone, but it sure seems that TSM is for the whole gang; hence the difference.
The American Idol Experience attraction strikes me as one of those attractions to take in for a nice respite from the hot Florida Sun and I expect that the crowds this summer will be fairly substantial. After all it is this attraction's first summer and should enjoy a healthy number of guests.
Not sure I get the judges"¦.there seems to be a large Randy Jackson clone, a Paula Abdul type female judge and a Simon Cowell wannabe. The show I attended had some pretty talented people perrforming. I have heard from many locals that it is best to wait for the finale show. I believe the finale show is at 7 P.M. and it's a more robust show. I'm planning on doing that the next time I am in Hollywood Studios.
I must be doing something wrong. Every time I go on Everest I never feel I've gotten a good look at the Yeti. Maybe next time. Up until this last trip I had never ridden Expedition Everest up front. How did I do it? Well, it wasn't me who did it but my fellow AllEars colleague Michelle Scribner-MacLean who knew when to ask about riding up front.
As you go onto the loading dock you walk down to the right. At that point ask the loading Cast Member if you could ride up front and you will be directed to the up front queue…I kid you not.
One word of caution: it is not for the faint of heart. Hey maybe that's why I didn't catch a good glimpse of that nasty Yeti.
I will be the first to admit that I cannot get enough of Finding Nemo: The Musical. The puppetry for this attraction is outstanding and I am totally convinced that the performers are having the time of their lives putting on the show.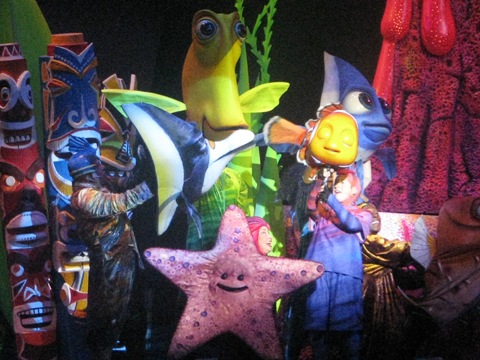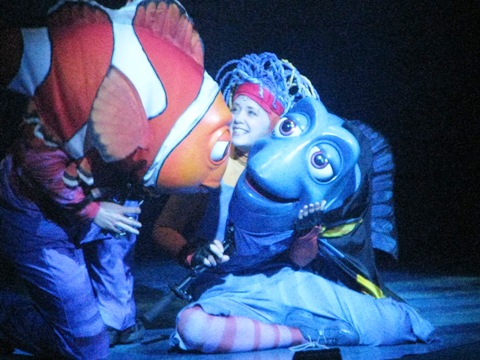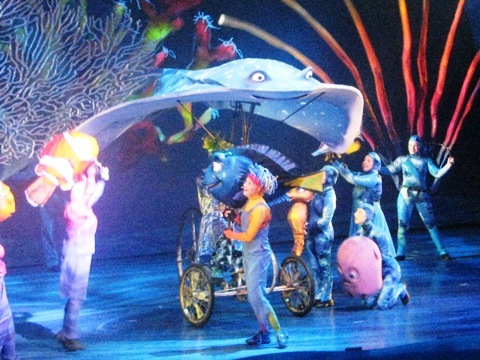 Staying with Disney's Animal Kingdom Theme Park I noticed, on this trip, a difference in the Festival of the Lion King. At the end of the performance I attended the audience was told to remain in their seats until ALL the floats left the theater.
So I was thinking, "Why the change?" and I came up with two possible reasons. The first reason is that perhaps the crowd can clear the theater faster if they do not have to manuever around the huge floats.
An even more interesting theory is that maybe a guest was injured walking around the remaining floats thus the show directors felt it wise to do whatever possible to prevent that from happening again.
While on this trip I tried a few restaurants I had yet to experience"¦.and here is my $.50 review on all of them.
Let me preface all these quickie reviews with a caveat that says regardless of what I or anyone else may say regarding a restaurant, our words should never deter you from trying it yourself. After all, why deny yourself a wonderful dining experience just because my taste may be different from yours?
Being an adventurous diner I like to try new experiences and restaurants all the time. One restaurant I had my eyes set on was Sanaa at Kidani Village. If you are into a combination of African and Indian cuisines then you should definitely take time to sample what Sanaa has to offer.
When it comes to Indian food I'm a tough marker. Sanaa came close for me but fell short in some areas. However I need to give Sanaa a Pass because I love spicy food and it would not behoove any restaurant to spice up their entrees too much. Sanaa is worth a try "¦make sure you park in the Rafiki parking lot of Kidani Village otherwise you will walk for ages looking for the restaurant.
For two years I have been meaning to try Animal Kingdom's Yak and Yeti. If I had known then what Iknow now I would have dined there first chance. The menu selections are, to say the least, very interesting. I ordered an appetizer and a very simple entree and was pleasantly surprised at the quality of the food and the portion. the portion size was just right…not too much…and not too litle.
Take note that, at least on this day, this restauant was not accepting Disney Dining Experience or Tables of Wonderland or whatever we are calling it these days but is on the Dining Plan "¦go figure.
I discovered something this month and that is that one WDW resort at times, based on room bookings, will alter its restaurant's operating hours.
The one I am aware of that does that right now is the Swan and Dolphin Hotels. This past trip in speaking with the managers of both the Garden Grove (Swan) and Mediterranean Fresh (Dolphin) restaurants I found out that the hotels discovered that if their room bookings have a large percentage of families and a lesser number of business people then it makes sense to limit or even eliminate lunch at a restaurant or two in the resort. This decision I feel is based on at least one and perhaps two theories.
If you are a family and are out and about in the theme park would you really come back to your hotel for lunch? Probably not.
Businesses which book conventions at the Swan and Dolphin hotels often have working lunches in which food is brought to the conference room.
So you see, it makes good business sense to study the habits of your guests as those habits will make you a better business person.
I point this out because if you have made ADRs for your upcoming WDW vacation you should confirm this ADR no closer than a week before your vacation…regardless of the ADR location…theme park or hotel.
It had been almost eight years since I had enjoyed an Illuminations Cruise and I had forgotten how unique a perspective one gets from watching Illuminations from the water's level.
The experience will spoil you and will have you wanting to do it again and again. The boat is docked under the bridge that spans the United Kingdom and France pavilion in EPCOT. Consider splitting the cost of the experience with friends and you will have the time of your life.
I've done the cruise several times and each time I say to myself, "Why don't I do this more often?" think of it. Where else can you and nine of your friends enjoy Illuminations in a private comfortable setting?
I need to throw out a special shout out to Skipper Mike and Skipper "Nats" for a wonderful eperience, and to thank them for convincing Mother Nature to not rain on my Illuminations Parade.
As always the trip was too short. I always say to myself, "Well you didn't get to do this but you will next time."
I need to stop listening to myself.
Do you know what happened?
I kept putting off tasting that new orange-flavored Dole Whip. That's at the top of my list for my next trip.
You can be sure I will be MINDFUL of that.