May 27, 2008
Disneyland Resort
Weather: Partly Cloudy and 70s
Part 2
When I left you last blog, we were headed out of Disneyland down Main Street and found my good friend Steve Barrett's Hidden Mickeys Disneyland book in a Main Street Shop window!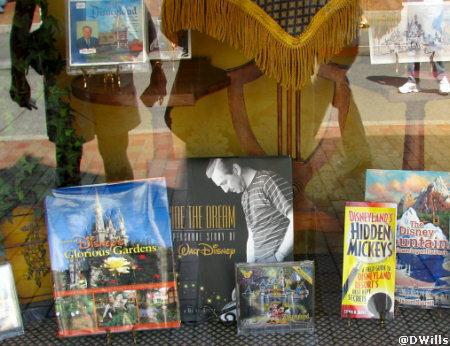 I'll pick it up from there…..
Mari and Raliegh had texted to say they were over at Disney's California Adventure. They found a good counter service place, Pacific Wharf Cafe, that was still serving breakfast. None of us really ate that morning as we were in the park for Magic Morning so…..off we went.
We hadn't seen Mari and Raleigh since, well, 2 nights earlier…that mediocre dinner at Napa Rose where we attempted to celebrate their anniversary (I know, I still need to write the review).
Anyway…Raleigh wasn't too interested in having his photo taken, so here is Mari 🙂
Here is the YUMMY breakfast croissant I had from the Pacific Wharf Cafe. I only ate a small piece of the pastry but I can tell you this was better than any breakfast sandwich I've had from WDW counter service. YUMMMMMM
We all quickly rediscovered our Childish Delight and had just a wonderful day. Here is our first photo op. Somehow our curiosity got us captured in a large fish net!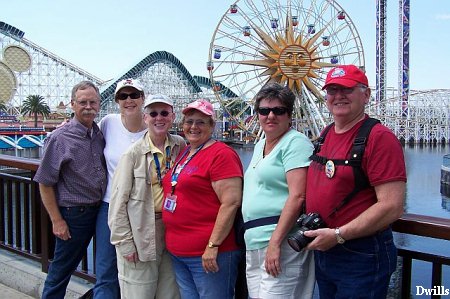 Someone suggested we stroll by Toy Story Mania in case of a soft opening..but alas, no Cast Members in sight…
We approached Golden Dreams, a movie about the history of California, with a little Disney imagineering included. Most of us had never seen it before. LindaMac had a couple days earlier and decided to pass on this showing. Mari told us it was probably going to close soon, so we decided to do it.
The movie was good and I learned a few things. There is a great montage at the end (think American Adventure in Epcot) but I didn't recognize a lot of the folks. We also had a special visit from Whoopi, in the true spirit of Disney imagineering.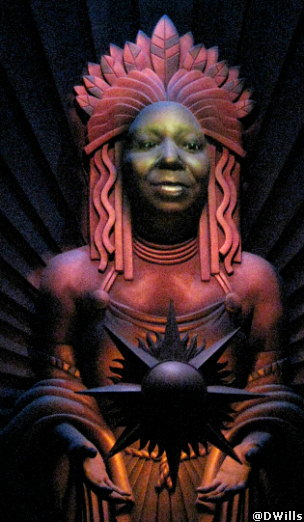 Somewhere along the way, we returned to the Pacific Wharf Cafe for lunch. Again, the food was realy really good. There was plenty of it even if you didn't eat the bread bowl!!
Next, another new experience for us East Coaster's — A Bugs Land! We loved this land and took our time exploring all the nooks and crannys!
While we were checking out the Hopper figure…..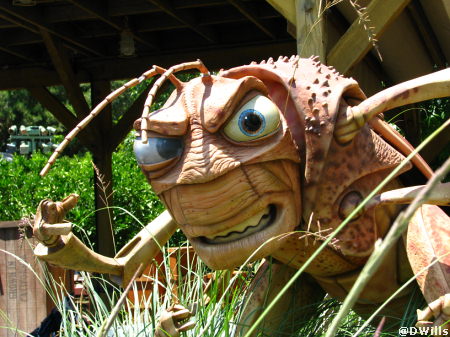 …. who should appear, but Flick!!! We enjoyed a few minutes playing with him.
A Bug's Land is really designed for the little ones and it was really cute to see some of the seating along the paths. That said, our merry band of adults really had a great time.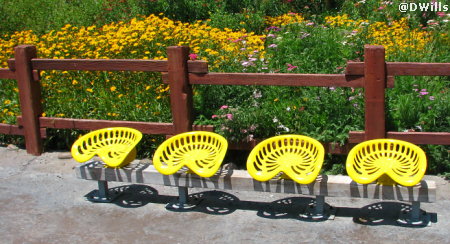 If we had the luxury of time, we would have gone on more of the attractions here. But, we opted to enjoy Heimlich's Chew Chew Train. What fun we had!!!!!!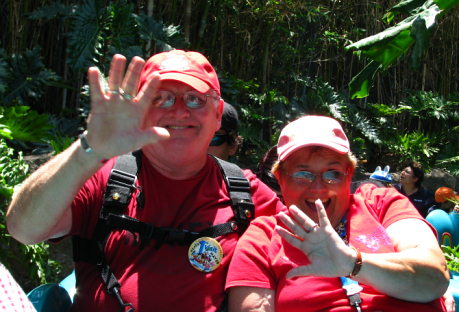 We continued to wander, kind of aimlessly and found ourselves at the Boudin Bakery Tour. Short, informative and we got a small slice of Sourdough Bread too!
Then we really started getting silly!!!
Whew… ok, that's it for today.
Stay tuned!!!!
I'll finish my trip blog next time!!
Follow my Panama Canal Cruise and Disneyland Blogs. Beginning entries at the top, for most recent entries scroll down.
Deb