Taking photos is fun but it's exhilirating when you're trying to capture all the excitement you're feeling while traveling 25 mph on Big Thunder Mountain Railroad.
Armed once again with the Nikon Coolpix 7600 point and shoot camera, I toyed with the Sports Composite feature. This can be found by turning the mode dial to the Sports icon.

Press the Menu button then scroll down to what looks like a horizontal waffle. In the top right hand corner of the LCD screen, it'll say Sports Composite. Press the OK button.
This feature works in the following manner:
1. It lowers the quality level down to 2 million megapixels per shot yet retains 7 MP for the entire image.
2. It turns the flash off.
3. The camera takes 16 shots in rapid succession and then saves the file to the SD card or internal memory, according to your settings.
New Nikon Coolpix cameras such as the S210 refer to this function as Multi-shot 16. To get to this setting you must first press the Mode button, select Shooting (camera icon) then OK. Press the Menu button then scroll down to where it says Continuous. On the directional pad, press the right side and select Multi-shot 16. You got all that? Sheesh. It's not exactly easy to get to.
The S210 is an 8 MP camera and when I tested it out (not at Walt Disney World, sadly) I found that it shoots each quick frame at 5 MP and saves the entire file as 8 MP. This is a nice increase in quality should you want to crop out part of the composite.
What does this Sports Composite/Multi-shot 16 look like? Drum roll please!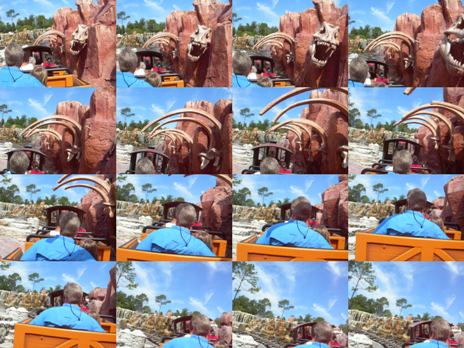 Click on the photo to view it larger.
I made several attempts during one roundtrip train ride to get a composite I was happy with. I'm a rather fussy photog, go figure. Being jostled around while photographing the back of some stranger's head is all in a day's work. At one point I uncontrollably slid from one end of the seat to the other. I should have listened to Gramps cuz it was the wildest ride in the wilderness!