This was Challenge #33:

And here's the answer: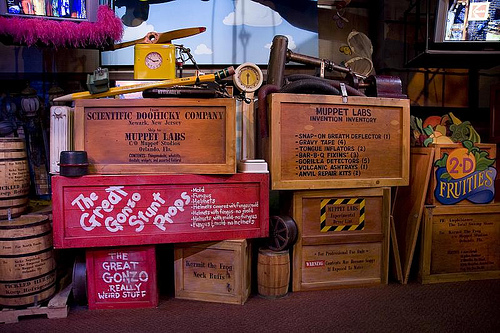 Copyright © 2007 Barrie Brewer, Nikon D50, 18-200VR, 1/3s shutter, f3.5
Brandy White was the first one to send in the correct answer this week. Brandy knew right away that our photo was from Muppet Vision 3D at Disney's Hollywood Studios. These are the Great Gonzo Stunt Props from the pre-show area. I'd really like to know what's in the box of really weird stuff right below it!
Congratulations to all the readers who knew the answer to this past week's contest and sent it in before the end of Thursday: Jodi Fox, Danusia Rogacki, Andy Apple, Neil Taylor, Alan Lichtman, Carissa Totleben, Karen Pizzuta, Catherine Moore, Suzanne Davis, Traci Stocker, Bob Hite, Shannon Wright, Amy Rupp, Laura Heacox, Sharla Manglass, Kim Adams, Kathleen Mcgrath, Lisa & Tony Battaglia, Heather Coursen, J Albrecht, Kathi Allen, Wendy S, Aruna Mohan, Carrie Mcdermott, Marie Bertini, Bev Carson, Janet Kodra, Kim O'Brien, Ruth Fell, Sharon Dale, Trey Morris, Louis Grilli, Sarah Davies, Dana Hall, Lisa Edmonson, Tim Sayler, Christine Benoit, Kerri Schafer, Katie Fry, Eve Cunning, Alyse, Jennifer Tremley, John Sloboda, Jaca Rogers, Greg Gebhart, Chrissy Palmerlee, Kyle Buff, Sara Lewis, Allison Collins, Kelly Jean Clarkson, Jaime Thomson, Scott Button, Nick Straka, Marie Hodur, Katherine Gast, Tim Rachuba, Andrew Bentz, Baines Family, Kellie Carter, Bryan Timko, Chris & Alison, Erica Andrews, Kye Layton, Debbie Hicks, Kerry Ross, Charrissa Lin, Jullie Petrie, Stephanie Visco, Melissa Mathias, John Dupre, Christie Condit, Nora Beirne, Katelyn Palermo, Garland Cox, Dan Record, Hillary W, Josh Rohrbach, Jennifer Lalli, Beth Finn, Deb Ragno, Tina Lefante, Pollyanna Buff, Dave Wang, Mark Antry, John Pasqueralli, Dawn Bach, Craig Bendele, Curtis Bille, Tim Wingfield, Katie Wetzel and Monica Alderman.
Remember, to be included in the drawing you must send in your answer before the end of the day on Thursday.
_______________________________________________________________________
Challenge #34: Where in the world is this?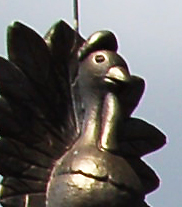 Do you know? Do you have a guess? Send in your answer, before the end of the day on Thursday, by clicking HERE!
_______________________________________________________________________
Everyone who sends in a correct answer to a Where in the World Challenge this month will be entered in a drawing at the end of the month for a copy of Hidden Mickeys Walt Disney World by Steve Barrett and some special AllEars® goodies!