I recently purchased and read "The Disney Mountains – Imagineering at Its Peak" by Jason Surrell. I had read two of his other books, "Pirates of the Caribbean: From the Magic Kingdom to the Movies" and "The Haunted Mansion: From the Magic Kingdom to the Movies."
I thoroughly enjoyed both of these books as they were packed with a collection of stories and information that I had never heard before. Both of these books offered an in-depth look at the planning and imagination that goes into creating an "E" ticket Disney attraction. It was because of these two books that I pre-ordered and eagerly awaited my copy of Mr. Surrell's latest book "The Disney Mountains: Imagineering at Its Peak." Note: All three of these books are printed in paper-back form and measure 8½ x 11 inches.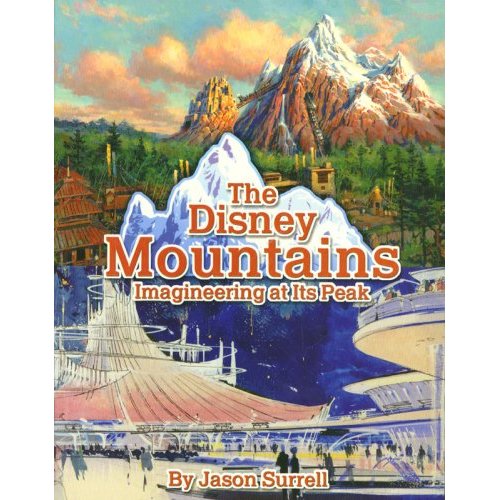 "The Disney Mountains: Imagineering at Its Peak" describes the creation and building of the many man-made mountains that Disney has built around the world. Starting with the world's first steel-tube rollercoaster, the Matterhorn at Disneyland and ending with their latest creation, Expedition: Everest, each mountain (or mountain genre, like Space Mountain) is given its own chapter. The forward by Marty Sklar is especially entertaining. This book is an easy read as it is only 128 pages and is chock full of illustrations.
I have to say that I was a little disappointed when I had finished reading this book. The first chapter, which is all about the Matterhorn, was informative and provided me with new information that I wasn't already aware of. Also, the chapter about the various Space Mountains was good as was the story behind the never-built Western River Expedition. In all three cases, I knew much of the information presented beforehand but I also learned some new facts from reading this book.
But other chapters, like the ones that described Mount Prometheus at Tokyo DisneySea and Typhoon Lagoon & Blizzard Beach in Florida were lacking in content. In fact I felt the information about Typhoon Lagoon & Blizzard Beach was little more than a rewording of the Disney press releases that circulated at their openings.
In Mr. Surrell's own words, Mount Prometheus is "The Jewel of Tokyo DisneySea." This mountain contains two "E" ticket attractions, a restaurant, a magnificent playground, a full-sized model of the Nautilus, and a third attraction (a boat ride) passes beneath it. Yet, Mr. Surrell only allots four pages to this mountain – half of which are illustrations. On the other hand, he devoted twenty pages to Expedition: Everest – which as good as it is, it's just one attraction. I can only guess that he felt American audiences wouldn't be that interested in Disney's foreign parks. If this is the case, he's wrong.
Would I recommend this book? Probably. If you're a "beginner" Disneyphile you will definitely find the information presented here of interest. If you're and "intermediate" or "advanced" Disneyphile, you will probably be disappointed in the lack of depth this book offers – especially if you enjoyed his previous books about Pirates of the Caribbean and the Haunted Mansion. However this book does contain a wonderful collection of illustrations and artist concept drawings that make the price of the book worth it.
This book is published by Disney Editions sells for $13.57 on Amazon.