Yesterday (10/19/07), I ate lunch at Olivia's at Old Key West. After I ate, I needed to run a quick errand at Epcot. Since I live in Orlando, I usually drive to all my Disney World locations, but today I decided to take the bus. The weather was pleasant and I thought it would be a nice change of pace.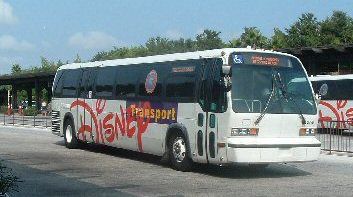 After the bus arrived and I took my seat, I noticed that the music being played was "Legacy," an Epcot background piece that everyone's heard but doesn't know its name. After a few moments, the song ended and "One Little Spark" from the Imagination Pavilion began to play. I started to wonder if all of the music was now themed to the bus's destination.
A moment later, a recorded voice (Matt Hanson ) could be heard. It welcomed everyone aboard and provided us with some tips about our upcoming visit to Epcot. At the same time, the speech was displayed on an electronic message board for all to read. The recording was loud enough to be heard but not overpowering.
When his remarks were finished, the music switched back on and continued to play another selection from Epcot. Shortly before arriving, Matt Hanson could again be heard, informing us that we were about to reach our destination and to please gather up our belongings.
Unfortunately, my return bus had not been fitted out with this new system and I had to listen to a bus driver's inaudible comments as he didn't have a clue of how to properly use a microphone.
Since I don't ride the buses often, this new system may be old news to many of you. But for me it was a pleasant surprise and I'm looking forward to the rest of the fleet being retrofitted.
Now onto the downside of bus transportation"¦ When you catch a bus at the Hospitality House (check-in) of Old Key West, you are at the last bus stop in the resort. From here, you go directly to you destination. On the return trip, Hospitality House the last stop.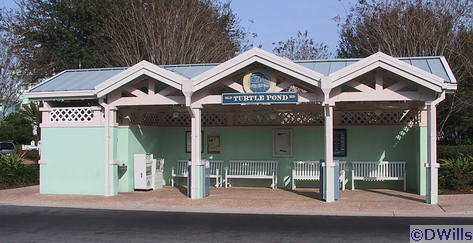 Unlike other Disney resorts that have multiple bus stops, Old Key West has a very convoluted layout. The bus must make numerous twists and turns as it snakes its way through the resort. So much so that by the time I returned to Hospitality House I was actually starting to get motion sickness.
The other large resorts, like Port Orleans and the Caribbean Beach are laid out in a more circular pattern. The bus just makes one large circle to reach all of the bus stops.
Because of this, I would seriously think twice before staying at Old Key West if I didn't have my own car.