Disney's Art of Animation Resort Draws Guests In
by Kristin B. Ford
AllEars® Feature Writer
Feature Article
This article appeared in the June 5, 2012 Issue #663 of ALL EARS® (ISSN: 1533-0753)
On Thursday, Walt Disney World opened its first new hotel since 2003, and it clearly caters to what guests find appealing: suites to allow group travel on a budget. But Disney's Art of Animation is so much more than another value resort in Disney's portfolio of properties. Imagineers have added special touches — both small and large — that set Art of Animation apart from the rest.
"We at Disney do not consider we are in the theme park business or the hotel business or even the cruise line business. We consider ourselves to be in the experience business," said Meg Crofton, president of Walt Disney World, at the opening. "Our mission is to help our guests make memories — wonderful, happy family memories that they will cherish for a lifetime. And this resort is going to do just that."
====================
CHECKING IN
====================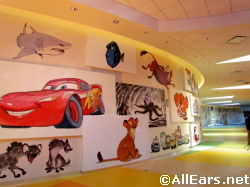 The Art of Animation hotel experience begins just as an animated film does — with conceptual art. Animation Hall, where guests check in, is designed to highlight the artistry behind the stories, an Imagineer explained. The massive, curved wall opposite the check-in stations features sketches from the four films represented at the hotel: "Finding Nemo," "Cars," "The Lion King" and "The Little Mermaid." Most of the artwork displayed here, and throughout the resort, has never been seen by the public. There are plush benches set back from the wall so waiting guests can enjoy looking at all the sketches. (Take a close look at the fabric on the benches and you'll find at least one hidden Mickey.)
Another unique creation worth pausing to study in Animation Hall is the Storyboard Chandelier, which includes a Lightning McQueen sketch signed by famed Pixar animator John Lasseter, who now is the chief creative officer at Pixar and Walt Disney Animation Studios.
The process of checking into Art of Animation is straightforward and easy. A bellhop will meet you under the porte-cochere or even out in the parking lot. Because of the distance from the parking lot to the suites, I definitely recommend using this service. Some guests may prefer to save a few dollars in tips by carrying their suitcases themselves, but please believe me when I say that multiple trips of this distance in the Florida heat are not likely to be worth it. If you're carrying your own items because you don't want anyone to see the snacks, sodas and beer you're bringing in, don't worry. That's one reason why you're staying in a suite — to use the kitchenette — and you're in good company.
At Art of Animation, Disney World is trying a different approach to checking in with individual stations, rather than one long registration desk. This makes for a more personalized experience and gives each guest more privacy. Guests can check in online ahead of time, limiting the time you'll spend in the lobby. If there happens to be a line, though, it's not likely to be a hardship with all the interesting art surrounding you. And you can send kids off to Pixel Play Arcade, the gaming room, or spouses to Ink & Paint Shop, the cleverly designed gift shop.
====================
DINING
====================
There is no table-service restaurant at Art of Animation, which is true of all of Disney World's value category hotels. Instead, there is a food court that offers favorite dishes, unexpected cuisine and customized choices. Landscape of Flavors serves create-your-own pasta, salads and smoothies, plus burgers, chicken, pizza, and foods from a Mongolian grill for lunch and dinner.
My husband and I sampled the Caprese Sandwich, a creation of vine-ripened tomato, fresh mozzarella, basil leaves and balsamic drizzle on Ciabatta served with house-made chips; Tandori Portuguese Sausage, with Naan bread and two sides; Surf and Surf Burger, a crab cake topped with fried popcorn shrimp, tomato, lettuce, and Cajun remoulade on a brioche bun served with coleslaw or house-seasoned fries; and a customized salad. We found everything to be fresh and flavorful.
Kids have plenty of picks, too, with their traditional favorites and even a couple of healthier options, such as whole wheat pasta with a turkey meatball and marinara sauce, or a fish platter with basmati or multigrain rice. Those with a sweet tooth can peruse the huge glass cases filled with desserts for every palate. That is, of course, where my children gravitated each meal, eyeing the chocolate Mickey cupcakes and other, more sophisticated treats.
For breakfast, I was happy to see my favorite large Mickey waffles served with fruit and bacon, but diners also could choose cute smaller circular waffles with images from the four Art of Animation films. There are also breakfast platters, breakfast sandwiches, French toast, pancakes and sides of all kinds. For the health-conscious, there are create-your-own yogurt parfaits and fruit bowls, plus the smoothie bar is open.
While guests are dining, their eyes can feast on decor landscapes from the four animated movies. The paintings, huge light fixtures and other decorative elements are scenery only — no characters. As one Imagineer pointed out, being in a character's world is what brings him or her to life.
To be sure, some guests will miss having a sit-down restaurant at Art of Animation, but for my on-the-go family, the food court suited us just fine. My kids were more interested in spending time in the courtyard than a restaurant, so having a quick meal was perfect. I appreciated not having to make reservations and the subsequent pressure to get everyone ready to go by a specific time. When we were hungry, we took a break in the action to eat and then headed back to the fun.
====================
RECREATION
====================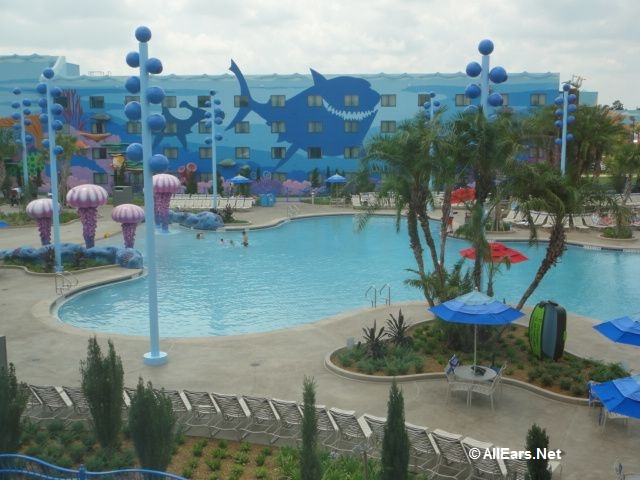 Stepping into the courtyard between the two Nemo-themed buildings that flank the main pool is to, quite literally, walk into the little fish's world. Imagineers and sculptors have built this recreation area so that guests are experiencing it from Nemo's point of view — and size. Characters are built on a scale to support that premise with Crush being almost 30 feet tall and Mr. Ray having a wingspan of 26 feet.
"All around you, the building elevations become the backdrop of the scene you are in," said Ryan Parrish, associate project manager for Walt Disney Imagineering "We've created 45 three-dimensional fish attached to the oceanic building façade. And swimming through the landscape are another 28. So you're really immersed in the scene. Even the horticulture feels like it could be under the sea."
The centerpiece of the recreation area is The Big Blue Pool, which at 12,000 feet is the biggest on Disney World property, excluding those at the water parks. One end of the pool is a "zero entry," allowing swimmers to wade in gradually. Little ones also can play under the dripping-water tentacles of four pinkish-purple jellyfish structures. The pool is shallowest around the edges and only gets to 4-feet, 9-inches deep in the center. If that's not cool enough for you, go underwater and you'll hear a sound system that continually plays music. In between songs, the underwater sound system features talking characters, too.
Adjacent to The Big Blue Pool is a splash pad known as the Schoolyard Sprayground, which has pop-up water jets on a soft, spongy landing around Marlin and Nemo in their 16-foot-tall sea anemone. There also are four separate characters that squirt water: Tad, Chicken Fish, Sheldon and Pearl. And behind that is Squirt's Righteous Reef, a dry play area with three slides and perfect photo opportunities.
Older kids might enjoy the ping-pong tables on the Mr. Ray side of the pool, including one that allows for four players. This reminded me of the four-person air hockey tables that I think are a great evolution for family fun. And on that same side is The Drop Off, a bar for those 21 and older.
On May 31, Generation Gap Bridge, which links Art of Animation to another value resort, Pop Century, also opened. Guests can walk between the hotels and patronize the food courts and gift shops. There will be no pool-hopping, however, because the The Big Blue Pool is fenced and requires a room key for entry. The hotels also will not share buses, because each has its own stop. (For Art of Animation, there is only one stop in front of Animation Hall.)
====================
SUITES AND ROOMS
====================
By the fall, Art of Animation will have four wings, three of which house 1,120 "family suites" — 320 of those are themed around Nemo and opened last week. The suites are essentially the size of two rooms put together and the price is slightly more than double, too, ranging from $248 to $415, depending on the view and season.
For comparison, an Art of Animation Family Suite is approximately 565 square feet, while an All-Star Music family suite is approximately 520 square feet. A Pop Century standard room is approximately 260 square feet, while a standard room at Art of Animation is about 277 square feet.
There are many "wow" features in the suites, but perhaps the most innovative is the Inova Table Bed, which is essentially a table that folds down under a Murphy bed. (The table is 3 feet by 4 feet, and the bed, when pulled down, is 4.5 feet by 6 feet.) This allows for more flexible use of the space during different times of the stay. The suites sleep six, with the other beds being a queen in the "master" bedroom and the sofa that hides a pullout bed.
Each suite also gives guests a kitchenette with a refrigerator, microwave, sink and coffee-maker. Two televisions with DVD players sit on chests of drawers, which are next to two bars to hang clothing. There are no closets, but there is ample room in the master to store suitcases.
All these features are incorporated into the decor of the suites, which continues to immerse guests in the "Finding Nemo" story. This is evident in all the details, from the colorful underwater scenes painted on the furniture to the pattern in the carpet and the shape of the plastic chairs at the table. Even the lamps look like sea urchins and the light fixtures recall bubbles.
Guests also have two full bathrooms at their disposal, and they are designed to make you feel as though you are in the movie's submarine. The master bath incorporates the brown tones and offers a more upscale feel with a large, glassed-in rain shower and a vanity that looks like a piece of furniture. The second bathroom has a tub with a Bruce the shark shower curtain and toilet that are separate from the sink. On mirrors in both is etched the saying, "Fish are friends."
"We didn't recreate a scene from the movie, but we recreated the look and feel of what you might find under the sea in 'Nemo'," an Imagineer explained.
====================
UPCOMING OPENINGS
====================
Art of Animation's other wings will open in this order:
— Cars (480 suites) — June 18
— The Lion King (320 suites) — August 10
— The Little Mermaid (864 rooms) — September 15 (Rooms start at $95 per night.)
Two smaller pools will be located in the Cars (Cozy Cone Pool) and The Little Mermaid (Flippin' Fins Pool) courtyards. The Lion King wing will house an additional play area, Elephant Graveyard.
"For families who wish they could visit the worlds of our animated films, this is a place where they can do exactly that," Crofton said.
And as the cast members there say, "Sketch you later!"
AUTHOR'S NOTE: I was a guest of Walt Disney World Resort during my stay at Disney's Art of Animation Resort. This did not influence my story, and my opinions are my own.
====================
RELATED LINKS
====================
Complete coverage of Disney's Art of Animation — including videos and photo tours of the hotel, food court, Nemo suites and courtyard, and Cars preview — can be found on AllEars.Net.
Opening Ceremony
Resort Overview Video
Animation Hall Photos
Family Suite Video
Family Suite Photos

Suites Accommodate Family's Needs
Landscape of Flavors Menus

Cars Wing Opens June 18
Rate and Review Art of Animation Resort
Rate and Review the Landscapes of Flavor
= = = = = = = = = = = = = = = =
ABOUT THE AUTHOR: Kristin Ford is a freelance writer who lives in Orlando. She wrote about The Walt Disney Co. during many of her 17 years at the Orlando Sentinel, before joining the AllEars.Net staff. Kristin has been visiting Walt Disney World since River Country was the only water park, and she fondly recalls childhood visits there. You can follow her adventures through the parks with her family on Twitter @Kristin_B_Ford.
Read Kristin's blogs on AllEars.Net at:
http://land.allears.net/blogs/guestblog/guest_bloggers/kristin_ford/