General Info
Attraction Info
Parades and Shows
News
January
February/
March
Spring
April
May
June/July
August
September
October
NovemberDecember
OTHER THEME
PARKS
Year of a Million Dreams
October 1, 2006 - December 31, 2007
Where over a million dreams will come true…one at a time.
Mindi Shephard: We attended the Mickey's Not So Scary Halloween Party on Thursday, October 5th. My 6 year old daughter and I were coming off of the Buzz Lightyears Space Ranger Spin ride when a cast member approached my daughter and explained that Zurg had attacked the building and placed two Z targets on the wall. She was handed a laser gun and was given 10 seconds to find and blast the Z's to save the building. She found the Z's and shot them with her laser gun. The cast member shouted that my daughter saved the building. She was then presented with a Certificate from Team Tomorrowland that stated "You got Zurg!!"
BethanyE: I was outside a store at Disney's California Adventure and saw a cast member with a lanyard on. I asked if he had any Winnie the Pooh pins and he did, so we swapped. Then he asked if Winne the Pooh was my favorite and when I said yes, he reached into his pouch and pulled out a Pooh pin that he said I can't buy any where. It says Cast Lanyard Series on the back. When he left, the woman beside me told me he just gave them seats at the Fantasmic Show for that evening. Clearly, he was a dispenser of dreams!
Noreen_Walsh: My sister got some magic this weekend when she was renewing her annual pass. As she stood there with her credit card in her hand, the cast member slid her new pass across the counter and said "Here's a piece of Disney magic for you." At first, my sister was like, yep, it's my ticket to magic… but as she stood there waiting to pass over her credit card, the clerk explained that her ticket was free that day!
About 7:30pm my husband and I were walking down Main Street when 2 Cast Members tapped my husband on the shoulder. The one said "Mickey knows you're here. He knows you have your buttons (we had the wedding buttons celebrating our 25th) and you have each other but there is one thing missing. Mickey would like to give you something." The CM then asked us to close our eyes and hold out our hands. When we opened our eyes they had laid the bride and groom ears in our hands. I almost cried. I was so overwhelmed. I hugged the one girl and we turned to each other to put on our ears. When we turned around to thank them again they were gone. We looked for them several times and never saw them. We have no idea where they came from or where they went but that moment was the most magical of our trip. Kimberly & Brian Hupp Sr., September 2006
Michael Haeberle: While at Epcot for the Food and Wine Festival we ate at the Garden Grill. When we had been seated in our booth Chip, Dale, Pluto and our waitress came over cheering and clapping and told us we were the Garden Grill's Gardening Family of the Day. For this we got a flower pot with some pretty flowers and each one in our group got a free smoothie with a glow cube. It was awesome everytime a waiter or waitress came buy they said congratulations and clapped some more. We also filled out a little card that went in there Gardening Family of the Day Photo album with all the other families. It was The magical moment of our Vacation.

Marilyn Milcavage: Imagine my surprise when I opened one of the shopping bags that we had sent to the front of the park and there was a note paper in there that thanked us for visiting WDW and hoped we would come again and there in the corner was a trading pin stuck to it! I was delighted. I think my daughter was a bit jealous and she opened hers and she had one too. :) That really was fun for us!!! Thanks, Disney.
Lisa Stott: Our memorable moment happened our last day in the MGM Studios. We were looking around in one of the stores, when a cast member came up to us and asked us if we would be in the Crazy Hat Parade. Of course we said yes, so, myself, my mom, and my 5 year old donned some crazy character hats and proceeded around the store following the CM holding a cd player with the Mickey Mouse Club song blasting! We were the stars of the parade!! After, we got an offical Magic Moment certificate!!!!! We will never forget that!
Jenny Keenan: We just returned from our trip to Disney World and were chosen twice. We were eating and a crowd of workers developed. They came over with a certificate that said "Family of the Hour". We were given a Golden FastPass to one ride that day in only the Magic Kingdom. Later, in front of Liberty Tree Tavern, my cousin's son was chosen "Chef of the Day". He also received a certificate and got to paint a Mickey-shaped sugar cookie with colored icing. They appeared to be training staff in how to present awards.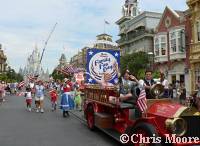 My husband and I were selected to be the Grand Marshalls of the new Family Funday Parade on Sept 27. (I think my Tigger ears and our anniversary buttons may have had something to do with it!) It was a truly magical experience for us as it was the actual day of our 20th Anniversary. What a way to celebrate and definitely the most memorable anniversary we've ever had!
Chris Moore, September 2006
Carrie Radatz: We were walking up Main Street past Cinderella Castle on Tuesday, 9/19, when two Cast Members approached my three young daughters (ages 5, 7 and 10). They were told Fairy Godmother had just called them and needed to make sure the popcorn was good for Cinderella's ball that night. The Cast Members asked if my daughters would be willing to test the popcorn to make sure it was OK. Of course they said yes and each was given a free box of popcorn to "test." My girls felt so special that they helped to make Cinderella's ball a success by making sure the popcorn was good! A very small dream fulfilled perhaps, but it made their day!
Meg Brancato: My family just returned from this year's Disney vacation and my 3-year-old daughter received two rewards. We stayed at Port Orleans Riverside and decided to spend the day at the French Quarter pool. The lifeguards officially open the pool at 10 a.m. and my daughter was chosen as the "Jester of the Day" and everyone around the pool was introduced to her. She was given a Mardi Gras clacker and brought to the area under the clam shell. She had to make a lot of noise with her clacker and everyone was asked to say "Wake up, Scales" with her (Scales is the name of the sea serpent slide). When Isabella woke up Scales, the water started streaming out of the clamshell and the water slide started for the day! That was about a week ago and she still says it was one of her favorite things that happened during our vacation.
We
were in Animal Kingdom walking towards Camp Mickey & Minnie. As we walked by a CM working a frozen treat cart and I said "Good Morning" to her with a smile. We realized when we got down to the character meet area that we were too early, so we headed back up the path. I think the CM was waiting for us to return, because she called and waved us over to her cart. She told my son if he could name who was walking the nature trail just down from her (Huey, Dewey and Louie) that she'd have a special treat for him. He named them (with a little help from mom) and she presented him with a certificate and his choice of a frozen treat from her cart. He felt so special with his free frozen orange juice bar! (Kim Hands)
Becky Holmes: On Thursday, September 28 we were at Magic Kingdom. My husband had the day off so we went down for a few hours while the kids were in school. As we were getting ready to leave, we saw they were getting ready to have a small parade called the "Family Fun Day Parade." It started in front of the castle and went down Main Street to Town Square where they were going to have a "patriotic ceremony." I was at the beverage cart getting my souvenir cup of soda for the ride home... Of course, today is the ONE day I did NOT bring my camera. I was very disappointed I wouldn't be able to share pictures with your readers. Disney photographers were there documenting everything. Pluto was the Grand Marshall. Behind him was the old-fashioned car with a family in it. They had American flags to wave. Behind them were about 30 guests waving American flags. Behind them, was what looked like a big bass drum that said "Family Fun Day Parade" on it. Behind that was Chip and Dale with several guests. They were showing those people how to play with hula hoops while they were marching. At the end of this parade was the Walt Disney World Marching Band. They made an announcement over the speakers on Main Street about the parade getting ready to start and asked everyone to join in clapping along for the parade. The song they played to start the parade was "76 Trombones" from the Music Man. Unfortunately for me, I didn't get to see the whole thing because we had to leave to get home in time to pick up my daughter from school. The CM said that they had picked the guests at random to be in this parade as part of the Year of a Million Dreams. It started just after 2 p.m. I told my husband next time we go we will try to be in that area around that time and see if maybe we can be picked.

Carole Davis One of the CM's at the Magic Kingdom in the central hub area was helping with crowd control and spotted my husband's military hat that he was wearing. He stopped us to ask about my husbands military service. He also saw our buttons that we received from guest services for celebrating our anniversary, so he gave us a "magic fastpass" good for instant access to any ride of our choosing in the park. Just another way to share the magic!