General Info
Attraction Info
Parades and Shows
News
January
February/
March
Spring
April
May
June/July
August
September
October
NovemberDecember
OTHER THEME
PARKS
Year of a Million Dreams
October 1, 2006 - December 31, 2007
Where over a million dreams will come true…one at a time.
The Year of a Million Dreams officially began Sunday, October 1, and as part of that celebration Disney cast members are not just dispensing "dream" prizes, but are also creating an unprecedented number of "Magical Moments." These include guests being tapped to help with the pixie-dusted opening of Magic Kingdom, getting the star treatment at a celebrity-style handprint ceremony at Disney-MGM Studios or being Official Wildlife Spotter at Disney's Animal Kingdom. We have some early reports of guests at Walt Disney World and Disneyland receiving "dreams" from the Dream Squad and some of these Magical Moments.
Click HERE for YEAR OF A MILLION DREAM PRIZE WINNER REPORTS
Click HERE for MAGICAL MOMENTS REPORTS
Click HERE for the Official PRESS RELEASES
Click HERE for a list of PRIZES
If the Dream Squad bestows a "dream" upon you, or if you receive an official "Magical Moment," please let us know! We'd love to hear what you won, how you were chosen, and don't forget to send any photos if you have them! Email us at allearsnet@yahoo.com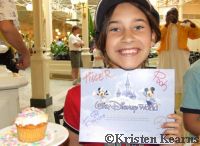 My daughter received a "magical moment" when having breakfast at the Crystal Palace in Magic Kingdom. She had just returned to her seat with her plate of food, when a very dirty stuffed animal landed in her plate. Our waiter saw the whole thing - a boy at the next table threw it. The cast members first came over with a print stating a magical moment and filled in was "A Great Catch" and it had the Pooh characters autographs. Then they came over with the double-set of Tinker Bell pins - "one for you" and "one to give". Then they came over with a confetti spinkled cupcake. Wow were we surprised!
My
husband, 7 year old daughter and I had dinner at EPCOT's Biergarten. When we got to the hostess she asked my daughter if she would like to be a Jr. Chef of the day and help the Head Chef make a gingerbread cookie. She gave my daughter a paper chef's hat to wear and told her someone would come to get her during dinner. When they came to get her halfway through our dinner, they put a little chef's jacket on her and she went in the kitchen to decorate a giant bear shaped cookie with "paint", mini M&Ms and Mickey shaped sprinkles. And they took a polaroid of her with the Head Chef! She got to eat the cookie and keep the chef's hat, of course it was all she could talk about for the rest of our trip!

While visiting Disneyland my husband came across the dream squad while exiting Buzz Lightyear Astro Blasters. He received a dream fastpass good for one ride on each attraction that uses fastpass at Disneyland and Disney's California Adventure. They even printed one for Haunted Mansion Holiday since they only use fastpass for that attraction during the Holidays. It was a perfect ending to his birthday weekend!

We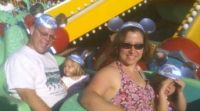 were at Animal Kingdom early for breakfast and then headed to Dinoland where we were given 4 Magical Dreams mouse ears as we went in the line. That was so special because now the 4 of us have the same mouse ears – something we would not have chosen on our own. When they embroidered our names on them later that day at Magic Kingdom, they also didn't charge us for the embroidery.
We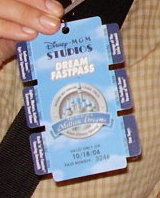 were with our party of 10 at Disney's Studios and on our way to our lunch when we passed a lady outside the "One Man's Dream" area. She told us we should take a couple minutes to explore the museum area even if we couldn't stay for the movie, that it wouldn't disappoint. When we all walked in we were presented with a "Disney-MGM Studios Dream FastPass" for the day. It enabled us to get to the front of every big attraction.
We
visited Disney for my son's 7th birthday. We stopped at the little store next to the fire house. When I went up to pay the sales girl said she needed a honorary fire chief for the day and asked if my son would like to be it. Of course he said yes and he got to go out front with the fire chief and get sworn in and ring the bell in the shop. He was so excited and it made our day so much fun.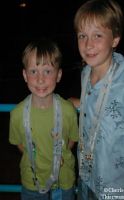 At the Magic Kingdom our family received the Pin and Lanyard sets as we were getting of the Indy Speedway. Our boys, 8 and 5, were so excited!

My
children (6 and 4 years old) were chosen to open the Animal Kingdom. We were waiting in line and talking to the rolling tree (Wes Palm), when we were approached by Liz a CM that chatted with us for awhile and then asked if the kids would like to open the AK. They were given shirts to wear and instruments to play while they jumped up and down at the start of the day. We were then allowed to walk ahead to the rope to be up front for the rope drop. They each got a Magical Moments Certificate as well as pins deeming them "Honorary Citizens of WDW". It was a great moment. Thanks to Liz for choosing us!