Walt Disney World News
Disney Cruise Line
Disneyland Resort
SeaWorld Orlando
Site News
News Flash!
Live Reports
from Fall WDW Press Event
Event Day 1 | Event Day 2 | Event Day 3 | Photos Day 1 | Photos Day 2 | Photos Day 3
---
OCTOBER 8, 2003 --

The October WDW Press Event has begun! AllEarsNet™ founder Deb Wills (who is attending the event as a guest of Beci [and husband Chris] Mahnken and Len Testa, a member of Bob Sehlinger's Unofficial Guide to WDW team, are reporting on events as they unfold.
October 8, 2003, 11 p.m. EDT -- Last report of the day from Deb, Len, Beci and Chris! Wishes is a Winner! And you'll find a few PHOTOS from the day here.

Says Deb: "Wishes is an impressive synchronized show with fireworks that you won't see anywhere else! Tinker Bell is covered with incredible lights and almost looked like a SpectroMagic float flying through the air -- at one point, the castle even turns into a Sorcerer Mickey Hat! It's a show on the caliber of IllumiNations to conclude your day at the Magic Kingdom." Len concurs: "There are pyrotechnics here that you would only see at a large city's Fourth of July fireworks display. There are shells that explode into the shapes of hearts, stars, even a frownie face! It is quite an improvement over Fantasy in the Sky." Beci adds, "The cueing of the pyrotechnics is beautiful! The mortar to air to burst-time -- to be that exact, is incredible." Dame Julie Andrews (yes, THE Julie Andrews!) introduced the show tonight, which contains this magical quote from Jiminy Cricket: "A wish is a powerful thing, especially when it comes from the heart."
On tomorrow's agenda? After breakfasting at the Animal Kingdom, Len is taking a six-hour Imagineering Tour, and hoping to come face to face with Mission: SPACE actor Gary Sinise, while Deb will be viewing the new DCL show "Golden Mickeys" and touring Pop Century!

Look for more photos and reports soon!
October 8, 2003, 7 p.m. EDT --
"Celebrate the joy of reconnecting with our loved ones," said Al Weiss, Walt Disney World Resort president, at the Magical Gathering briefing held tonight in the Contemporary Resort.
Weiss announced the details of a new program that has been developed as part of "Magical Gatherings" to help family groups of 8 or more who are planning a trip to WDW, known as "Grand Gatherings." Deb Wills says that groups who register with Walt Disney World will be eligible to receive a host of special programs and services, including "a whole new set of online tools." Deb says these free online tools will include message boards, chatrooms, email, and group polling.

Beci Mahnken, of MouseEarVacations.com, welcomed the announcement of this new program.
"We are very excited about the Magical Gatherings concept," Beci noted. "Now we, as travel agents, can now make our clients' vacations even more magical, as we incorporate the the Grand Gathering options -- the special dinners and storytelling events, for example -- into their vacation plans. This gives us a terrific tool that wasn't available to us previously, and yet allows us to continue to provide our concierge-style service to our clients traveling with family and friends."
Also announced at the briefing, which was also attended by Jay Rasulo, Walt Disney Parks and Resorts president, was a special money-saving deal for Disney Visa cardholders. If you purchase a non-discounted WDW DreamMaker Package, you'll receive a free parkhopper for a child age 3-9, for each adult in the package. Plus if you pay for the package with your Disney Visa from BankOne, you'll receive $100 Disney Dollars at check-in. To take advantage of this offer, you must book by January 2, 2004, for travel dates between January 4 and June 12, 2004. More details and the restrictions on this deal to follow.
Deb Wills and Len Testa are now enjoying the best Disney has to offer at the private press gathering at the Magic Kingdom, which closed to the general public earlier today. According to Len, the characters are out in force, and hot food tables and drink stations are positioned all around the hub. Fantasyland and Haunted Mansion are open, Len noted, and there were lots of entertainers out as well.
Deb and Len are having fun, but not too much fun to forget about checking in later! Be sure to come back and see what else in going on in the World tonight!
October 8, 2003, 3 p.m. EDT -- Deb Wills checks in with this mid-day report:
WDW Weather: Cloudy, very humid, temps in the mid to low 80s.
Crowds: Moderately heavy for a Wednesday. For example at 10 a.m. this morning, there was already a 45-minute standby line for Tower of Terror.

Not much else to report as yet, Deb says, adding that tonight at 6:15 p.m. she'll be attending a "Magical Gatherings" briefing, followed by an evening at the Magic Kingdom with a viewing of Mickey's PhilharMagic and the new WISHES fireworks.

Be sure to check back this evening to read about what Deb's learned, and to pick up tips on the best spots from which to view this new fireworks show!

October 8, 2003, 1:30 p.m. EDT --
Len Testa phoned in his impressions of his first viewing of the new Mickey's PhilharMagic at the Magic Kingdom, which also marks its OFFICIAL Grand Opening this week:
"Well, even though it's called Mickey's PhilharMagic, Mickey's only in the show about 30 seconds," Len says. "But it has several very good sequences, like the bit where Donald interacts with brooms from Fantasia. The special added effects are good, especially the wind that blows on your back during the sequence where Jasmine and Aladdin are riding on a flying carpet -- that actually adds quite a bit to the experience. The animation is good, especially Donald -- they really smoothed out the rough edges that you get in a 3D film. Overall I think it's a very good 3D movie, but I need to see it again to see all the sequences."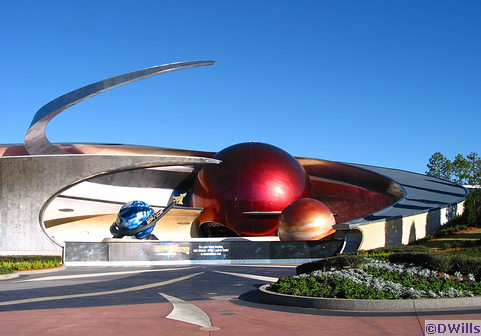 October 8, 2003, 11 a.m. EDT --

Len Testa, a member of Bob Sehlinger's Unofficial Guide to WDW team, will also be reporting on events for AllEarsNet™ and he has phoned in his impressions of his first ride of the new Epcot attraction Mission: SPACE, which marks its OFFICIAL Grand Opening this week:

"It's fantastic!" Len reports. "It's a much smoother simulator than Body Wars or Star Tours. The effects are great, the graphics are great -- I think it's even better than Spider-Man over at Universal! If you follow the directions to keep your head back during the ride, you shouldn't have any trouble with it at all."
Len will be viewing Mickey's PhilharMagic this afternoon and will file another report then. He also mentions that he will be scoping out the best spots from which to view the new WISHES fireworks show this evening and will report his findings then!
Be sure to check back to this page often to get the latest news from the WDW Fall Press Event!