Walt Disney World News
Disney Cruise Line
Disneyland Resort
SeaWorld Orlando
Site News
News Flash!
Live Reports
from Fall WDW Press Event
Event Day 1 | Event Day 2 | Event Day 3 | Photos Day 1 | Photos Day 2 | Photos Day 3
---
The October WDW Press Event!

AllEarsNet™ founder Deb Wills (who is attending the event as a guest of Beci [along with husband Chris] Mahnken and Len Testa, a member of Bob Sehlinger's Unofficial Guide to WDW team, are reporting on events as they unfold.
October 10, 2003 -- PHOTOS OF THE DAY

courtesy of Jennifer Watson & Dave Marx
PassPorter Travel Press
| | |
| --- | --- |
| A bright red stunt car shoots over the stage during the introduction to the morning's events | Al Weiss and Jay Rasulo emerge from the stunt car to announce Stunt Show Spectacular |
| The buffet for the International Storybook Dinner (a Grand Gathering) at the Odyssey Center in Epcot | Rita Write tells the story of Alice in Wonderland while Alice and kids look on during a sample of the International Storybook Dinner |
OFFICIAL DISNEY PHOTOS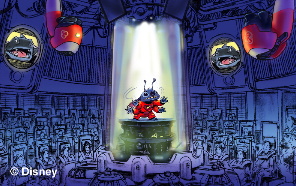 HE'S LOOSE! -- Scheduled to debut in 2004 at Walt Disney World Resort in Lake Buena Vista, Fla., Stitch's Great Escape! will feature the mischievous alien star of Disney's animated feature film "Lilo & Stitch" in a hilarious family-friendly adventure. Set before the events of the hit movie, the new Magic Kingdom attraction in Tomorrowland will showcase the madcap mayhem caused by the playful "Experiment 626" -- a k a Stitch -- in the Galactic Federation and will include some of the most sophisticated Audio-Animatronics® technology ever developed by Walt Disney Imagineering.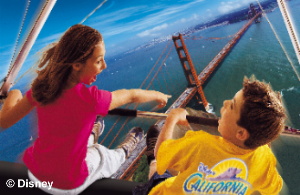 SOARIN' LANDS AT EPCOT --
Walt Disney World guests will soon take flight over the wondrous Golden State in Soarin' Over California, a new attraction landing at Epcot. The high-tech attraction features an eye-filling flyover above the rich California landscape. The Florida attraction was inspired by the hugely popular Soarin' Over California at Disney's California Adventure.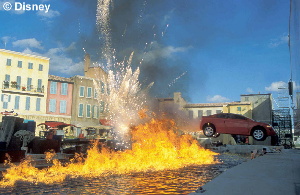 AMAZING STUNT SPECTACULAR --
An all-new car and motorcycle stunt show, inspired by the popular Disneyland Paris Stunt Show Spectacular, will debut at Disney-MGM Studios theme park at Walt Disney World Resort. Insiders will reveal coveted show secrets detailing how Tinseltown's stunts are created, designed and filmed.
Be sure to check back to this page often to get the latest news from the WDW Fall Press Event!