Chester & Hester's Dino-Rama DinoLand U.S.A. Animal Kingdom
INTRODUCTION
The Animal Kingdom has a mini-land next to DinoLand USA. This family-friendly area adjacent to DinoLand U.S.A. features a dinosaur-themed midway and carnival with games and rides.
Those wacky dino-maniacs Chester & Hester are at it again. First, it was tables, shelves and racks spilling over with dinosaur toys, trinkets and t-shirts at Chester & Hester's. Now, crazed by anything cretaceous, they present Chester & Hester's Dino-Rama!, a fun fair complete with wacky midway games and rides. At this corny carny, guests can play Ringosaurus, toss beanbags into dinosaur jaws or hold on tight on Triceratop Spin and Primeval Whirl.
ATTRACTIONS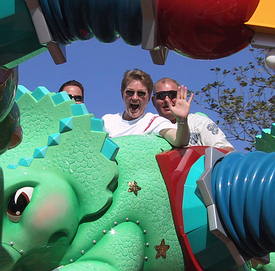 Triceratop Spin is a hub-and-spoke style attraction (similar to Dumbo at the Magic Kingdom). Guests in 4-person vehicles (16) move up, down and around in a ride that magically becomes a giant spinning toy top. The top rises to reveal — what else? — a dinosaur!
Primeval Whirl features 13 colorful cars that whirl past flying asteroids and corny depictions of dinosaur cut-outs that spin and pop up along the track. The spinning coaster takes guests on a wacky time warp back to the prehistoric era on a twisting track of tight loops and short drops . . . with a final descent into the gaping jaws of a giant dino fossil.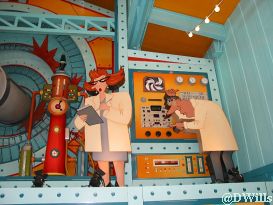 Lorelei Levesque writes: The cars are "time machines" with cresent-shaped bench seating for 4 (2&2) with bars that come down from overhead for each 2. Seating would be very tight for 4 adults. It is continuous loading, like Buzz, but slow, hence the long lines. The car then ascends to the top and begins its way down, slowly at first, apparently by gravity. The track weaves back & forth and the car is loose like Teacups so that when you make the turns you spin going faster & faster as you make your way down. About halfway down there are drops, 3 or 4 in the second half of the ride. I would rate this ride as equally scary as Space Mountain even though it looks like a taller Barnstormer from the outside.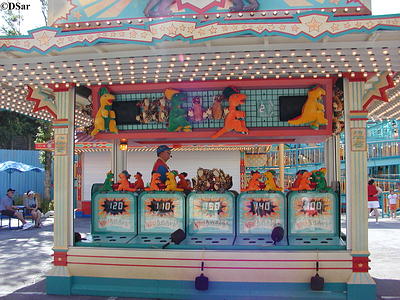 Boardwalk-type games – include Dino-Whamma, a classic mallet strength game; Mammoth Marathon, a racing derby; Comet Crasher, a goblet toss game; Fossil Fueler, a water-squirt game themed to a prehistoric gas station; and Bronto-Score, a basketball game.
TOURING TIPS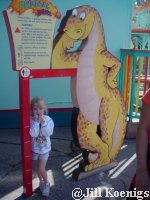 Primeval Whirl is a FASTPASS+ attraction.
You must be 48 inches tall to ride Primeval Whirl.
Some "At Large" folks report problems with Primeval Whirl. For details click HERE.
For more information on Animal Kingdom Live Entertainment, Visit Steve Soares' WDW Entertainment Website.
Assistive Listening Devices from Guest Services Can Be Used Here.
Reflective Captioning Available.
KIDS AND CHARACTERS
"Just wanted to let you know my daughter and I rode TriceraTop Spin. It is almost exactly like the new Aladdin's Magic Carpet ride in MK, but I believe it is a little smaller." Patrick Carr
Chester and Hester's Dino-Rama is being designed specifically to appeal to younger audiences. It's very "kid" friendly.
Goofy and Pluto meet guests with a DiinoLand backdrop.
Animal Kingdom Characters At A Glance
Character Meet and Greet FAQ!
DINING
There is no dining in the immediate area of Chester and Hester's Dino-Rama. Restaurantosaurus is in DinoLand U.S.A. and has quick service lunch and dinner. Kids' meals are served with a pail an shovel.
Animal Kingdom Restaurants At A Glance
Menus From Around the World
Vegetarian and Other Special Diets
SHOPPING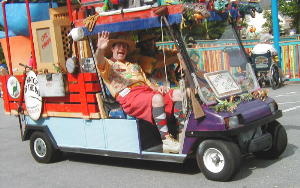 The only shop in DinoLand U.S.A. is Chester and Hester's Dinosaur Treasures, themed to be a road-side tacky souvenier store. You can find logo merchandise for the Dinosaur attraction, lots and lots of soft plastic dinosaurs that your kids will probably want but they won't fit in any suitcase :), and of course lots of t-shirts, keychains, buttons, postcards, and more.
INTERESTING FACTS
Vice president for Walt Disney Imagineering Joe Rohde said the attractions will bring a new energy to the theme park. "The idea is to create a kiddy-land carnival as you remembered it," Rohde said.