WDW Chronicles: Resort Treasures in Hidden Plain Sight
by Jim Korkis
Disney Histoorian
Feature Article
This article appeared in the December 6, 2016 Issue #898 of ALL EARS® (ISSN: 1533-0753)
Editor's Note: This story/information was accurate when it was published. Please be sure to confirm all current rates, information and other details before planning your trip.
With the holiday season coming up, many guests will be returning to Walt Disney World to celebrate in the festivities. Of course, most of them will want to rush to the newest offerings from the Jungle Skipper Canteen to Frozen Ever After to the nighttime entertainment at the Studios.
That desire is certainly understandable, but in that mad dash, many authentic treasures that have been there for decades are overlooked. Although the clever Walt Disney World Imagineers are quite capable of fabricating authentic-looking replicas to enhance a location, often they relied on an actual artifact to decorate an area.
Here is a short list of a few highlights to try to see on your next visit to the parks. To make it easier, I have just listed some of the treasures that are at the WDW resorts so you don't have to battle crowds in any of the parks.
1. Grand Floridian Big Bertha. Of particular interest at the Grand Floridian Resort and Spa, the 1900 Park Fare restaurant features Big Bertha, an antique band organ built in Paris, France, by Gavoli & Co. at the turn of the last century, installed in the wall 15 feet above the guests.
It plays music using simultaneously the instruments of pipes, drums, castanets, bells, cymbals, and xylophone played originally by paper piano-roll "books." It has been there since the resort opened July 1, 1988.
The highly elaborate organ was used from 1909 to 1955 in Ramona Park, an amusement park in Grand Rapids, Michigan, known as the "Amusement Mecca of Western Michigan." The park was demolished in 1955 and the three antique band organs used for the merry-go-round went into storage in Alabama for many years, where they were discovered in 1963 and restored. A merry-go-round, unlike a carousel, features a variety of animals besides horses and some beautiful examples decorate the dining room.
2. Wilderness Lodge Elk Tooth Dress. In the lobby of the Wilderness Lodge, a striking and unique garment is an actual Elk Tooth Dress located near the lobby elevators. It is made of red wool blanket or Stroud Cloth, which was considered a desirable decorative fabric. This type of dress was typical of the Kiowa and Arapaho plains tribeswomen.
Those tribes are well-represented in the lobby, including the cradleboards hanging on the wall behind the Front Desk. Those cradleboards are re-creations made by Native American artists using the same material as the originals and photos of the actual ones for reference.
This particular dress was obviously the possession of a warrior's wife. Elk teeth are a great display of wealth. An elk only has two teeth and a dress might take hundreds of them. Most hunters saved the teeth, known as ivories, as a memento of the hunt.
This rare dress, which has been determined to be from around 1875, was worn for ceremonial occasions like a wedding or a special dance or an event of a young girl entering womanhood.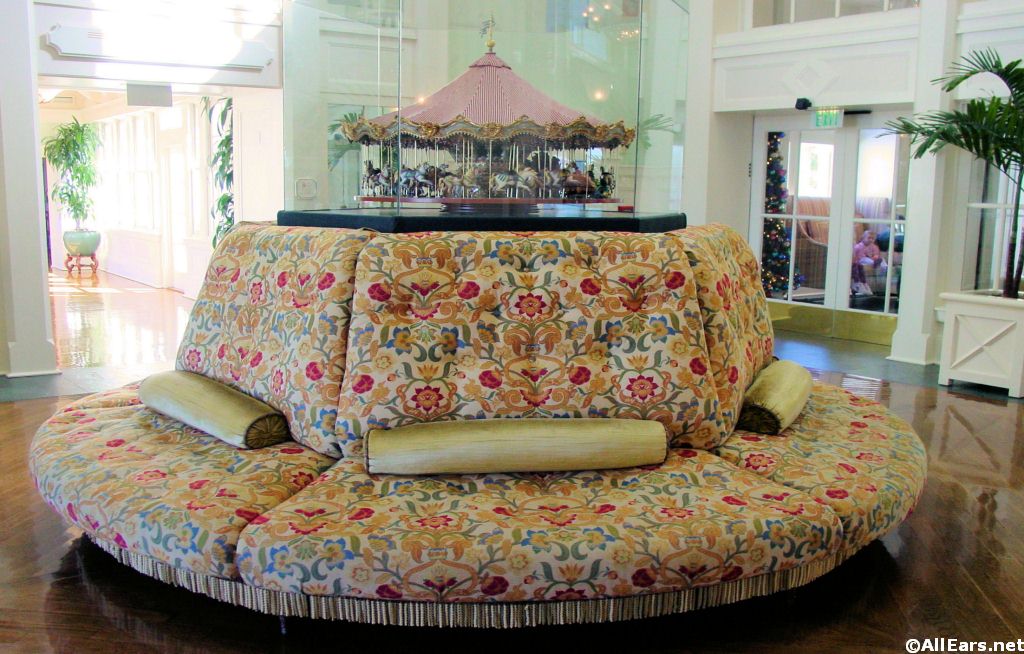 3. Boardwalk Inn Miniature Carousel. In the lobby entrance to the Boardwalk Inn Resort is a miniature carousel created by one of the acknowledged masters of carousel building. Marcus Charles Illions (1872-1949) was a master carver particularly famed for his work on carousel horses and their carousels. He worked at many of the finest and most prestigious carousel companies and finally opened his own company.
He was an expert horseman and owned a few of his own. His knowledge of horse musculature, even their facial veins, translated into his creating legendary figures that are still revered today. His style, known as the more flamboyant "Coney Island-style" of carousels, dominated the Coney Island area with at least 10 of his carousels in residence during the 1920s.
In the '20s, he created three grand machines known as part of what he dubbed the Supreme series. There is a small flag flying from the top of this miniature proclaiming "M.C. Illions Supreme Carousel." M.C. Illions would take this salesman's sample to the conventions of the National Association of Amusement Parks or NAAP (formed February 1920). This group is now known today as The International Association of Amusement Parks and Attractions or IAAPA.
This sales tool featured 44 4-inch-tall horses that were each unique. The horses even moved up and down when the machine was turned on. Illions never intended that the model would be displayed publicly. It was simply meant as a demonstration of what he could build for a client.
Disney purchased this model direct from Illions' granddaughter at auction in 1995. It had been hidden from general public view for nearly 75 years. When the Walt Disney Company purchased it, it spent more than a year restoring the wood, mechanisms, flaking paint and other elements that were in disrepair. The original paint colors and decorations were researched (using the still-existing full-size Illions' carousels and horses as partial reference). Brass was re-plated, gold leaf applied, and miniature leather stirrup straps were attached. Even the tiny pearl-headed pins that were to represent light bulbs were replaced.
The Imagineers scaled the speed of the carousel to match that of the King Arthur Carrousel located at Disneyland Park in California. As a final playful touch, a Hidden Mickey was added to two of the horses. You can find one of those horses on the outer circle about two horses up from the green-blue chariot. Approximately every 20 minutes or so, the carousel springs to life playing a medley of Disney instrumental songs.
Another artifact from Mr. Illions exists nearby. Between the two restrooms down the hall near the Belle Vue Lounge is an interesting artifact that looks like a face on an elaborate stick. The small sign reads: "All manner of sculptural elements decorated the turn of the century Boardwalk carousel to provide sumptuous ornament for the usual feast of the amusement business. Carved by M.C. Illions, this figurine originally surrounded mirrored panels and was accompanied by dozens of similar figures. Cast from the circa 1910 original, hand-painted and gold-lettered."
4. Port Orleans: French Quarter Mardi Gras. Blaine Kern was known as "Mr. Mardi Gras," because when the Mardi Gras parades were offering only dim shadows of past glories in the 1950s, Kern became an innovator at creating fanciful, outlandish floats that included storybook characters whose heads turned and whose eyes moved.
In 1959, Kern met Walt Disney, who was visiting Mardi Gras in search of new ideas. Walt was quite taken with one of Kern's more inspired creations: an 18-foot-tall King Kong-like gorilla, with five men inside, that walked and made facial expressions.
Walt offered Kern a job to work as an Imagineer designing floats for Disneyland, as well as working on other projects. Kern's boss, Darwin Fenner (the son of the Fenner in Merrill Lynch, Pierce, Fenner and Smith) convinced Kern to say "no" to Walt and that Kern's fortune lay with the future of Mardi Gras. However, Walt's studying of Kern's work helped inspire the re-design of Disneyland parades. Today, Kern's son, Barry, carries on the family tradition and he is the builder and designer of props and sculptures for Disney and other theme parks.
Blaine Kern Artists, Inc. was responsible for collecting and creating the many Mardi Gras props, such as the jester figures that adorn Port Orleans French Quarter. Some of the Mardi Gras decorative props were purchased directly from Kern's Mardi Gras warehouses in New Orleans.
5. Boulder Ridge Villas Carolwood Pacific Cars. From the beginning, the Carolwood Pacific Room (originally known as the Iron Spike Room) was decorated with train memorabilia and framed photos related to Walt Disney's love of trains and to tie in with the storyline that this was the temporary residence of the railroad workers who worked on connecting the United States. Author and historian Michael Broggie, the son of Imagineer Roger Broggie, helped the WDW Imagineers locate the authentic artifacts that filled the room.
From 1950-53, Walt Disney transported friends and family through his elaborately landscaped backyard in Holmby Hills, California, on a 1/8th scale train dubbed the Carolwood Pacific Railroad. It was named for the street where Walt lived at the time (355 North Carolwood Drive), as well as to reference the Central Pacific Railroad from the turn of the century. Walt called the engine, based on the design of the Central Pacific 1872 locomotive, the Lilly Belle.
This engine was so detailed and accurate that it was blown up to five times its size to serve as the model for the E.P. Ripley engine at Disneyland in 1955. (That's where the story of 5/8th scale originally came from in early reports about Disneyland.)
"I vividly remember my first ride, straddling one of those freight cars as it rocked back and forth," Michael Broggie recalled. "I remember entering a long tunnel, which was absolutely pitch-black. You could hear the chuffing of the engine echoing off of this long tunnel. You could smell and taste the coal smoke. You could feel the vibration of the track. Walt had created an experience that excited every one of your senses."
A cattle car, a gondola car (both hand-built by Walt Disney with the assistance of Roger Broggie) and a stretch of track all from the actual backyard railroad was loaned to the Carolwood Pacific Room by Walt's oldest daughter, Diane Disney Miller and her Disney Family Foundation. The cars feature the Carolwood Pacific "Fair Weather Route" logo.
That particular cattle car is the one that artist Salvador Dali sat on with his feet in the gondola when Imagineer Ward Kimball took the throttle to take the celebrity on a ride around Walt's backyard.
The rest of Walt's Carolwood Pacific Railroad is displayed at the Walt Disney Family Museum in San Francisco. Another car from the train is displayed at the Disney Barn at Griffith Park in Los Angeles, California.
There are dozens more such treasures in Walt Disney World. Make sure you make an effort to see them because one day, like the Fort Wilderness Resort and Campground Lawnmower Tree, they might just quietly disappear because no one is paying attention.
= = = = = = = = = = = = =
RELATED LINKS
= = = = = = = = = = = = =
AllEarsNet TV #6: Carolwood Pacific Room
Port Orleans French Quarter Photos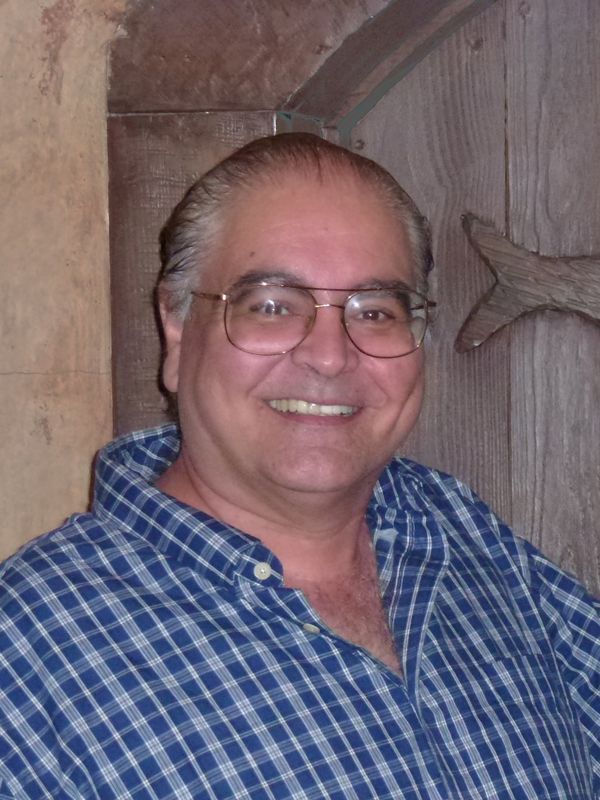 Other features from the Walt Disney World Chronicles series by Jim Korkis can be found in the AllEars® Archives.
Jim also writes occasionally for the AllEars® Guest Blog, contributing entries under the heading of "Jim's Attic."
ABOUT THE AUTHOR:
Disney Historian and regular AllEars® Columnist Jim Korkis has written hundreds of articles about all things Disney for more than three decades. As a former Walt Disney World cast member, Korkis has used his skills and historical knowledge with Disney Entertainment, Imagineering, Disney Design Group, Yellow Shoes Marketing, Disney Cruise Line, Disney Feature Animation Florida, Disney Institute, WDW Travel Company, Disney Vacation Club and many other departments.
He is the author of several books, available in both paperback and Kindle versions. You can purchase them via our AllEars.Net Amazon.com store HERE. His newest book is The Unofficial Disneyland 1955 Companion. It includes snippets of interviews with cast members who worked at Disneyland in 1955, along with additional explanatory material (including the first complete listing of every attraction, shop and restaurant that was there during the first six months) and much more.
-o-o-o-o-o-o-o-o-o-o-o-
Editor's Note: This story/information was accurate when it was published. Please be sure to confirm all current rates, information and other details before planning your trip.