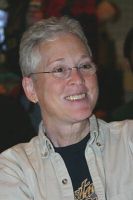 Deb Wills
Creator and Founder of AllEarsNet®
Deb's Unofficial Walt Disney World Information Guide (allearsnet.com) and ALL EARS® Weekly Newsletter
Bitten by the Disney bug at an early age, Deb Wills has combined her skills in computer technology with her love of the Walt Disney World theme parks to create Deb's Unofficial Walt Disney World Information Guide. In the last nine years, she has developed the site into one of the most up-to-date, independent resources about Walt Disney World on the Internet, with more than 4,000 pages of information, 4,000 photos, menus from every WDW restaurant and more than 4.5 million "page views" and 500,000 unique visitors per month. In conjunction with the website, Deb publishes ALL EARS®, a free weekly electronic newsletter that has over 66,000 subscribers from around the world. ALL EARS®, which started publication in September 1999, informs readers on what's happening at Walt Disney World with previews, interviews, news, reviews and much more. A promotional companion newsletter, Ears the Deal(tm) goes out twice a month to over 41,000 subscribers.
She has co-authored a brand new book entitled "Passporter WDW for Your Special Needs", with Debra Martin Koma. In its 400-plus pages, "PassPorter's Walt Disney World for Your Special Needs" delivers in-depth, painstakingly researched information on a wide spectrum of accommodations for special needs travelers. It is the number 1 best selling Special Needs Travel book on Amazon.com! (For more information visit http://allearsnet.com/news/hnews.htm#78 )
Deb is widely recognized as a Walt Disney World expert not only on the internet, but by others in the Walt Disney World travel planning field. Deb has been a member of the review team for the "PassPorter Walt Disney World," guidebook written by Jennifer and Dave Marx since 2000 and recently joined the review group for Passporter's Field Guide to the Disney Cruise Line". She has contributed to Bob Sehlinger's Unofficial Guide to WDW book the last several years.
Deb's website and newsletter have drawn the attention of the established press with increasing frequency the last few years. In 2005 alone, she was interviewed and quoted for an article in the Los Angeles Times and New York Times. The AllEarsNet.com website was featured both on TV and online by the BostonChannel.com.
Disney Magazine editors listed AllEarsNet® as one of their favorite places for unofficial WDW information (Winter 2003). The Wall Street Journal named Deb's Unofficial Walt Disney World Information Guide as its "Top Choice" back in April 2002 from among a number of Disney-related websites. The Newark-Star Ledger cited AllEarsNet as an "extensive" Walt Disney World planning site. The 2003 edition of The Unofficial Guide to Walt Disney World by Bob Sehlinger named Deb's Unofficial Walt Disney World Information Guide "the Best General Unofficial Site." Says the book's editor: "The (Unofficial) Walt Disney World Information Guide (www.allearsnet.com) is the first website we recommend to friends interested in going to Walt Disney World."
In an effort to help build a community of the Disney fans she had befriended via the Internet, Deb organized the First Annual Holiday RADP Meet (Usenet newsgroup Rec.Arts.Disney.Parks ) in December 1996. This meet has become a huge annual event, drawing newsgroup readers from as far as Japan. The 8th Annual Meet evolved into , MouseFest 2003, which involved many Disney Guide Book Authors and Disney fan communities, began with a 4-day Cruise on the Disney Wonder. Later in the week, folks had an opportunity to attend numerous WDW meets including the Big Meet and Greet with many special guests! Mousefest is now in its third year and promises to be bigger and better than ever in 2005.

Deb actively participates in events designed to raise funds and awareness in the fight against Breast Cancer, of which she herself is a survivor. Deb has participated in three Avon Breast Cancer 3 Day 60 mile walks for which she raised more than $25,000. Deb also has worked with Pink Ribbon Cruises, which donates a portion of every cruise booked to the Avon Breast Cancer Crusade. Deb was a special guest on the September 20, 2003, Pink Ribbon Cruise.
Some of Deb's earliest Disney memories are of attending the New York World's Fair and experiencing It's a Small World and Carousel of Progress. Deb's first trip to Walt Disney World was in 1972. Later in the 1970s, Deb organized and managed several trips to the Orlando theme parks for disabled adults from the Washington, DC area. She began yearly trips to Orlando in the early 1990s and soon she was at the Guest Services window in the Magic Kingdom, purchasing her first (of many) annual passports. Originally from the New Jersey shore, she now makes her home in the Maryland suburbs of Washington, DC.
Deb is available for interviews, appearances, live "chats", and presentations -- please use this contact form.