If you think you know Mexican food, you might be surprised — and delighted, as I was — to dine at Frontera Cocina at Disney Springs. Chef Rick Bayless, who has spent years studying and innovating Mexican cuisine, offers guests a modern take on authentic Mexican dishes at his newest restaurant.
Bayless lived in Mexico for six years while writing his first cookbook, "Authentic Mexican: Regional Cooking from the Heart of Mexico." From those early experiences, he built his career, which has included many Mexican restaurants, cookbooks and the Frontera line of salsas, cooking sauces and organic chips. Bayless is probably best known for winning the title of Bravo's Top Chef Masters and his PBS television series, "Mexico—One Plate at a Time," which has earned him multiple Daytime Emmy nominations for Best Culinary Host.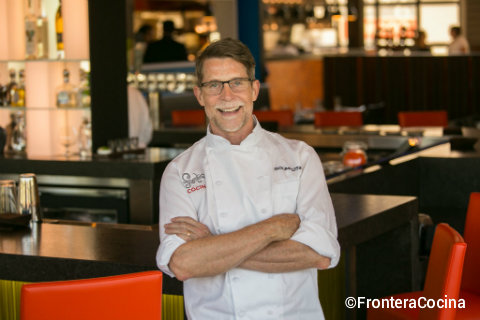 Bayless also has received a great number of James Beard Award nominations in many categories, and he has won seven: Midwest Chef of the Year, National Chef of the Year, Humanitarian of the Year, Who's Who of American Food and Drink, Best Podcast, plus two for his cookbooks, according to his website.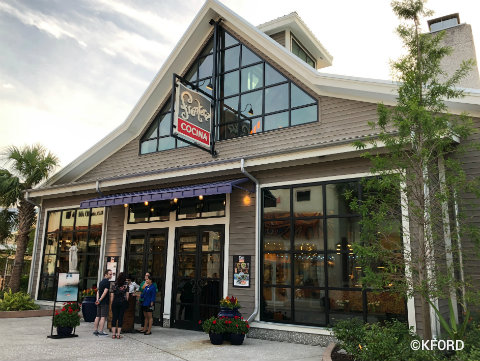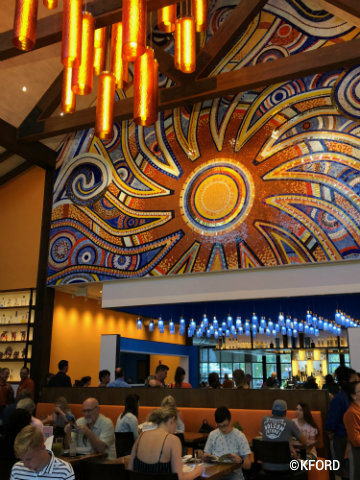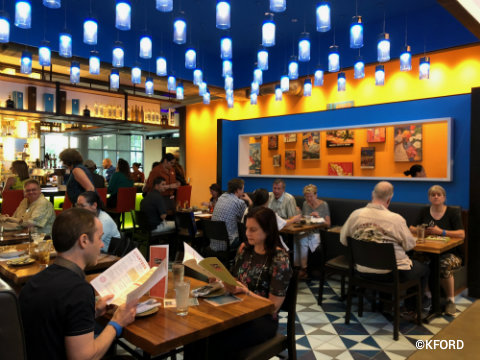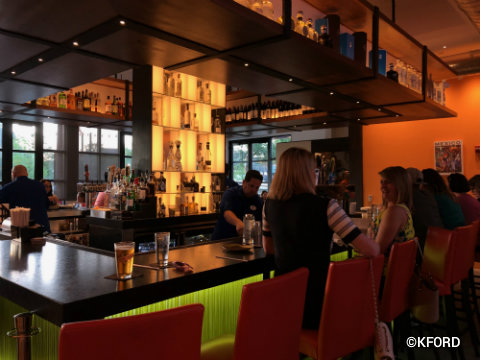 I share this background to illustrate that Bayless has spent a lifetime perfecting his interpretation of Mexican cuisine — and it's delicious. I recently was invited to sample Frontera Cocina's new seasonal menu, a Taste of Baja, which is available now. The restaurant will be supplementing its regular menu with a new seasonal menu representing cuisine from a different region of Mexico every three months.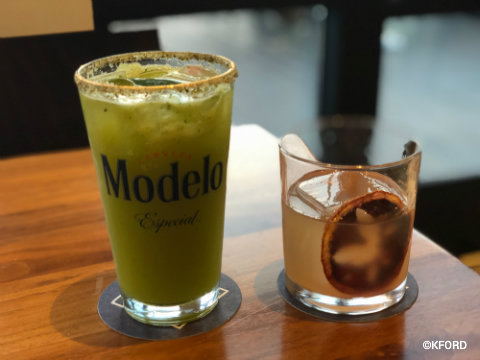 The Baja menu offers two cocktails: Baja Michelada (Modelo especial beer, Avion blanco Tequila, cucumber-tomatillo, jalapeno and lime) for $12 and the Blue Corn Old Fashioned (Pierde Almas white corn whiskey, blue corn cordial, Italicus liqueur, mole bitters) for $15. My tablemates and I sipped both and found the Old Fashioned to be smoother and sweeter. The Michelada had a strong taste that I didn't care for. On the plus side, it was a generous pour, for sure.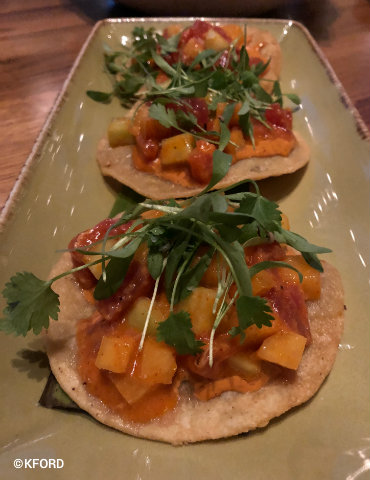 We started nibbling with the Spicy Ahi Tuna Tostada (chilled spicy ahi tuna, chipotle mayo, honeycrisp apples and cucumbers), which is priced at $16 with three tostadas in the serving. This was my favorite dish of the meal. The crispy tostada paired perfectly with the tuna and other ingredients. I normally am not a person who chooses to eat fish, but I would order this again in a heartbeat. It was that good. At $16, the Spicy Ahi Tuna Tostada is the most expensive appetizer on the menu. However, it would be a bargain as a main course, and the serving size would satisfy many diners, including myself.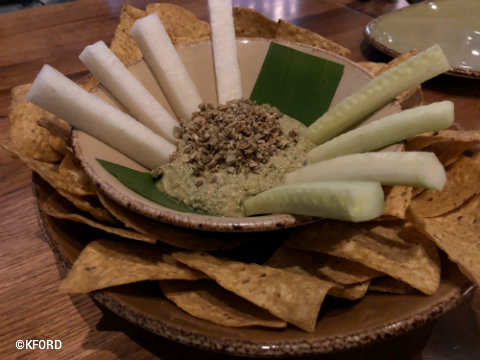 Our table also sampled the Toasted Pumpkin Seed "Hummus," which is an appetizer on the main menu. It is creamy Yucatecan pumpkin seed-habanero dip with crispy cucumber and jicama sticks and warm tortilla chips for dipping. It was quite tasty!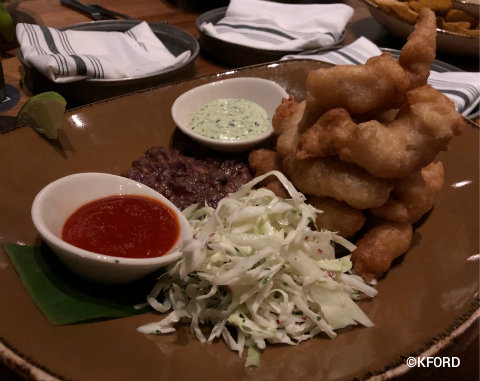 Next, we tried the Baja Shrimp Tacos (crispy pink shrimp, Baja cabbage slaw, garlicky red beans refritos, cilantro crema and arbol chile salsa). This dish is served with warm tortillas and the guest is able to combine the ingredients however he or he pleases. It, too, was delicious. The shrimp are fried in a tempura batter, but this dish doesn't leave you with that heavy feeling after eating fried food. The Baja Shrimp Tacos cost $24, and it is a generous portion. (Note to those with allergies: the Baja Shrimp Tacos contain gluten, dairy, pork, and of course, shellfish.)
Our main course was a pork dish served with greens and rice with plantains. It was made specially for our dinner by Bayless, who was in the restaurant for the launch of the Baja menu. Unfortunately, this dish is not on the regular menu or the Baja menu. The Arroz con Plantains with cilantro is, however, offered as a side dish for $6.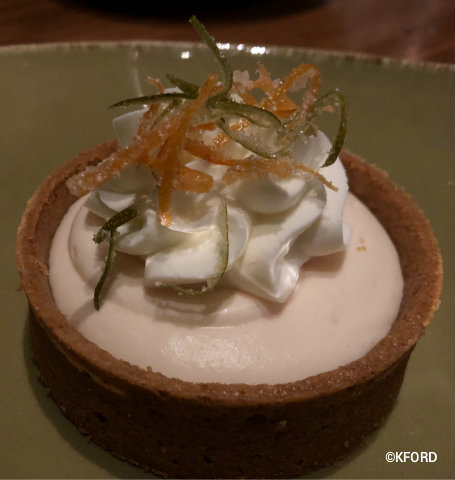 Just when I thought I couldn't eat one more bite, we each were presented with a Paloma Tart (grapefruit and lime mousse, Avion Blanco Tequila, lime whipped cream, graham cracker crust and candied citrus zest.) Priced at $9, this dessert was light and airy and the perfect way to satisfy a sweet tooth. (Note to those with allergies: This dish contains dairy and gluten.) I tend to favor chocolate or berry-flavored desserts, but I enjoyed this very much.
Overall, I would recommend everything I sampled, minus the Baja Michelada drink. My tablemates didn't care for it, either, but that may be our personal preferences. Frontera Cocina offers fresh-tasting Mexican food with a modern twist that is sure to appeal to many palates. Reservations can be through opentable.com or the My Disney Experience website or app.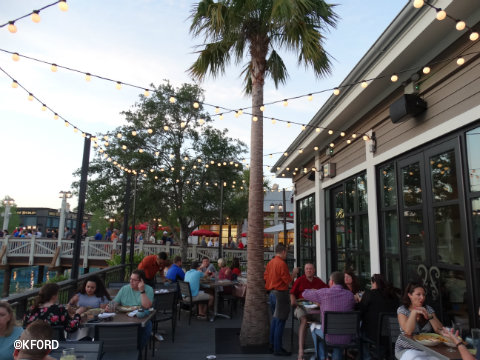 There's still time to celebrate Cinco de Mayo at Frontera Cocina. Drink specials and live music continue today (May 6). Next weekend, the restaurant will be honoring mothers with a free glass of wine with the purchase of a full-priced entrée on Sunday. Plus, each mom will receive a flower, and everyone can enjoy live music with a Spanish guitarist.
DISCLAIMER: I was a guest of Frontera Cocina to taste its new Baja menu. This did not affect my review; my opinions are my own.