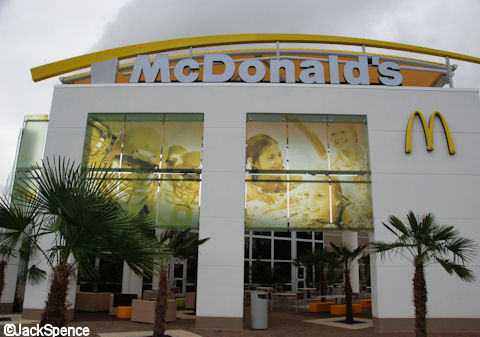 It's been more than a decade since those last Disney toys — promoting the DVD release of The Little Mermaid — appeared in McDonald's Happy meals. But that's soon going to change with the deal the two companies just announced. At the start of the summer season, consumers will find toys promoting the June 15 release of Disney's "Incredibles 2" in the fast-food kids' meals.
So what has changed?
The previous partnership ended in 2006 in part because The Walt Disney Company adopted new guidelines for nutrition that did not align with the contents of popular Happy Meals. Recently, McDonald's has announced more changes to the meals. Most notably, the cheeseburger no longer will be advertised on its menu board as an option for the meals. Neither will chocolate milk. Both selections actually still will be available upon request but will not be advertised. By June, all combinations on Happy Meal menu boards in U.S. restaurants will have 600 calories or fewer, according to AdAge.com. In addition, each meal will have no more than 10 percent of its calories from saturated fat and 10 percent of its calories from added sugar.
The website indicated that changes to Happy Meals in 2013 included removing soft drinks as a beverage option and adding an organic apple juice that contains fewer calories and less sugar than regular apple juice.
Disney's current nutritional guidelines encourage eating fruits, vegetables, whole grains, lean protein and low-fat dairy while limiting the number of calories, saturated fats, sugars and sodium consumed. Plus, Disney has issued new standards for how food is advertised to kids and families, CNBC.com states.
"Their last exclusive, 10-year cross-promotional deal was reportedly worth $1 billion to Disney, according to the Los Angeles Times. McDonald's Corp paid $100 million in royalties and conducted 11 promotions a year for Disney movies and television shows and opened restaurants inside its theme parks, the Times reported," reports BusinessInsider.com.
McDonald's and Disney have not disclosed the value of the new deal or how long it will last. A McDonald's spokeswoman told the website that said the new deal does not include any agreement on restaurants in theme parks. However, movies included in the pact will come from Walt Disney Animation Studios, Pixar Animation Studios, Disney Live Action, Marvel Studios and Lucasfilm.
The second Disney promotion in Happy Meals this year will feature toys from "Ralph Breaks the Internet: Wreck-It Ralph 2," which will be released Nov. 21.