To all who come to this photo trivia game, Welcome! Along the way, the photos can make us relive memories and see details Walt's Imagineers put into everything we love in Walt Disney World!
I've caught up on the missing winners. Thanks for your patience, Players!
And thank you for the anniversary wishes!

Now for Challenge #524: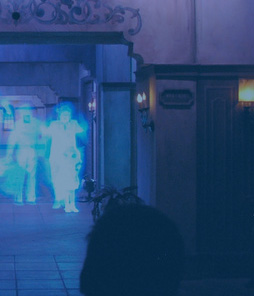 And here's the answer: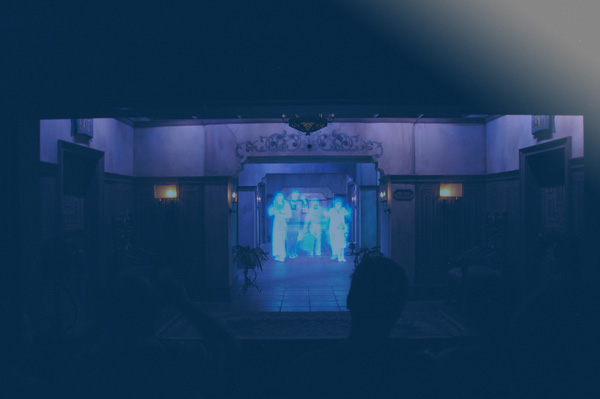 Copyright © Scott Thomas
We are riding the Twilight Zone Tower of Terror in Disney's Hollywood Studios and seeing the guests who went missing in the elevator that fateful night!
I've been on this so many times and I still get freaked out by the build to the drop. Once that happens, I have a ball, but until then, I'd give that girl $20 to stop that song so creepily!!
Claire Gregory were the first to send in the correct answer! Congratulations to Antoinette and to all our winners this week! Robert Wescovich, Steve Porter, Andy Hickey, Wade And Rosanne Williams, Kenneth Jackson, Linda Ranatza, Krystal P, Cheryl Costello, Linda Hoffman, Janet T Thorn, Pam Gallagher, Andreas Beer, Kris Nixon, Michchael & Jackie Mclucas, Greg Parisi, Anne Duque, Tim Tjarks, Emily Hudson, Jason Steinmetz, Patricia Morin, Kenny, The Reichl Family, Cameron Lange, Wayne Chadourne, Tom Mcmanus, Karen Costa, Sandie Albrecht, The Parker Family, Joann Albrecht, Joe Bateman, Brian Gallant, Maureen Tavrell, Karrie Rodriguez, Ken Savage, Mike Walter, Kerri Coggins, Karen Aguiar, Adolph And Kimberly Timm, Theresa Rucando, Joyce Tofflemire, Jeremy Reichelt, Chris, Gretchen, And Katie Barnes, Barry Sklenar, Tammy Warmouth, Mark Hardy, The Nufranick Family, Wendy T Faler, Michael O'brien, Michaela O'brien, Karen O' Brien, Michael Webb, Antoinette Leblanc, The Kertes Family, Grumpy's Groupies, Scott C, Belicia Cullen, Jim & Lorie Sonnen, Marsha Waidelich, Scott Greenbaum, Joseph M. Zafia, Bonnie Jean, Vicki Britt, Team Bonnie Sue, Mary Beth Tarbet, Maddie Inman, Bob & Kathy Mckim, Mike Malampy, Rebecca Keenan, Dee Dee Kenney, Suzanne Denham, Margaret Convery, Alex Hailes, Maureen And Warren Handy, David Uchtman, Andrew Carrieri, Ken Maikowski, Deb Ragno, Al & Kerry Ganter, Hunter Armstrong, Team Hill, Sue And Ed Adams, Theresa Harris, Robert Anschuetz, Gloria Martin, Elaine Prosecky, Smitty, Martin Greene, Leach Family, Jodi Cook, Kyra, Tim Johansen, Brian Mcwithey, Herb Miller, Theresa Maradei, Jessica Gruhlke, Karen Schlumpf, Phyllis, Bob Patterson, Jodie S., Luis Rodriguez, Jennifer Hess, Beth Mcmeekin, Martha & Justin Collins, Ruben O'meara, Todd Johns, Stacie Huang, Jim Finley, Vera And Izzy Williams, Laurie Walker, Jeff Blank, Shelby Watson, Mickey Eckert, Blake Schmidt, Cathy Connors, Michael Nelson, Shannon Benton, Mike Cerce, Matthew Frey, Karen Bellamy, Tricia Petty, Sandra Edwards, Heather Stevens, Ronnie Alvarado, Matt Earl, Erin Hammer, Scott Sangston, Sandy Ceplecha, Jamie Poynton, Susan Higginbotham, Michael Ilg, David Ballard, Barclay Bakkum, Sands Family, Liz Moreau, Thomas R Higbee Sr, Sharon Leitgeb, Sheila Bagg, Jennifer A. Mcfarland, Emma Ramsey, Stefan Owens, Jo Ann Bailey, Robert P. Flaherty, Karen Taylor, Jackie Graebel, Ruth Cookson, Donald Purney, Melissa Littman, Donna Eddy, Bob Heaton, Carri Marotto, Lori Rienhardt, Eric Atkinson, Tracy Discher, Shirley Garcowski, Mis Jamie Marie, Mis Jamie Marie, Jamie Steiner, Jacqueline Klafeta, Pam Lorenz, The Modeckis, Jane Johnson, The Miller Family, The Holmes Family, Frank Stachour, Eric Berger, and Susan Doucette!
_______________________________________________________
Challenge #525 Where in the world is this?
Hmmm, did we switch parks? I know this isn't a ride.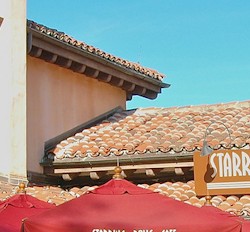 Do you know? Do you have a guess? Please send in your answer, before the end of the day on Thursday, March 1st, by clicking on the blue box below.
Please do not post answers using the Feedback Form link at the bottom of this post.
See you soon, Players!


_______________________________________________________________________
Everyone who sends in a correct answer to a Where in the World Challenge this month will be entered in a drawing at the end of the month for some special AllEars® goodies!
–