For many guests, one of the most beloved holiday traditions is making — and eating — gingerbread houses. And there's still time this season to do both at Walt Disney World.
For the second year, the Boardwalk Inn is hosting a Gingerbread Academy during which guests will work with the hotel's pastry chef team to build their own edible structures. The academy takes place at 1 p.m. through Dec. 25 at Ample Hills Creamery. The cost is $125 for up to four people who will work together on one house. Reservations can be made by calling Disney's BoardWalk Inn Private Dining Team at 407-939-5175.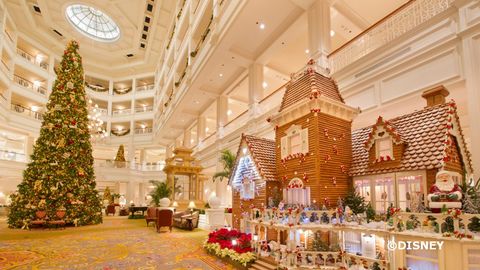 For those who would rather admire — and sample — the gingerbread creations of Walt Disney World's pastry chefs, there are plenty of amazing pieces to enjoy. The most well-known is the life-size Victorian gingerbread house that is constructed each year in the lobby of the Grand Floridian Resort & Spa. It is home to a bake shop that sells gingerbread houses, ornaments, and cookies made from a classic gingerbread recipe from Austria. Gingerbread house-decorating demonstrations are conducted daily in front of the display. Visitors come by the busload just to see this gingerbread house.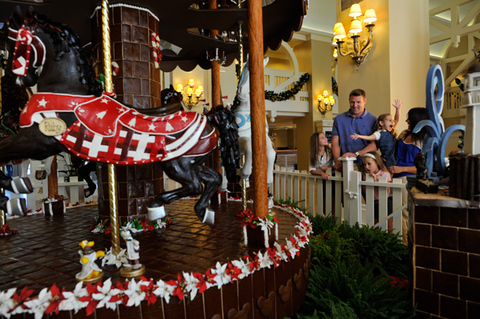 At The Yacht & Beach Club, guests will find a carousel made of gingerbread — 2017 pieces to be exact. This display actually spins and, if you look closely, you might find a Hidden Mickey or two. Each year, the theme changes; this year it's Lilo & Stitch. Even Scrump has a spot on the display!
At the Boardwalk Inn, the elaborate gingerbread display in the lobby changes from time to time, unlike the Victorian gingerbread house and moving carousel, which are staples each year at Walt Disney World during the holiday season. This year, the Boardwalk Inn pastry chef team has recreated the restaurants of the Boardwalk for its display.
Change took place at the Contemporary Resort this year, as well. The gingerbread display inspired by Mary Blair, designer of "it's a small world," has traded the Frozen characters for Cinderella and Prince Charming. This version of Cinderella Castle can be experienced on the fourth floor of the hotel near the A-frame window.
Although these are the most elaborate of the gingerbread displays at Walt Disney World, guests are likely to spot smaller displays in other locations throughout the resort. Do you have a must-see each year?