The Headless Horseman has long had a place at Disney's Fort Wilderness Resort & Campground. After all, that is where his horse is stabled.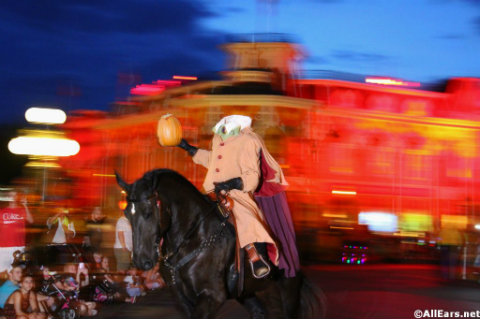 It used to be that the only place at Walt Disney World to see the famed Headless Horseman from "The Legend of Sleepy Hollow" story was at the Magic Kingdom before Mickey's Boo To You Parade at Mickey's Not-So-Scary Halloween Party. This year, the party added a PhotoPass Magic Shot with the Headless Horseman that can be taken in front of the train station. (Guests will pose with both surprised and happy expressions and the Headless Horseman is edited in afterward.)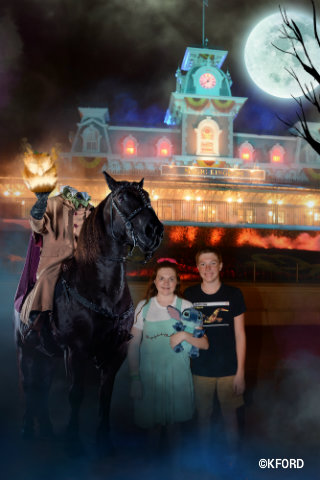 Then, years ago, Haunted Carriage Rides were introduced at the campground. Guests began their adventure at the Blacksmith's Shop at the Tri-Circle-D Ranch, where four open carriages lined up on the half hour for a 25-minute journey. They headed out past Pioneer Hall and the Settlement Trading Post and into the woods. The driver started the telling of "The Legend of Sleepy Hollow" and then a recorded narrator picked up the tale, as the carriages traveled through the trees and along the shore of Bay Lake, stopping at key places mentioned in the story. The Headless Horseman made a surprise appearance during the ride.
My family and I loved that experience because it was just the right amount of thrill without being too scary for our then-7- and 9-year-old kids. We were disappointed when the Haunted Carriage Rides were discontinued five years ago despite their immense popularity.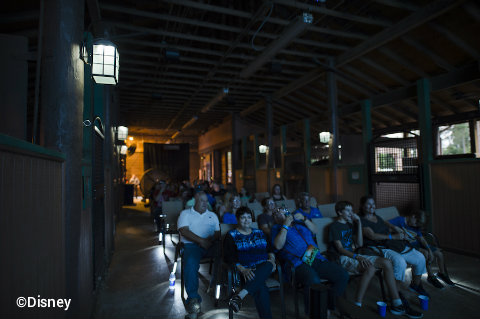 Now, a new Headless Horseman experience has debuted at Fort Wilderness called Return to Sleepy Hollow. During the month of October, guests can attend a viewing of the 1949 Disney animated classic film inside the resort's Tri-Circle-D Ranch stables. Expect the unexpected during the event, we're told. Afterward, guests will have the opportunity to take a photo with the Headless Horseman. (This is not just a Magic Shot; the actual Disney Headless Horseman is there.)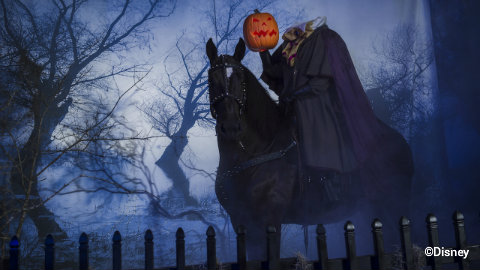 Two types of tickets are available: General seating is $22 per person and premium seating, which includes first access for photos and a Halloween treat bag, costs $38 per person. Guests in both seatings, ages 3 and older, also receive an exclusive limited edition pin. Guests ages 2 and younger receive complimentary admission with their families, but are asked to sit in a parent's lap.
Remaining screenings take place at 8 and 10 p.m. on October 14 to 16, 19 to 23 and 26 to 31.
Unfortunately, this experience has been fully booked since before Sept. 1. I bring it to your attention because, like with any experience at Walt Disney World, cancellations do occur. Guests have until 11 p.m. the night before the date of their Return to Sleepy Hollow experience to cancel without a penalty. So, a cast member told me the best time to try to catch an open spot is to call 407-WDW-TOUR between 10:30 and 11 p.m. This event can only be booked by phone; there are no online reservations.
Or, if you're going to be at Walt Disney World in the fall of 2018 and are interested in this event, make a note to see if the Headless Horseman will be returning. This event was first announced in March this year so I'd check in March next year, as well. Reservations can be made 180 days in advance.