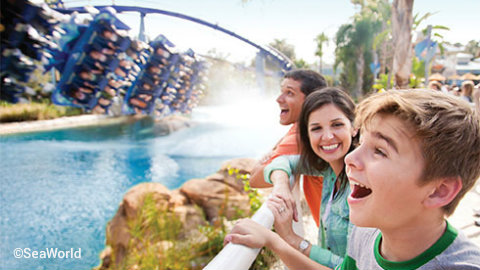 If you are considering purchasing annual passes for SeaWorld Orlando, this month or next might just be the best times to do so, given the deals the theme park is offering.
Unlike other Orlando theme parks, SeaWorld doesn't offer Florida resident passes. Anyone can purchase its annual passes, and for some out-of-town guests, an annual pass makes more sense than a Fun Card or vacation package.
First, what is the difference between a Fun Card and a SeaWorld annual pass?
A Fun Card is good for unlimited visits during the calendar year in which it was purchased. So, whether you buy a Fun Card in January or October, it still expires on December 31 of that year. There are no blackout dates for either Fun Cards or annual passes, which means the Halloween parties and Christmas entertainment is included with regular admission. Unlike annual passes, Fun Cards do not include parking, which is $20 per day for most vehicles.
Annual passes also give the member a discount on just about everything in the park — from beverage refills to merchandise to special events. Plus, pass members receive other perks, such as a Christmas ornament and a car magnet, the opportunity to bring a friend for free and previews of new attractions. With annual passes, Florida residents have the option to pay in monthly installments. Annual passes expire one year from the purchase date, not the end of the calendar year.
So, depending on your plans and the frequency of your visits, having an annual pass may make more sense than a Fun Card. Here are the current deals: now through Jan. 3, 2018, SeaWorld is giving pass members three months free with the purchase or renewal of annual passes. For $168 plus tax — which must be paid in full at the time of purchase — pass members will receive 15 months of admission. Vouchers for this offer must be redeemed within 90 days of purchase. The "3 Months Free" deal also can be applied to combination annual passes that include Aquatica water park, Busch Gardens and other out-of-state parks owned by SeaWorld Entertainment.
SeaWorld Orlando also is offering to add three months to its Fun Cards. If you purchase a Fun Card during the rest of this year, it will be good through Dec. 31, 2018. A Fun Card costs $99.99 plus tax for ages 3 and older.
Not ready to buy yet? For the past several years, SeaWorld has offered "Blue Friday" deals on popular shopping day Black Friday in November. Last year, theme-park-goers could purchase a SeaWorld and Aquatica one-year combination annual pass and get another for half off. (It had to be redeemed by Jan. 31.) In previous years, shoppers could purchase the combo annual pass and get a second for free (BOGO) or also choose a SeaWorld-only annual pass for the BOGO offer. Of course, there is no guarantee SeaWorld Orlando will make either of these offers available this year on "Blue Friday."