So this year, San Diego Comic-Con ran a scant few days after the big D23 Expo. While this did have the result of Expo draining off some of the Disney content that would usually be present at SDCC, there was still the usual enormous amount of things happening throughout the weekend.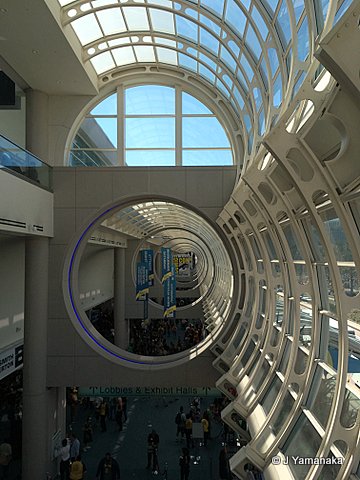 Out on the exhibitor's floor, ABC brought back their "Once Upon A Time" booth, promoting the series in preparation for its next rebooted season.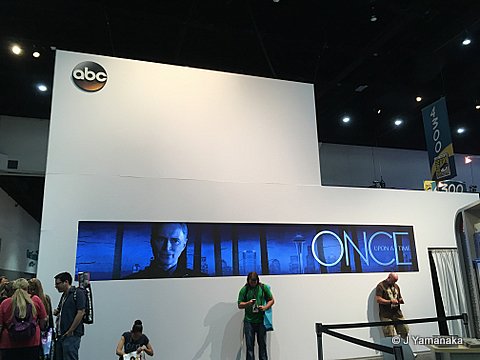 After the usual moderate wait, guests could enter and get an introduction to the series' new trailer with a holographic Captain Hook.
Afterwards, people had the opportunity to duel with the aforementioned Captain Hook who is clearly positioned to be in a lead position this season.
Later on in the weekend, Yvette Nicole Brown once again moderated the yearly OUAT panel which included Co-creators and executive producers Edward Kitsis and Adam Horowitz, writer David H. Goodman, and cast members Colin O'Donoghue, Lana Parrilla, Robert Carlyle…

Dania (Cinderella) Ramirez, Andrew J. (Older Henry Mills) West, and Gabrielle (Wicked Stepmother Lady Tremaine) Anwar.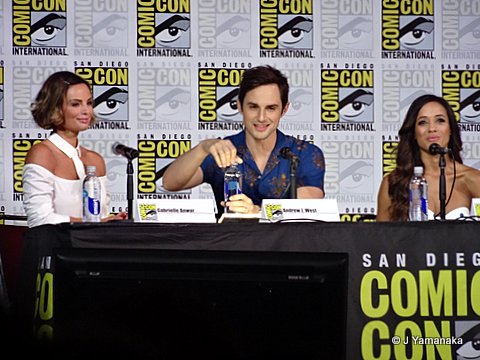 Some of the panel highlights:
–"If your real fear is 'oh my God, are you going to erase the last six years,' we are not. But we are going to take a few new characters and go on a new journey, and we hope you come with us on it."
The audience was then shown the first scene of the next season:
–Adam and Eddie respond to O'Donoghue's query of where Henry gets the gas for his motorcycle that he rides for years throughout various fairy tale realms: "I don't think we're here for you to poke at plot holes! If there is a bean that can transport him to a new book, don't worry about fuel!" "Episode 5: A Land Without Chevron."
–At the time of the panel, the cast was in the middle of the second episode and had a limited knowledge of what was in store for their characters.
–On the new season: "Henry's on a new adventure. Henry's left home and he wants to go and visit other Storybrookes with different stories and different characters. And he obviously falls in love with Cinderella much like the romance his grandparents had and what happens, is what always happens, is he gets into some trouble and he calls out for help from his family. And the three people you see on the stage, that you know and love, come to his rescue. So it's really these three and Henry on an epic adventure, and that's the next chapter of 'Once Upon A Time.'"
–The theme for next season: "Never stop fighting for what you believe in, and never give up."
–Favorite fairy tales: O'Donoghue and Parilla–Hansel and Gretel; Carlyle–Snow White; Ramirez–Little Mermaid (Disney;) West–Sword in the Stone; Anwar–Little Mermaid (Hans Christian Andersen.)
–On what Mr. Gold's first name is: Kitsis: "Mister." Carlyle: "Barbara."
–Kitsis on new characters: "We are going to meet Rose Reynolds who is going to be playing a new version of Alice in Wonderland since no one watched the spin-off. AND YOU KNOW WHO I'M LOOKING AT, BECAUSE I'M LOOKING AT ALL OF YOU."
The panel closed with an SDCC-specific trailer for the new season:
The new season of "Once Upon A Time" starts Friday, October 6, 2017.