This year, Orlando's big theme parks are starting their Halloween celebrations even earlier than past years. Walt Disney World, Universal Orlando and SeaWorld Orlando each offer different experiences for guests of different ages and interests. Here's a look at ways to celebrate at theme parks, beginning this week!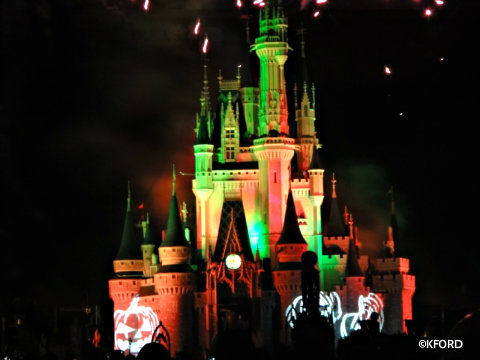 What: Mickey's Not-So-Scary Halloween Party
Where: Magic Kingdom at Walt Disney World
Dates: Aug. 25 and 29; Sept. 1, 7, 10, 12, 15, 17, 19, 22, 24, 26 and 29; Oct. 1, 3, 5, 6, 9, 10, 12, 13, 15, 17, 19, 20, 22, 24, 26, 27, 29 and 31; and Nov. 1.
What is offered: Mickey's Not-So-Scary Halloween Party is the one Orlando experience that is designed for guests of all ages. Unlimited trick-or-treating throughout the park for children and adults alike is a big draw. Plus, party nights are some of the few times that adults are allowed and encouraged to dress in costumes, so you will see a lot of fun group themed costumes. Many popular characters will be dressed up, too! Each evening also features special Halloween entertainment, including Mickey's "Boo-to-You" Halloween Parade; Happy HalloWishes fireworks; the Hocus Pocus Villain Spelltacular stage show; and the Monstrous Scream-O-Ween Ball. (Note: Because Happily Ever After fireworks now are shown on a nightly basis, the holiday versions of Wishes fireworks are the only time the popular show can be seen.) Admission to Mickey's Not-So-Scary Halloween Party is limited to a smaller number than the daily attendance so partygoers can expect much shorter lines for rides and attractions.
Tip: Mickey's Not-So-Scary Halloween Party activities run from 7 p.m. to midnight, but guests with party tickets can enter the Magic Kingdom at 4 p.m. and enjoy regular attractions and entertainment. See the AllEars.Net resource page for more tips and details and check out my blog in the coming weeks for more previews and reviews of the 2017 party!
Prices: Adult tickets range from $69 plus tax to $115 plus tax, depending on date, advance purchase and annual passholder or Disney Vacation Club discounts. Children ages 3 to 9 are $64 plus tax to $110 plus tax.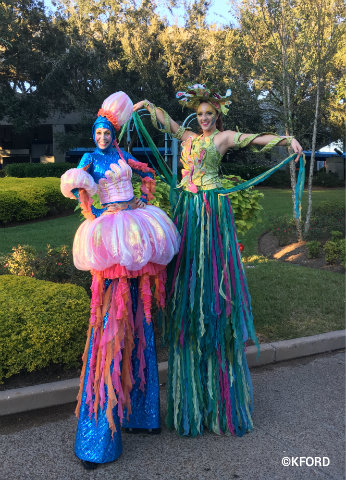 What: SeaWorld's Halloween Spooktacular
Where: SeaWorld Orlando
Dates: Sept. 23, 24 and 30; Oct. 1, 7, 8, 14, 15, 21, 22, 28 and 29
What is offered: SeaWorld's Halloween Spooktacular is mainly aimed at younger children and their families with its daytime hours and addition of Sesame Street characters that aren't usually seen in the park. Visitors can see The Count, Elmo, Abby and others on stage in "Sesame Street's Countdown to Halloween" or book Count von Count's Spooktacular Breakfast. Families can enjoy unlimited trick-or-treating throughout SeaWorld Orlando and visit a Halloween Dance Party or Penelope's [the Pumpkin] Garden Party. Also, look for a Halloween version of the popular Pets Ahoy show. One of the best parts about this party is the sheer number of characters mingling with guests compared to the handful that you might otherwise encounter. And the sea-themed costumes are truly beautiful! Perhaps the biggest draw for SeaWorld's event, though, is that it is included in the price of regular admission, unlike at the other two Orlando parks. SeaWorld's Halloween Spooktacular starts at 11 a.m. and runs to park close on Saturdays and Sundays of the event.
Tip: All guests are welcome to dress up in costumes, although only those 12 and younger are allowed to wear masks. In addition, face painting is not permitted on any guests unless it is done by park artists. A sweet deal: face-painting touch-ups are free all day on the day the painting originally is done.
Prices: Single day tickets for ages 3 and older are $99.99 plus tax, but you can save $20 by purchasing online at least one day in advance. Or purchase a Fun Card for $99.99 plus tax for ages 3 and older and get unlimited admission for the remainder of the calendar year, including the Christmas celebration.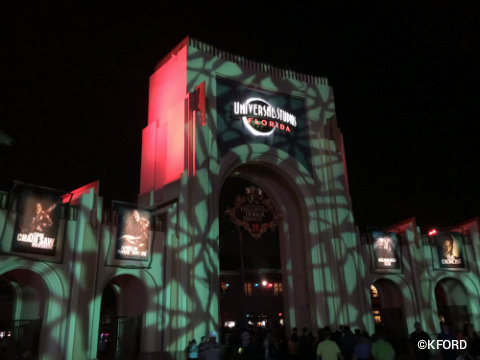 What: Halloween Horror Nights
Where: Universal Studios park at Universal Orlando
Dates: Sept. 15, 16, 17, 21, 22, 23, 24, 29 and 30; Oct. 1, 4, 5, 6, 7, 8, 11, 12, 13, 14, 15, 18, 19, 20, 21, 22, 25, 26, 27, 28, 29, 30 and 31; and Nov. 3 and 4.
What is offered: As the name indicates, Universal Orlando's Halloween Horror Nights is designed for those guests who like and want to be scared. Make no mistake: It's not for the faint of heart! It's terrifying, gory and contains elements that are not at all appropriate for children. This event is best suited to brave teens and adults. The hallmarks of Halloween Horror Nights are the themed haunted houses, creepy scare zones and outrageous stage shows. It's pretty normal for the houses, based on such popular shows as "American Horror Story" and "The Shining," to have queues up to three hours long. To minimize your wait, arrive early. The event officially runs from 6:30 p.m. to 1 a.m., but they often start letting guests in as early as 6 p.m. If you are a day guest, you will be allowed to remain in a holding area inside Universal Studios between 5 and 6 p.m., which means you'll beat even the early birds. Or, if you have extra spending money, purchase a HHN Express Pass for about $80 that allows you to skip the lines.
Tip: No masks or costumes are allowed because guests could be confused with performers who roam the street scare zones. As Universal boasts, "Your own terrified face will be enough."
Prices: Tickets range from $59.99 plus tax to $83.99 depending on date if purchased in advance with the UPC code from any can of Coca-Cola products. Tickets at the box office are $109.99. There also are Frequent Fear Passes for guests who want to attend more than one Halloween Horror Nights.