A few weeks ago a package arrived in the mail from Disney Movie Club. Carol opened it up and much to my surprise pulled out a packet of Disney themed garden seeds.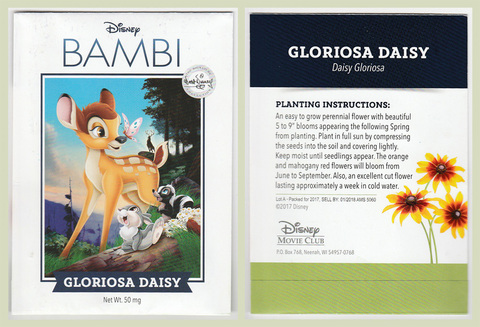 Click on the image to see a larger copy
Bambi is apparently a big fan of the Gloriosa Daisy.
I said, "I've never seen Disney seeds before!"
Carol immediately led me to her Disney Room and pulled a package down from one of the shelves. It was a Disney planting kit in a blister pack. The kit contains a packet of Pluto's Pumpkin Seeds and a row marker for your garden.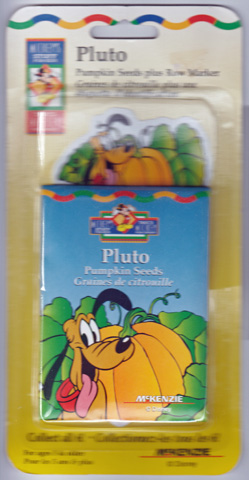 Carol found it a few years ago in a local thrift store.
I was doubly surprised because the Pluto Pumpkin Seed kit was produced by McKenzie Seeds, a Canadian company headquartered in Brandon Manitoba. We're not used to seeing Canadian-made Disney products!
I did a bit of research online and found that McKenzie began producing licensed Disney seed kits aimed at young gardeners in 1996.
They produced Disney's Mickey & Friends Deluxe Gardening Kits, Pocahontas Sunflower Growing Kits, Mickey & Friends Single Variety Packs and Pocahontas Flit Hummingbird Garden Kits. All were designed to teach children aged five years and older to respect the environment and love nature.
Some of the kits included things like growing medium, a watering can, garden trowel and fork, a gardening guide, seeds, and Disney character row markers.
Our son Rob stopped by for a visit just a few days after the Movie Club seeds arrived, and gave Carol a new Disney treasure he had picked up for her in another thrift store the previous day.
You guessed it — seeds!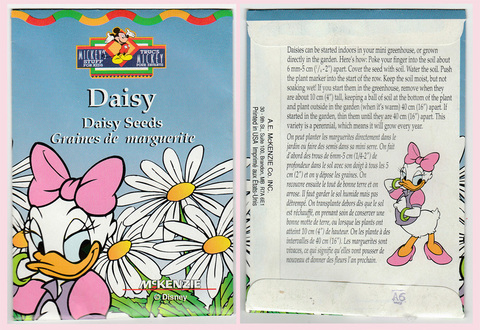 Click on each seed packet to see a larger image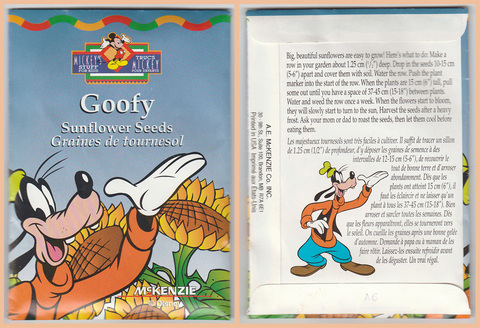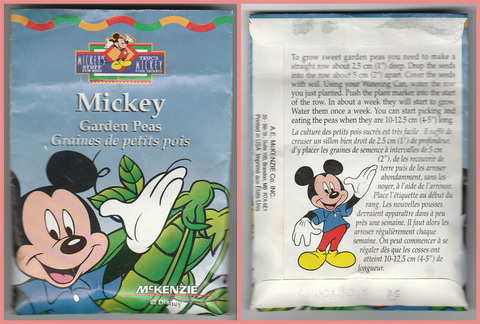 There were six different varieties of seeds offered and Carol has five of them. She's now on the lookout for some Donald Duck Carrot Seeds!
The kit that Rob picked up was still in the original box but the package was ripped, torn, faded and discoloured. It was beyond repair. There was also a small plastic pot to plant the seeds in and a tiny plastic trowel. Just what an ittsy-bittsy gardener needs!
The best part, of course, was the seed packets and also the cute set of row markers for the garden.

Click to see a larger image
Aren't they special?
And how about the fold-out Mickey & Friends Gardening Story Guide.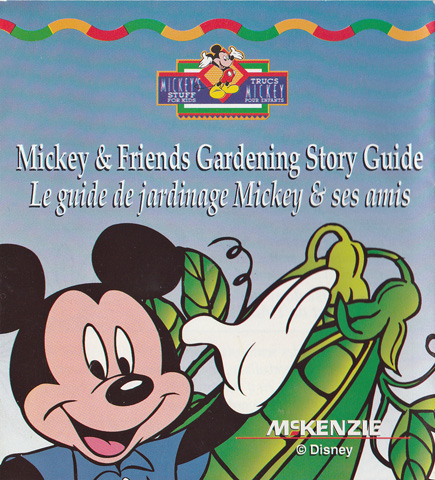 The 4¼" X 4½" pamphlet folds out to display six cartoon style panels of gardening tips for tiny green thumbs.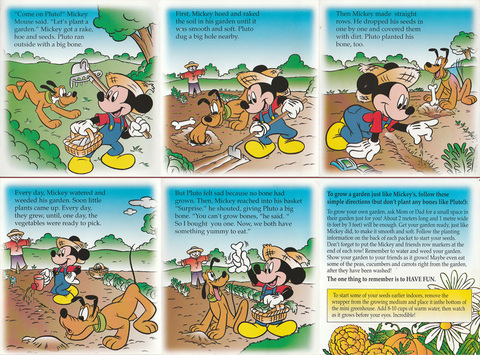 Click to see a larger image
How cool is that?
I have no idea how long the Disney licensed seeds were distributed in Canada, but they are no longer available. So Rob's latest Disney gifts for his mother will be prized additions to her Disney Room.
I imagine that one of the big seed companies in the USA had a similar licensing arrangement.
Here's a question for all of my fellow AllEars.net readers:
Do you have similar seed packets and gardening kits in your Disney collections?