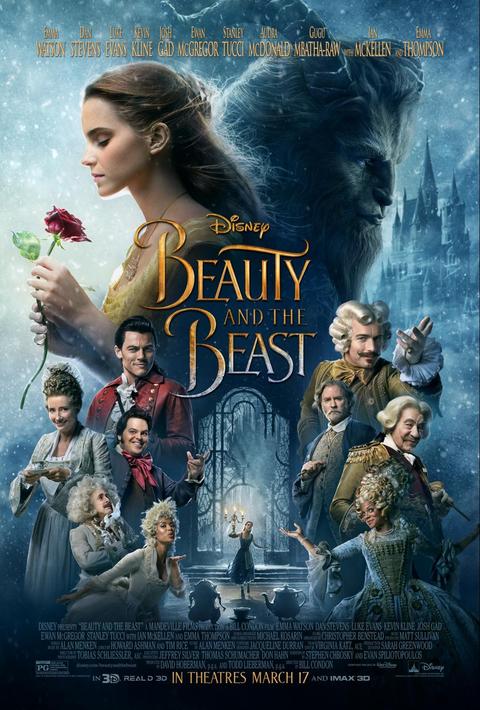 March 17th, Walt Disney Studios will once again captivate moviegoers with a Tale As Old As Time, their live-action version of "Beauty and the Beast."
[All non-attributed photos and video courtesy of Disney.]
To talk about the journey they took to revisit the animated classic, cast members Gugu ("Plumette") Mbatha-Raw, Josh ("Le Fou") Gad, Luke ("Gaston") Evans, Emma ("Belle") Watson, Dan ("Beast") Stevens, Bill (Director) Condon, Audra "Garderobe" McDonald, and Alan (music/score by) Menken gathered at a recent press junket.
First, however, we were treated to a short concert by Alan Menken, in which he played us some of the old and new songs from "Beauty and the Beast," with the help of a couple friends.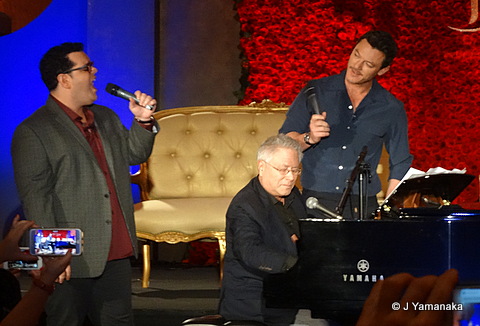 Select moments from the press conference video above: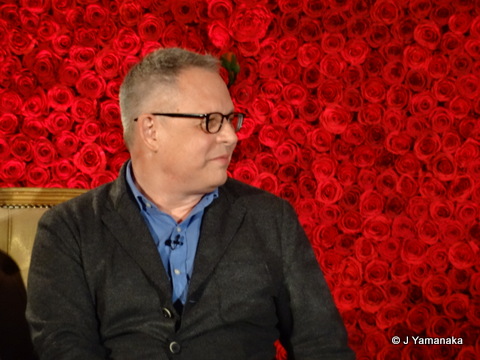 Condon on the process of adapting "Beauty and the Beast" as a live-action film: "Get over the terror first, I think…but then you know, you just start with that basic idea: You're going to take it into a new medium, which is live action. They're going to be actors. Emma's going to be playing a character on real locations who has to fall in love with the beast. So all the behavior which is, you know, let's face it…an animated film is sort of, you know, a little more exaggerated, has to come into reality, and once you start to investigate that, then you realize, wow, there are questions maybe you never asked before that you want to know about. How did Belle and Maurice wind up in this village where they're outsiders, you know, and that leads to then new songs and suddenly you're creating something new."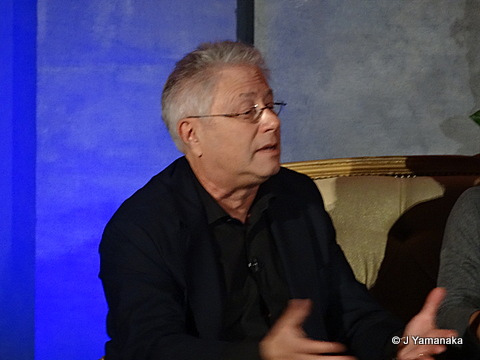 Menken on developing "Evermore," a new song for the Beast: "In the Broadway show there was a song called 'If I Can't Love Her.' But you know, each iteration of Beauty and the Beast is a different medium in a way. There's an animated musical, there's a stage musical, and there's this–and they all have sort of different shapes. And the stage musical is definitely a two act structure, so we wrote this song for the Beast, because at that act break is the moment where the Beast out of anger has driven Belle away and it was important–we needed at that moment for the Beast to sort of howl for redemption or just say I've given up. But in the structure of a live action film, which is more of a three act structure, Bill felt, and I agree with him, that the more satisfying moment is the moment when the Beast lets Belle go because she's no longer his prisoner, and he loves her, and the spell will not be broken now, but at least he knows what love is."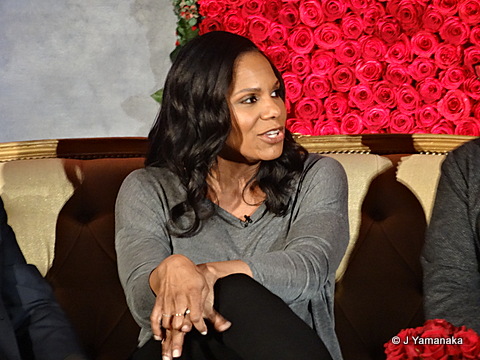 McDonald on joining the cast of "Beauty and the Beast:" "…I said yes the minute that Disney called because you say yes when Disney calls. If they told me that, you know, you were gonna sell churros in the park, I'd be like, yeah, I'm there, I'll do it. But knowing not only did it have this incredible creative team but that Emma Watson was going to be Belle, and knowing how much Emma has affected girls of my daughter's age–and my daughter is someone who now asks for people to donate money to charities for her birthday gifts instead of presents, and that's because of you, Emma–so knowing full well that Emma was going to make sure that Belle was somebody who was independent, who was strong, who was educated, who was sticking up for girls and women, and who does all the rescuing in the film. That's why I knew it was going to be important for me to be a part of and for my kids to see.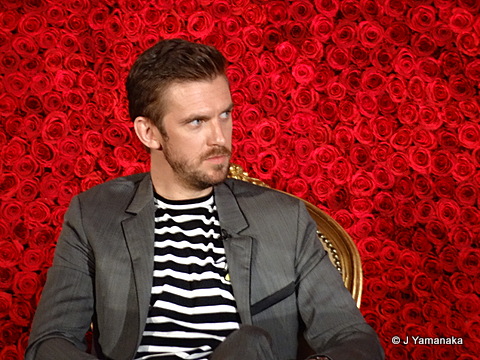 Stevens on the physical demands of portraying The Beast: "Well, it was a very physical engagement, I think just to support that muscle suit on stilts was a challenge that I'd never really encountered before. I've definitely been taking a more physical approach to my roles in the last few years and just training myself in different ways. I think with the backstory we decided that the prince before he was the Beast was a dancer, that he loved to dance, and so I trained myself like a dancer and learned, you know, three quite different dances for this movie and worked very closely with Anthony (Choreographer Anthony Van Laast,) just in terms of, you know, his general deportment, both for the prince and the Beast, you know, and there was a lot of work dancing in stilts. And getting to know Emma, first and foremost, on the dance floor was probably, you know, I think it's a great way to get to know your costar, and I'm going to try and do with every movie I do now, whether there's a waltz in the movie or not.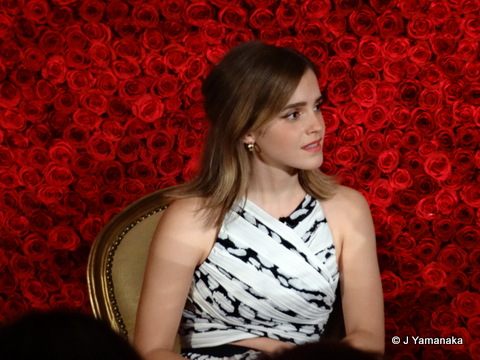 Watson on taking Belle into the real world: "…I think when I knew I was taking on this role, I wanted to make sure that I was championing that same spirit, those same values, that same young woman that made me a part of who I am today. And so, you know, every time we would address a new scene that Bill or Steve or Evan had put together, you know…I just always had the original DNA of that woman in mind, you know, and I had my fists up. I was ready to fight because she was so crucial for me. And you know, it was just taking what was already there and just expanding it. And I love that in our version Belle is not only kind of odd and doesn't fit in, and you know, you see her reading, and you see her not really a part of the community. In our film she's actually an activist within her own community. She's teaching other young girls who are part of the village to read, and you know, moments like that where you could see her expanding beyond just her own little world and trying to kind of grow it, I loved that, and yeah, that was amazing to get to do."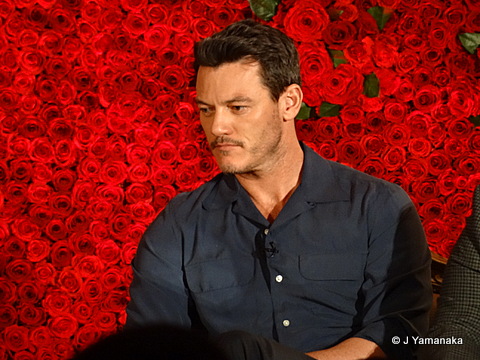 Evans on humanizing Gaston: "Well, I just think a villain shouldn't start out as the bad guy. A villain should end up being the bad guy, and I think with Gaston, outwardly, you know, to a lot of people in that village, he is the hero. He's a bit of a stud, you know. He's got the hair, he's got the looks, he's always impeccably dressed, not a bad singing voice…
"…So that when the cracks start to appear, which they do very subtly, even from the door slam, you know, there's something inside of him that he's like…this is not what she's supposed to be doing. And although he keeps believing that Belle will change her mind, that's where the cracks appear in my thought process and then slowly, you know, the jealousy takes over, and who he becomes, especially Gaston as opposed to other Disney villains, he has no book of spells, he has no magic powers. He's a human being, and he uses his status within that village to rouse a crowd and he does it all from just being himself, which is quite terrifying in a way. So I played on that, I played on the humanity of the character as much as he is larger than life. There was a lot to pull on, and obviously he was a war hero of sorts, we decided, didn't we, Bill, from the past. That's why his murals are all over the pub that he drinks in. And there is…this animalistic soldier, in him when he finally fights the Beast on the rooftops. You see this man out for blood, and it's a scary moment to see the arc of somebody who was the loveable buffoon of the village to become the absolute Beast almost, the monster."


Gad on horseback riding: "I learned a couple of great lessons on this movie, one of which is that Jews don't belong on horses. Specifically overweight Jews. My horse was an anti-Semite…they told me was trained for this movie but I believe they found (him) in the wilds of England…So Luke and I are walking into the village on our horses, and on action all our horses need to do is walk side by side, it's so simple. Luke's horse does it. The two of them worked on 'The Hobbit' together, 'Three Musketeers,' have this incredible background."
Evans: "We share a trailer."
Gad: "Mm, hm, they share a trailer. Mine is a cold-blooded killer. And he proceeded to moonwalk, he walked backwards. Then, he ran through multiple extras in the village, ran around–I didn't even know it was possible–but ran through these like pillars around, up and back again. I heard 'cut' and I heard laughing, and the laughter was coming from the horse's trainer, and he came up to me and he goes, 'I'm so sorry. I've never seen this happen before.' And it was so sad. It made me feel so awful about myself. Ironically, my horse's name was Buddy. That is a true story. He's nobody's buddy. I'm begging Disney to press charges against him, and I've told my agents to never send me another script with a horse in it again."
Evans: "Unless it's on wheels."
Gad: "Unless it's on wheels. In the sequel to 'Beauty and the Beast' I drive a DeLorean."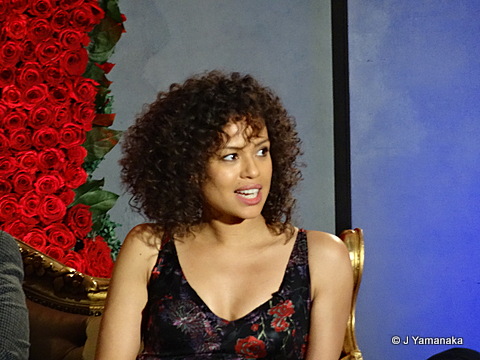 Mbatha-Raw on doing voice work: "…For me it was, you know, working on the French accent, you know, both myself and Ewan had the same dialect coach, and then just playing in the studio with Bill encouraging us to, you know, embrace that sort of inner child and that real sort of let's pretend kind of freedom. And for me, you know, having done a few serious roles that year, you know, to be able to embrace the feather duster Plumette and to also be able to really not be limited by your own face and your own body that you can really, as I say, just play, was so joyful."


Condon on representation and inclusion: "You know, I talked before about how we translate this into a live act — that means filling out the characters. It's also a translation to 2017, you know? And what is this movie about? What has this story always been about? For 300 years it's about looking closer, going deeper, you know, accepting people for who they really are, and in a very Disney way we are including everybody. I think this movie is for everybody, and on the screen you'll see everybody, and that was important to me, I think to all of us.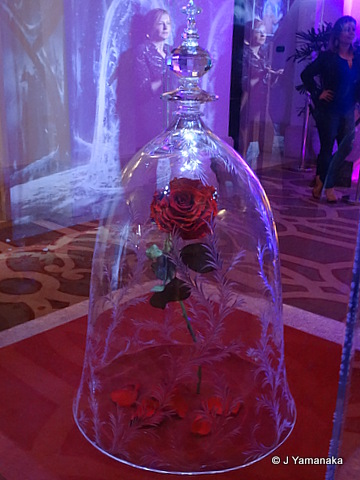 Menken on doing justice to the original film: "My mantra throughout the whole thing was don't screw it up. I mean, for myself."
"Beauty and the Beast" will open in theaters March 17, 2017.