One of the perks of being an Orlando resident is the opportunity to go regularly to the fantastic water parks that are associated with our three big theme parks. With two children who swim like fish, I have enjoyed our family's annual water park passes. Until this point, we have alternated between Disney's Blizzard Beach and Typhoon Lagoon and SeaWorld's Aquatica water parks. Each is unique in its theming and a full day's worth of fun for my family. But a new aquatic playground joins the lineup this summer, and we are excited to experience all it has to offer.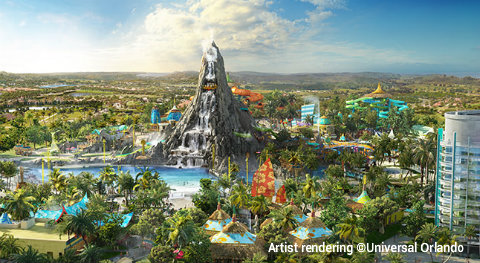 Universal Orlando announced this week that its Volcano Bay water park will open May 25. The park will have a Pacific Isle theme, calling on the fabled Waturi islanders for inspiration for the tropical paradise. As details have emerged about the upcoming water park, two features are being touted as improvements to Orlando's existing water parks. The first is the TapuTapu wearable band, which allows guests to enter virtual queues and avoid physical queues for the rides. Sounds a lot like Disney's MagicBands, no? But Walt Disney World has not rolled out its MagicBands at Blizzard Beach or Typhoon Lagoon. The other welcome new aspect is that Volcano Bay guests will not have to lug their own tubes and rafts up stairs to the start of the aquatic adventure.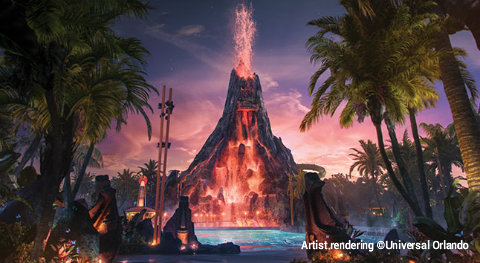 Volcano Bay will have four distinct areas: The Volcano, Wave Village, River Village and Rainforest Village. The Volcano, named Krakatau, is the centerpiece of the park. It rises 200 feet above the tropical landscape, streaming waterfalls during the day and fiery lava effects at night. Inside the volcano are a variety of water slides (as described by Universal):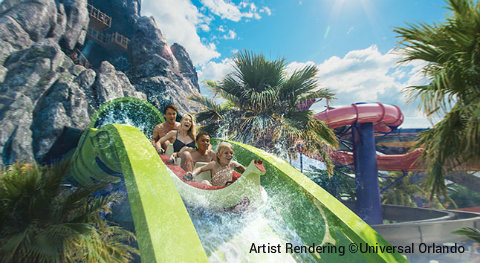 ** Krakatau Aqua Coaster: Four-person canoes slide upward through the mists and into the dark twists and turns within the volcano before emerging with a plunge through a shimmering waterfall.
** Ko'okiri Body Plunge: Join in the centuries-old tradition of honoring the volcano god, Vol, by braving the incredible Ko'okiri Body Plunge. Featuring a 70-degree fall through a drop door and 125 feet of screaming fun, this dizzying descent ends with a watery tribute from Vol himself.
** Kala & Tai Nui Serpentine Body Slides: Twin trap doors simultaneously drop two guests down clear, intertwining tubes before sending them splashing into the waters below.
** Punga Racers: A favorite among Waturi children of all ages, Punga Racers send single riders on their manta ray mats sliding down four lanes through underwater sea caves.
The Wave Village overlooks the waters of Waturi Beach at the base of the volcano and gives families a place to hang out and swim nearby in one of two wave pools.
River Village also is designed for guests of all ages, including the youngest. It features:
** Honu ika Moana: Just like the ancient Waturi people who rode the ocean waves on friendly sea turtles and whales, guests can enjoy these two twisting, turning, multi-person slides. Honu sweeps up two massive walls, while ika Moana sprays water on riders from the center of the raft.
** Tot Tiki Reef + Runamukka Reef: The little ones can frolic among the splashy slides and fountains of the Tot Tiki Reef toddler play area, while Runamukka Reef delights older children with its bubbling geysers, water guns, slides and dump cups.
** Kopiko Wai Winding River: Take a slow ride on the Kopiko Wai Winding River. Sprays of water surprise along the way.
Finally, Rainforest Village stretches along the shores of an action-packed river that houses these attractions: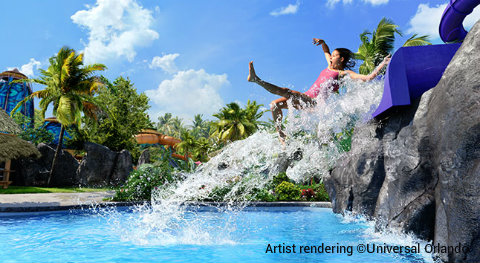 ** Ohyah + Ohno Drop Slides: Ascend cliff side and plummet down the twisting waters of Ohyah before dropping out four feet above the pool below. To achieve even greater bragging rights, brave the rope bridge and plunge down Ohno, a serpentine adventure that ends six feet above the pool below. (Dare I say it? Does this sound like the pool at Disney's defunct River Country?)
** Maku Puihi Raft Rides: This six-person rafting adventure is not for the faint of heart. Choose one of two paths or try them both – just be ready for a thrilling ride. Puihi careens through a dark, winding tunnel before the stomach-flipping thrill of zero gravity hang time. Maku slides you through a deep volcanic gorge before spinning wildly around bowl-like formations.
** TeAwa The Fearless River: Take a thrilling whitewater ride with churning rapids and choppy waves.
** Taniwha Tubes: Riders can try four twisting tracks, but beware – mischievous tiki statues spray jets of water when you least expect it.
So far, Universal has only announced combination tickets that include Volcano Bay with admission to Universal Studios and Island of Adventure. We're eagerly waiting to find out the price of one-day admission and annual passes for the new water park.