Shoemaker New Balance unveiled its much-anticipated designs for its 2017 runDisney collection on Thursday. Typically, the reveal comes during the week before the first running event of the year, which is the series of races at the Walt Disney World Marathon Weekend in January.
In past years, the color and design of each shoe was intended to recall a specific Disney character. This year, for the first time, the shoes are patterned after attractions at Walt Disney World: Toy Story Mania, Mad Tea Party, Haunted Mansion and Space Mountain.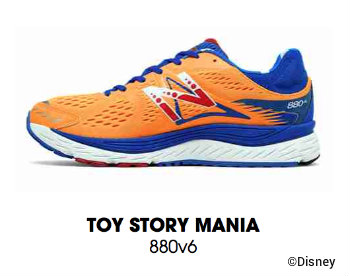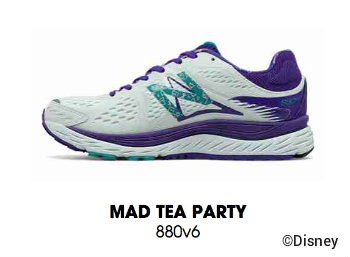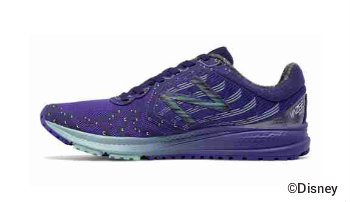 Haunted Mansion
Space Mountain
The Toy Story Mania and Mad Tea Party shoes are the 880V6 style running shoe, which cost $139.95 for adult sizes and $79.95 for children's sizes in 2016. The Haunted Mansion and Space Mountain designs are the Vazee Pace v2 style running shoe, which cost $124.95 in 2016. Prices for the 2017 runDisney collection have not yet been announced.
The shoes are on display at the runDisney Health and Fitness Expo for the Disneyland Super Heroes Half Marathon Weekend, which is taking place now. Runners attending the Expo reported online that they were told by cast members that the new shoes would first be available at the Expo for Walt Disney World Marathon Weekend. That Expo will take place Jan. 4 through 7, 2017. They also will be available at the Expo at the Disneyland Star Wars Half Marathon Weekend — The Light Side from Jan 12 through 14, 2017. After the first race weekends on each coast, the Limited Edition shoes will continue to be sold exclusively at the runDisney expos throughout the year.
Because of the popularity of the runDisney shoes, New Balance typically operates a virtual queue for its Expo customers. Guests who would like to try on — and possibly purchase — the running shoes must make an appointment online. Sign-ups at NBvirtualqueue.com for the first day of the Expo usually are reserved for runners, and appointments cannot be made without a bib number. Other days are open to all Expo attendees.
New Balance's rules last year stated that customers could reserve one pair of running shoes per reservation. They would be able to choose up to five more pairs in the booth and could purchase a total of six pairs of runDisney Collection footwear per event weekend. Rules for 2017 have not yet been posted.
When it's close to a guest's reserved time, he or she receives a text and then must return within an hour or risk losing the shoes that were saved for that appointment. If the reserved shoes do not fit, the sales associate will check for other sizes. Customers can keep an eye on general inventory levels at NBVirtualQueue.com.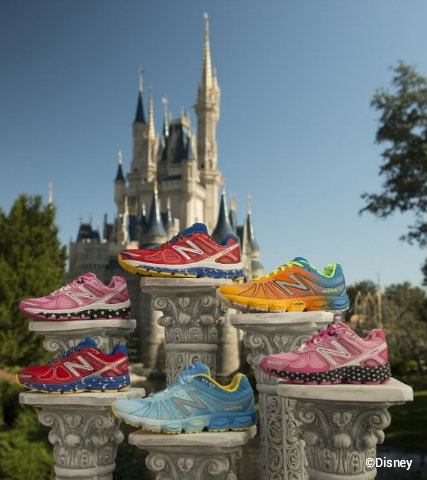 New Balance first released Limited Edition runDisney shoes in 2013. The 860v3 sneakers were designed in the bright red, yellow, black and white traditional colors of modern Mickey and Minnie. They have since been retired. In 2014, the styles were designed to recall Sorcerer Mickey and Goofy (men's) and Cinderella and Minnie Mouse (women's). Due to popular demand, a limited number of the four New Balance 860v4 shoes were made available in 2015. New in 2015, runDisney and New Balance introduced Retro Mickey and Minnie 990v3 sneakers in black, gray and white that paid homage to Steamboat Willie. Plus, Tinker Bell and Donald Duck Fresh Foam Boracay shoes debuted later in the year. In 2016, the Dumbo Vazee Pace, Ariel Vazee Pace and the Red Carpet Mickey and Minnie 860v6s joined the lineup.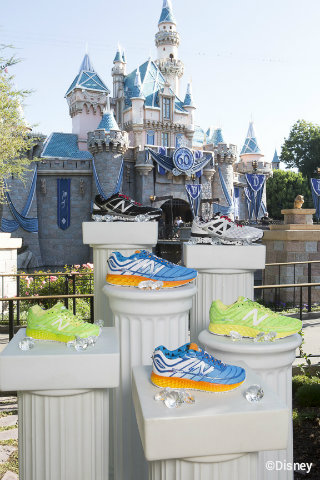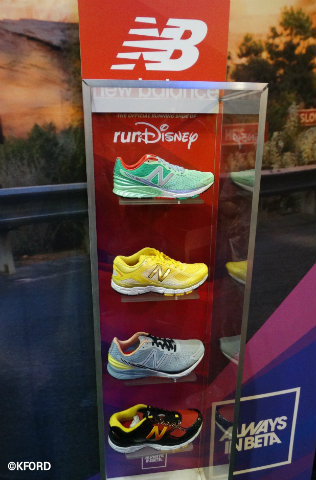 Are you excited about the 2017 collection of runDisney New Balance running shoes? Tell us about it in the comments.