"Finding Nemo" fans in select cities — including Orlando and Lake Buena Vista — have a special opportunity to see the highly anticipated sequel, "Finding Dory," before it opens on June 17. Walt Disney Pictures and Pixar Animation Studios have announced a one-night Dory After Dark event, which starts with a screening of "Finding Nemo" and then is followed by "Finding Dory," on June 16.
The Orlando event takes place at Regal Waterford Lakes beginning at 9 p.m. There will be a short intermission after "Finding Nemo" and then "Finding Dory" begins at 11 p.m. Tickets for the double feature are $19.99. Members of the Regal Crown Club, which is a free program for frequent customers, can purchase tickets for $17.99 and will receive a concession coupon. AMC Disney Springs 24 hosts the other Central Florida event, which also starts at 9 p.m. Tickets for that location are $31.95. Both screenings will be in 3D, and tickets are on sale now.
Dory After Dark is a celebration that invites fans to dive in with Dory, Marlin and Nemo, plus new friends Hank, Destiny and Bailey. Guests will receive an event-exclusive Dory After Dark reusable bag and an "I Speak Whale" button. There also will be opportunities to share the experience throughout the evening with custom Snapchat filters.
More than 90 locations in North America will take part in this one-night event. Click here to see the full list.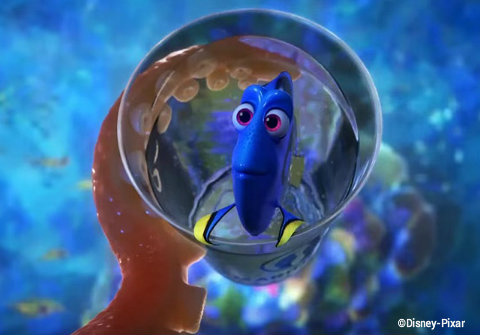 The official description for "Finding Dory" is as follows:
"Finding Dory welcomes back to the big screen everyone's favorite forgetful blue tang Dory (Ellen DeGeneres), who's living happily in the reef with Nemo (Hayden Rolence) and Marlin (Albert Brooks). When Dory suddenly remembers that she has a family out there who may be looking for her, the trio takes off on a life-changing adventure across the ocean to California's prestigious Marine Life Institute, a rehabilitation center and aquarium. In an effort to find her mom (Diane Keaton) and dad (Eugene Levy), Dory enlists the help of three of the MLI's most intriguing residents: Hank (Ed O'Neill), a cantankerous octopus who frequently gives employees the slip; Bailey (Ty Burrell), a beluga whale who is convinced his echolocation skills are on the fritz; and Destiny (Kaitlin Olson), a nearsighted whale shark. Deftly navigating the complex innerworkings of the MLI, Dory and her friends discover the magic within their flaws, friendships and family."
On a related note, Disney Parks will be celebrating "Speak Like A Whale Day" on June 11 at Walt Disney World and Disneyland. According to the Disney Parks Blog, special events that Saturday will include:
** Guests at both resorts and aboard Disney Cruise Line ships will receive complimentary buttons to celebrate the day.
** At the Downtown Disney District at Disneyland and Disney Springs at Walt Disney World, families can dive into "undersea" themed activities, including a live DJ, games and giveaways. Young guests can attend "Whale Speak University."
** At The Seas with Nemo & Friends in Epcot, guests can learn about the real-life counterparts of the characters from the film and see them in their massive 5.7-million-gallon saltwater aquarium home. Experts from Disney's Animals, Science and Environment Team will be on hand throughout the day to help guests find Dory and her friends and get a closer look at their world.
** Dory, Destiny, Bailey and Hank have joined Crush at the Turtle Talk with Crush attraction at Epcot and Disney California Adventure.