First, let me define what "yesterland" photos are to me. It is any Disney photo I took before I purchased my first digital SLR camera in 2005. In other words, I fired up my scanner and went through a bunch of prints I have in photo albums and boxes for this series. Deb and I will be sharing yesterland photos from each of Walt Disney World's parks over the next four weeks.
My first photo is from the 1992 Magic Kingdom parade called the Surprise Celebration Parade which has part of Walt Disney World's 20th anniversary.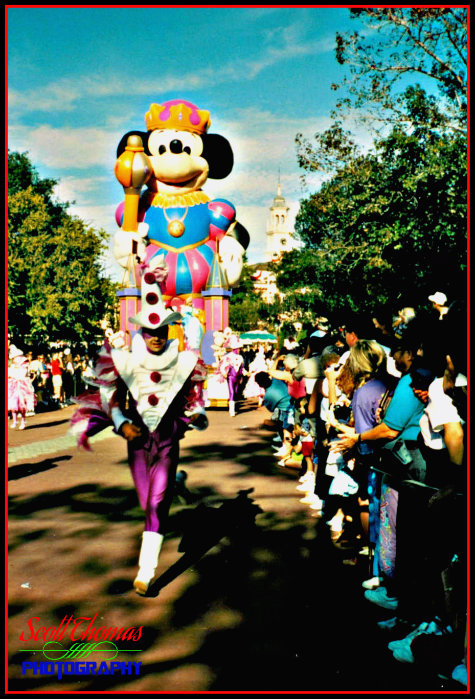 King Mickey float in the 1992 Surprise Celebration Parade in the Magic Kingdom.
My thanks go to Jim Korkis' article Walt Disney World Chronicles: The 20th Anniversary for the following information:
Towering 35 to 40 feet, a series of larger-than-life inflated Disney characters would be the centerpiece of a new parade called the "Surprise Celebration Parade". These balloons were cold-air filled, meaning there was no helium used. These huge figures were "borrowed" and refitted from Disneyland's "Party Gras" parade the previous year, which had celebrated Disneyland's 35th birthday.
Actually, once they were placed on the floats, the entire float unit was 55 to 65 feet high and towered above the Magic Kingdom's Main Street USA.
For Walt Disney World, there would be a surprise Grand Marshal each day, selected from the park visitors, leading the procession. The Grand Marshal group rode on the Roger Rabbit float that began the parade. To tie in with the festivities' theme, Roger wore a jester's cap, something he did not wear at Disneyland.
He was followed by Minnie Mouse's float, which was unchanged from its Disneyland appearance. Goofy's was unchanged as well. However, Disneyland's Sorcerer Mickey Mouse was transformed into King Mickey and Donald Duck no longer wore a party hat, but played the drum.
There were floats without balloons, like one featuring a pineapple and King Louie and Baloo the bear from the film "Jungle Book". Chip 'n' Dale rode on palm tree carts.
Deb will be here tomorrow as she visits her Magic Kingdom yesterland.