A few weeks ago we began a culinary tour of Disney Parks and Resorts courtesy of some old copies of Disney Magazine! Have you tested any of those Disney recipes yet?
Let's pick up our tour right where we left off!
In the Fall 2004 issue we find instructions and pictures for:
1. Panna Cotta — Palo, Disney Wonder and Disney Magic
2. Monterey Clam Chowder — Pacific Wharf Café, Disney's California Adventure
3. Nut-Crusted Salmon — Boma, Disney's Animal Kingdom Lodge
4. Jungle Julep — Tahitian Terrace, Disneyland
5. Grapefruit Cake — The Hollywood Brown Derby, Disney-MGM Studios
Don't forget to click on each of the pages to see a larger, more readable version. You'll definitely want to write some of these recipes down!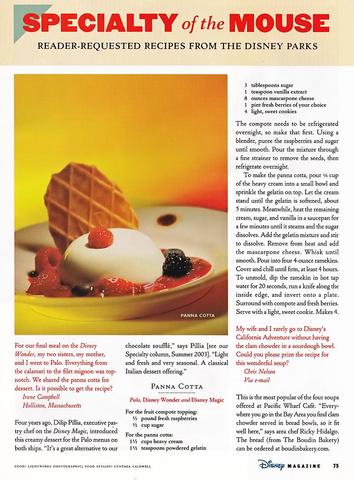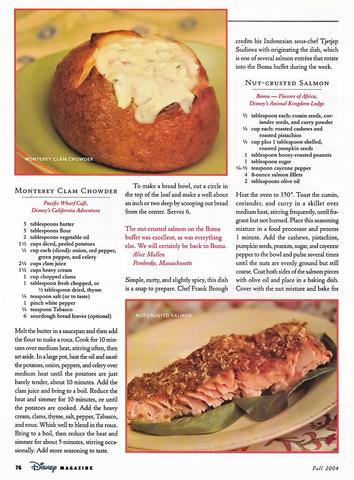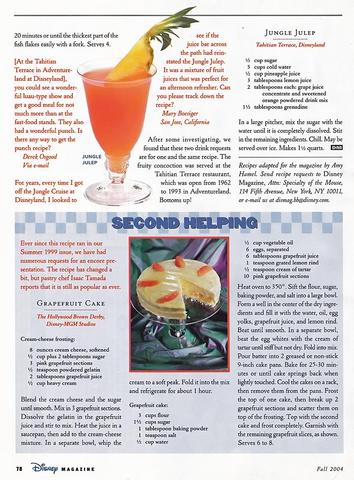 That Panna Cotta served at Palo is absolutely wonderful . . . and it's now served at Palo on all four of the Disney ships! If you're not familiar with Palo, it's a very upscale adult-only dining experience and is well worth the very reasonable $30.00 up-charge for either brunch on sea-days or dinner every day. Reservations go quickly, so book early!
And the Grapefruit Cake at the Hollywood Brown Derby is a dessert you must try. I always have the Cobb Salad which is a meal in itself, then follow with Grapefruit Cake! Very light, very tasty!
From the Winter 2004 issue you might like to make:
1. Banana Bread Pudding – Boma, Disney's Animal Kingdom Lodge
2. Orange-Glazed Baby Carrots — Chef Mickey's, Contemporary Resort
3. Mashed Boniato Potatoes – The Hollywood Brown Derby, Disney-MGM Studios
4. Sweet Potato-Hazelnut Gratin — Artist Point- Wilderness Lodge
5. Cranberry-Orange Scones — Storytellers Café, Disney's Grand Californian Hotel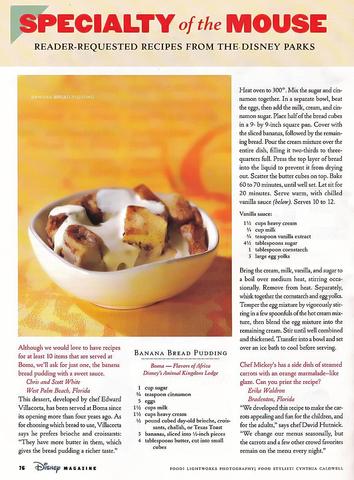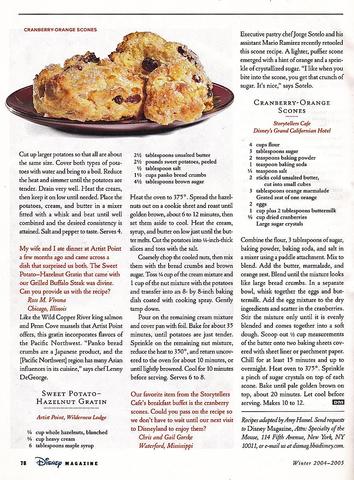 Some words were just made to go together . . . and three words that fit each other extremely well are banana, bread and pudding. I've sampled the Banana Bread Pudding at Boma and at 'Ohana. I couldn't decide which I liked best, so I tried them both again . . . and again . . . and again. There's no clear winner so I'll just have to keep tasting! Honourable mention for Ger's Bread & Butter Pudding at Raglan Road. It's delicious too!
And finally, from the Spring 2005 issue:
1. Thai Noodle Bowl – The Hollywood Brown Derby, Disney-MGM Studios
2. Beef Stroganoff — Yacht Club Gallery, Yacht Club Resort
3. Creamed Spinach — 1900 Park Fare, Grand Floridian Resort & Spa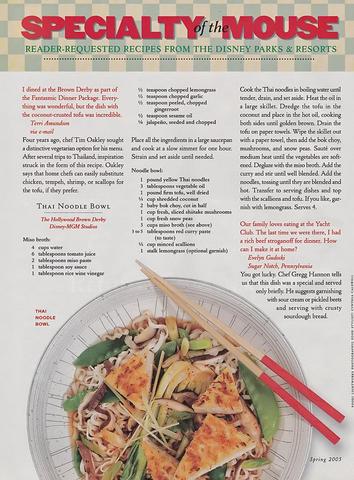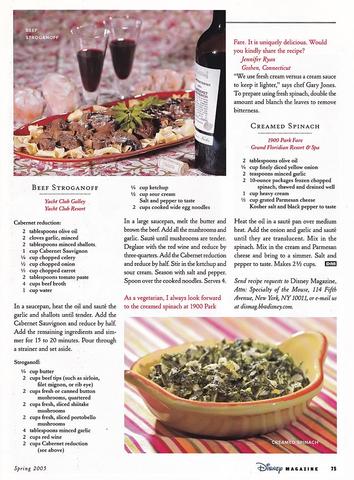 I haven't tried any of the dishes from the Spring 2005 issue, but we will be at Walt Disney World when this blog is published and we have dinner booked at 1900 Park Fare during that trip. I'll probably give that Creamed Spinach a try!
Do you use any Disney recipes at home?
We do! The Hoop-Dee-Doo Cornbread from Trails End Restaurant at Disney's Fort Wilderness Resort and Campground. Carol does not normally like corn bread, but she really enjoys it at Fort Wilderness and prepares it at home quite often. Yum!
Disney is normally very happy to share recipes, so if there is a dish you particularly enjoy, ask your server if the recipe is available. They are often pre-printed for guests who ask.
Don't forget, many of them (including that corn bread I mentioned above) are already listed on AllEars.net HERE!
You and your family can still enjoy a taste of Disney, even when you're not there!
Have fun whipping up your favourite Disney dish at home!